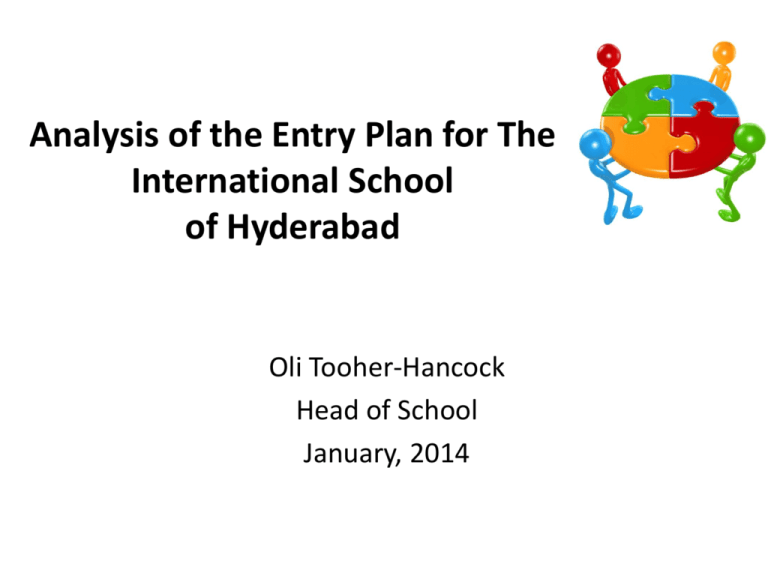 Analysis of the Entry Plan for The
International School
of Hyderabad
Oli Tooher-Hancock
Head of School
January, 2014
Background on New HoS?
• Leadership
• Curriculum (including extra and co)
• Educational Research
Educational
philosophy
Beyond the necessity of a strong academic background,
students need to feel respected, secure and empowered to learn
in an optimal environment that prepares them for the 21st
century and develops them into caring, compassionate and
well-rounded human beings.
Why do an Entry Plan?
• Bringing ISH to Greater Heights (Board Directive at Interview)
• Strengths, Opportunities, Aspirations and Results
• Gather as much information as quickly as possible
Strengths:
•Atmosphere - open and friendly, personal
•Accessibility and individual care by faculty
•Special days
•Great facilities
•Big kids mix well with small kids
Strengths:
•Love the infrastructure – good size school –
individual attention.
•International community and diversity – 26
countries AMAZING
•Children are happy at school
•The children feeling like they are part
of shaping the school.
Opportunities:
•Need to be more academic (perception it was
weaker in secondary school)
•Build up high school with challenging
curriculum
•Inconsistency in teaching style and approach
•Leaders need to set clear expectations for their
teachers
•Need to make learning more relevant to the
real world
Opportunities:
•Need an orientation for new students –
INTERNATIONAL
•Need Professional Development of teachers.
•Better sporting opportunities, better
equipment in the playgrounds etc.
•Buses need a complete overhaul
•Canteen – food and cost
A summary quote:
The way I see it; there is a challenge ahead
finding a way to make the teachers grow as
leaders to our children and have the best ability
to guide our children into becoming
independent young adults'!
Aspirations:
• Move the
school ahead to be modern and
advanced – in content, ICT, teaching style,
attitude.
•Nobody wants to leave
•Compete with other schools in sports and
academically
•School of choice in Hyderabad
•High academic scores
Results: How do we know?
•Academic results
•Whole person
•Evidence of service learning
•Student leaders
•Alum contact
•Local and International reputation
Preserve at ISH:
• The International spirit! The welcoming feeling
for both parents and students!
• The friendly and personal atmosphere of
teachers and students
• Listening to parents
• Embracing cultural diversity
• Building an inclusive atmosphere
• Integrity and Honesty
Some misunderstandings
Comparing curriculum to other local schools
Not understanding our curriculum – need for information
evenings
Nature of 21st century learning
A Way Forward
•Information evenings on
the IBDP and IGCSE
•Open day at ISH to
encourage more students
in final two years with DP
•Develop a more
meaningful connected
curriculum K-8
•Develop our assessment
and reporting
•Revise schedule for
learning in depth
•On going PD for faculty
•Orientation for new
students, teachers and
parents.
Five Year Review - October 2014
Accredited by:
Council of International Schools
New England Association of Schools and Colleges
Authorized by:
International Baccalaureate for the Diploma Program
What has been addressed:
• Weekly PD for teachers on 21st century learning –
ongoing
• PD Task Force
• Technology Committee – improved routers
• Transportation Committee – two buses purchased –
two routes added
• Student led learning on Global Citizenship
• Service Learning for ASA
• Three Way Conferences- Students responsible for
their own learning
• Researching for a new curriculum K-8
What has been addressed:
• Campus has been cleaned up – Canteen over the break –
ongoing system to keep the campus beautiful
• Ongoing dicsussions with ICRISAT regarding the cafeteria (less
complaints)
• Commencing conversations with ICRISAT
• Meeting with like international schools in India to form a
league
• Marketing campaign with focus on sponsorship
………To a vision that fosters:
•
•
•
•
•
•
•
•
Responsible Global Citizens
Responsibility for their own learning - lifelong learners
Leadership
Service learning
Inter-connectivity
Learning that is relevant, current and concurrent
Environmental education
Interdiscipinary links to ICRISAT
= A CONNECTED CURRICULUM
Thank you for listening
Questions?