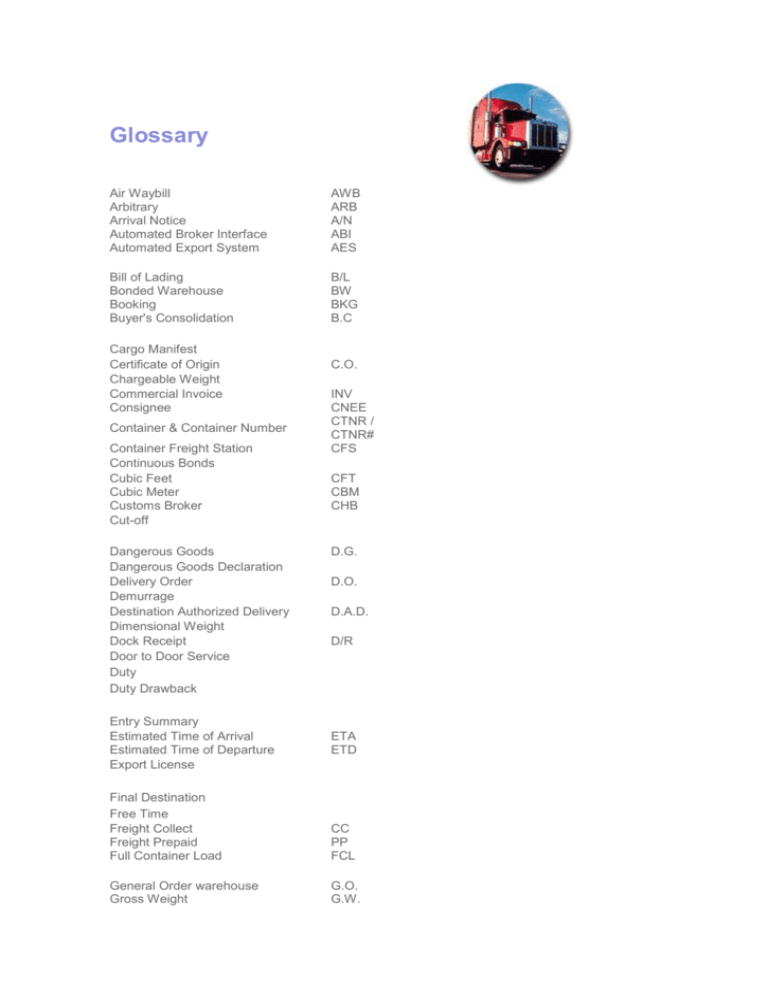 Glossary
Air Waybill
Arbitrary
Arrival Notice
Automated Broker Interface
Automated Export System
AWB
ARB
A/N
ABI
AES
Bill of Lading
Bonded Warehouse
Booking
Buyer's Consolidation
B/L
BW
BKG
B.C
Cargo Manifest
Certificate of Origin
Chargeable Weight
Commercial Invoice
Consignee
Container & Container Number
Container Freight Station
Continuous Bonds
Cubic Feet
Cubic Meter
Customs Broker
Cut-off
Dangerous Goods
Dangerous Goods Declaration
Delivery Order
Demurrage
Destination Authorized Delivery
Dimensional Weight
Dock Receipt
Door to Door Service
Duty
Duty Drawback
Entry Summary
Estimated Time of Arrival
Estimated Time of Departure
Export License
C.O.
INV
CNEE
CTNR /
CTNR#
CFS
CFT
CBM
CHB
D.G.
D.O.
D.A.D.
D/R
ETA
ETD
Final Destination
Free Time
Freight Collect
Freight Prepaid
Full Container Load
CC
PP
FCL
General Order warehouse
Gross Weight
G.O.
G.W.
Harbor Maintenance Fee
Harmonized Tariff Schedule No.
High Cube container
HMF
HTS#
HC
Import License
Importer of Record
Kilogram
KG
Less than Container Load
Letter of Credit
Liquidation Notice
Long Ton
LCL
L/C
Merchandise Processing Fee
Metric Ton
Minimum Charge
MPF
M/T
Non-Vessel Operating Common
Carrier
Notify Party
On-Carriage
Open Top Container
Packing List
Port of Discharge
Port of Entry
Port of Loading
Pound
Pre-Carriage
Pro Forma Invoice
NVOCC
O/T
LB
Quota
Reefer Container
Roll-on/Roll-off vessel
Schedule B Classification No.
Shipper
Shipper's Export Declaration
Shipper's Letter of Instruction
Short Ton
Single Entry Bond
Storage Charge
RFC
Ro/Ro
SHPR
SED
SLI
S/T
Tariff
Temporary Importation Bond
TIB
Terms and Conditions - Air Waybill
Terms and Conditions - Bill of Lading
Transhipment
T/S
Waiting time
Air Waybill - AWB
The air shipping document and contract of carriage, confirming receipt of goods.
Please see attachment for Terms and Conditions.
Arbitrary - ARB
Part of transportation costs. For ocean, normally an add-on inland cost to o/f. For
air, normally a constructed rate, combining the normal rate fro major airport A to
major airport B, then the added rate to minor airport C.
Arrival Notice - A/N
An import document send to the notify party and/or importer's broker containing
all necessary arrival info for Customs clearance; normally with freight charges.
Automated Broker Interface - ABI
A system that allows customs brokers to file entry electronically with U.S.
Customs.
Automated Export System - AES
A system that allows exporters to file export declarations eletronically with U.S.
Customs.
Bill of Lading- B/L
Issued by the carrier evidencing receipt of goods for transportation from a
specified origin to a specified final destination. Please see attachment for Terms
and Conditions.
Bonded Warehouse - BW
A U.S. Customs authorized facility allowed to receive, store and ship cargo not
yet cleared through Customs. The facility is licensed by Customs and operates
under Customs authority.
Booking - BKG
A reservation with carrier arranged by the shipper or his representative for space
and/or equipment aboard a specific ship or aircraft departing at a specific time.
Buyer's Consolidation - B.C.
Acting on buyer's behalf to receive,consolidate and containerize consignments
from multiple suppliers and to ship them as a full container load to minimize
shipping costs.
Cargo Manifest
A shipping document specifying shipment details & flight/vessel information.
Issued by the carrier and reported to U.S. Customs.
Certificate of Origin - C.O.
A signed statement from a semiofficial organization certifying the origin of an
export item, required by certain nations.
Chargeable Weight
For air, the actual gross weight of the shipment (in kg or lbs) or the volume
weight (in cubic cm or cubic inches), whichever is greater (basis 6000 cubic
cm/366 cubic inches per kg, or 166 cubic inches per lb), that will generate the
largest revenue. For ocean LCL shipments, it is calculated basis 1 cbm/1000 kg.
Commercial Invoice - INV
The seller's invoice to the buyer itemizing the specific type, quantity & true value
of the goods, specifying the amount due for payment.
Consignee - CNEE
The person or firm listed on the AWB-B/L who is to receive the goods.
Container & Container Number - CTNR / CTNR#
A uniform, sealed, reusable metal box in which cargo is shipped by sea, truck or
rail. Its identification number consists of a 4 letter prefix followed by 6 digits and 1
check digit. The 4 letters identify the container's owner or the carrier, and the
length of the container. The air equivalent is called a ULD (Unit Load Device).
Container Freight Station - CFS
A facility where consolidated shipments are stripped, segregated, stored and
made available to importers.
Continuous Bonds
A type of customs bond offered by U.S. Customs and renewed on an annual
basis.
Cubic Feet - CFT
A unit of shipping volume calculated by mutiplying the carton's dimensions
(LxWxH) in inches and dividing the result by 1728.
Cubic Meter - CBM
A unit of shipping volume calculated by mutiplying the carton's dimensions
(LxWxH) in cm and dividing the result by 1,000,000.
Customs Broker - CHB
A person licensed by U.S. Customs to transact Customs business on behalf of
others, including entry, classification/value, and the payment of duties, taxes, etc
on imported goods. Also, the refund, rebate or drawback thereof.
Cut-off
The latest delivery time of cargo to a designated location for loading to a vessel
or aircraft as booked.
Dangerous Goods - D.G.
Items capable of presenting a risk to the health and safety of individuals or
property normally requiring special attention when shipped. Such goods are
highly regulated by by the U.S. and all world governments.
Dangerous Goods Declaration
A document issued by factory/shipper in accordance with applicable regulations
stating hazardous materials have been properly packed and labeled in
accordance with the provisions of the relevant regulations for transport purposes.
Delivery Order - D.O.
A document from the consignee, shipper or owner of the cargo ordering the
delivery of of the cargo to another party.
Demurrage
A charge which occurs after free storage time at the terminal/CFS has expired,
and the cargo has not been removed (a charge for excess storage).
Destination Authorized Delivery - D.A.D.
A document issued by U.S. Customs confirming Customs release of the goods
and authorizing their delivery.
Dimensional Weight
Chargeable weight calculated by the dimensions of pkgs by applying shipping
industy formulas. (See chargeable weight)
Dock Receipt - D/R
A receipt used to transfer accopuntability when the cargo is delivered to the port
and left with theinternational carrier for export. The dock receipt, listing cargo
particulars, is used as documentation to prepare the Bill of Lading. It is evidence
of delivery of the loaded & sealed container to the terminal.
Door to Door Service
A type of service offered by the carrier;entailing through transport of cargo from
shipper's door to receiver's door.
Duty
A tax imposed on imports by the Customs authority of a country, usually based
upon the value of the goods.
Duty Drawback
A program administratered by U.S. Customs which permits a refund of 99% of
the customs duties paid on merchandise that has been imported into the U.S.
and is thereafter exported or used as raw material of a finished product.
Entry Summary
U.S. Customs Form 7501,containing the entry date, importer of record and their
tax ID#, shipment detail and duty rate and amount to be paid as duty to customs.
Estimated Time of Arrival - ETA
The projected date and time a shipment is scheduled to arrive at its destination.
Estimated Time of Departure - ETD
The projected date and time a shipment is scheduled to depart from the
port/airport of origin.
Export License
document issue by local gov't which permiting a company to perform the
exportation of designated goods to certain destination
Final Destination
The final delivery point of the shipment.
Free Time
The period of time allowed for free storage upon shipment availability at the CFS
or terminal.
Freight Collect - CC
Freight charges to be collected at destination from the consignee by carrier
Freight Prepaid - PP
Freight charges to be paid by the shipper at origin to carrier.
Full Container Load - FCL
A container that is fully loaded by cargo, occupying all space, or loaded to the
maximum permissable weight. It can contain cargo from multiple shippers, but
normally is consigned to the same consignee. The shipment is expected to be
delivered to the consignee with the shipper's seal intact.
General Order warehouse - G.O.
A warehouse where U.S. Customs sends merchandise that has not been claimed
or entered within 5 working days after arrival at the CFS or the terminal. All
storage charges incurred will be the responsibility of the importer.
Gross Weight - G.W.
Actual weight of shipment including packing material
Harbor Maintenance Fee - HMF
Charges assessed to harbor users for maintenance purposes. Part of customs
duty; currently 0.125%
Harmonized Tariff Schedule No. - HTS#
An international cargo classification number adopted by U.S. Customs that is
needed to file customs entry and the duty rate application for specific items.
High Cube container - HC
A type of container with exterior dims of 40'(L)x8'(W)x9'(H), used to transport
large volume but low weight cargo.
Import License
A document required and issued by some national gov'ts authorizing the
importation of specific commodities into their countries.
Importer of Record
The owner or purchaser of the goods as defined by U.S. Cusoms that is inputed
as the importer in an entry.
Kilogram - KG
An international unit of weight; 1kg is equivalent to 2.2046 pounds.
Less than Container Load - LCL
A shipment that takes up only a portion of a consolidated container. LCL shpts
are to be picked up at a CFS only, whereas FCL are to be picked up at a
container yard/terminal.
Letter of Credit - L/C
A financial document issued by a bank at the request of the Consignee
guaranteeing payment to the Shipper for cargo if certain terms and conditions are
met.
Liquidation Notice
A notice send by Customs, normally anywhere from 90 days to 1 year after entry
of the shipment has been made, advising the importer that the entry has been
liquidated by Customs.
Long Ton
1 long ton is equivalent to 2,240 lbs or 1016 kgs.
Merchandise Processing Fee - MPF
A part of Customs duty; currently 0.19%
Metric Ton - M/T
1 metric ton is equivalent to 1000kgs or 2204.6 lbs.
Minimum Charge
The lowest rate applicable on each type of cargo service, no matter how small
the shipment.
Non-Vessel Operating Common Carrier - NVOCC
An ocean cargo shipment consolidator that functions as a carrier; however, it
does not own any vessels. The NVOCC consolidates small shipments, then
offers full containers to ocean carriers. NVOCCs transport cargo for clients, issue
Bills of Lading, and assume responsibility for shipments.
Notify Party
The name and address of a party in the transport document to be notified by the
shipping company of the arrival of a shipment.
On-Carriage
The continuation of carriage by any mode of transport to the final destination
after discharge from vessel at the port of discharge.
Open Top Container - O/T
A type of container similar to a standard dry container except that it does not
have a permanent metal roof. Instaed, it has a removable canvas cover.
Packing List
A shipping document listing all contents of each individual package and declaring
the total # of packages, dimensions, weight, shipping marks,etc…
Port of Discharge
A port at which a shipment is off-loaded by a transportation line.
Port of Entry
The port at which foreign goods are admitted into the receiving country.
Port of Loading
The port or airport from which an export shipment leaves a country for a voyage
to a foreign country. The port at which a shipment is actually loaded to a vessel
or aircraft, or to an exporting truck.
Pound - LB
A unit of weight; 1 lb is equivalent to 0.454 kgs, or 16 ounces.
Pre-Carriage
The initial carriage of goods by any mode of transport from the place of receipt to
the port of loading to the vessel or aircraft.
Pro Forma Invoice
An invoice provided by a supplier prior to shipment of the goods, informing the
buyer of the kinds and quantities of goods to be sent, their value, and important
specifications.The buyer will submit it to Customs for valuation purposes to
calculate duties due, and to the central bank to obtain permission and clearance
to convert foreign currency into U.S. dollars in order to make payment to seller.
Quota
The quantity and kind of goods that may be imported without restriction or
additional duties or taxes.
Reefer Container - RFC
Refrigerated container. A thermal container with refrigerating apparatus to control
the termperature of its cargo.
Roll-on/Roll-off vessel - Ro/Ro
A type of vessel commonly used for shipping vehicles which can be rolled-on &
rolled-off the vessel either by their own power or by towing.
Schedule B Classification No.
A U.S. Bureau of the Census generated classification number for a specific
commodity, based on the Harmonized system. The numbers are required to file
export declarations(SED) to U.S. Customs prior to shipment on-board the
exporting carrier's vessel or aircraft.
Shipper - SHPR
The party in whose name a contract of carriage of goods has been concluded
with at carrier or any party by whom, in whose name or on whose behalf the
goods are actually delivered to the carrier in relation to the contract of carriage.
Shipper's Export Declaration - SED
U.S. Treasury department form containing the complete particulars on individual
shipments used to control exports and act as a source document for official U.S.
export statistics.The SED is required from the shipper by U.S. Customs prior to
shipment on-board the carrier. (See 15 CFR, Part 30, for complete requirements
concerning preparation and filing of SEDs)
Shipper's Letter of Instruction - SLI
A document issue by shipper or their broker to carriers stating their shipping
instruction and shipment details. A multi-part form, preparation of the SLI also
prepares the SED.
Short Ton - S/T
1 short ton is equivalent to 2000 lbs or 907.2 kgs
Single Entry Bond
A type ofU.S. Customs bond required byCustoms at time of entry. The bond
Applies ONLY to that particular shipment.
Storage Charge
Charges assessed by the warehouse for storage after the cargo's free time has
expired.
Tariff
A published document defining the applicable rules, rates and charges for the
shipment of goods forming the basis for a contract of carriage among the
shipper, consignee and carrier.
Temporary Importation Bond - TIB
A type of bond posted with U.S. Customs covering importation of merchandise
claimed exempt from duty, guaranteeing that the same shipment will be exported
within a certain period of time, usually 1 year, unless extended.
Terms and Conditions - Air Waybill
Please see attachment for Terms and Conditions.
Terms and Conditions - Bill of Lading
Please see attachment for Terms and Conditions.
Transhipment - T/S
A shipping arrangement in which a shipment is discharged of the vessel at an
intermediate port enroute and subsequently reloaded to another vessel for
carriage to its final destinationl
Waiting time
A charge, usually assessed by truckers, for excessive time spent waiting for
access to the consignee's cargo at the CFS or the pier/terminal or airport.