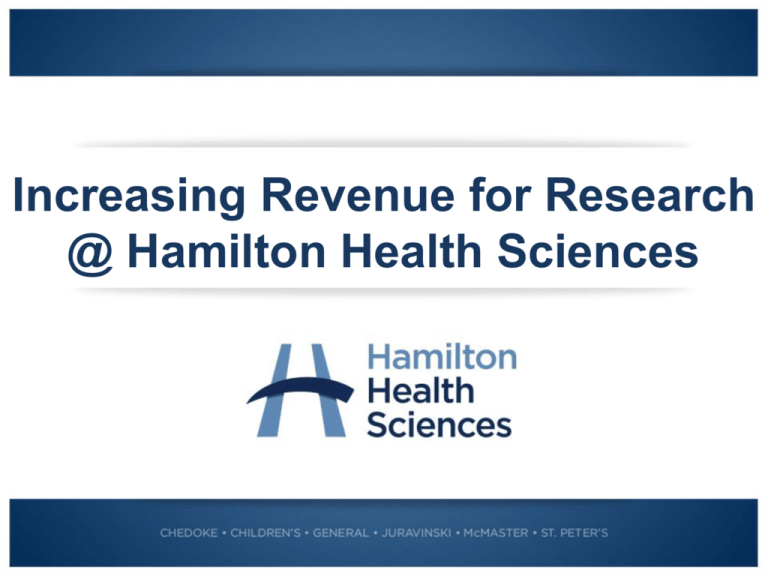 Increasing Revenue for Research
@ Hamilton Health Sciences
Our Goal:
• Increasing revenue for research
• Goal 4: "Attracting and Stewarding
Resources." We're trying to attract
funding as a resource
• What is our strategy to get to this goal?
Strategy
• Want to encourage people to think
differently; creating momentum for change
• Want to increase revenue, but within the
academic teaching hospital framework
• Want to provide a turnkey solution for the
users of the system
• Avoid duplication
How to do this?
Plan
Execute
Evaluate
Ideas so far…
• Researchers are what attracts funding,
interest, etc.
• How can we make them more productive
• Build a model with them at the centre
Investigator at the Centre
Resource
Pool
Strategic
Focus
Training
and
Support
Collaboration
Research
Development
Resource Pool
• Can we create systems that will allow researchers to
spend more of their time on research and less on
admin?
• Goal is to have 80% of researcher's "research time"
focussed on research and not on administration
• Centralized resource to support hiring and
management of research assistants, study
coordinators, etc.
• One stop shop for research support
– This would be on an as needed basis!
Collaboration
• How to promote and support
collaboration
• Want to create a culture of transparency
and collaboration
• Encourage reciprocal trust and sharing
• Create opportunities
Research Development:
Innovation
• Facilitate engagement with industry and other
sources of funding
• Provide support for researchers new to the
process of locating funds for research…help
them 'sell' their ideas
• Not simply the Research Development
Officer – it is bigger than just one person
(who we are currently recruiting)…
Training and Support
• Increase base level of knowledge so that HHS
becomes a leader in clinical research across all
areas
• Offer webinars, website tutorials, in person
meetings, one on one, group options
(acknowledge that people learn in different ways)
• Make the training meaningful – WHY you need
this, WHY this will help you be a better researcher
• Shift the focus from "big brother" (we do not want
to be auditors or QC) to "partner in research"
Strategic Focus of HHS
Research
• Facilitate and promote research
• Anticipate groups' needs – reach out to them before
they ask, because we interact with all of research
• Offer help/guidance, but let the group/researcher
decide how much guidance they want so they can
retain autonomy
• Maintain relationships/presence across all research
support groups in Hamilton: MILO, ROADS,
Innovation Factory, MaRs, etc.
• Engage McMaster and SJHH to increase revenue for
research across Hamilton
Investigator at the Centre
• Want to create customer focused support
– As much or as little as is needed
1.
2.
3.
4.
5.
Resource pool – to increase efficiency
Collaboration – help connect people
Research Development – provide the tools
Training and Support – raise the bar
Strategic Focus of HHS – provide the big
picture!
Ideas
• Thoughts?
– On the right path?
– Are we missing something?
– Other things we need to add?