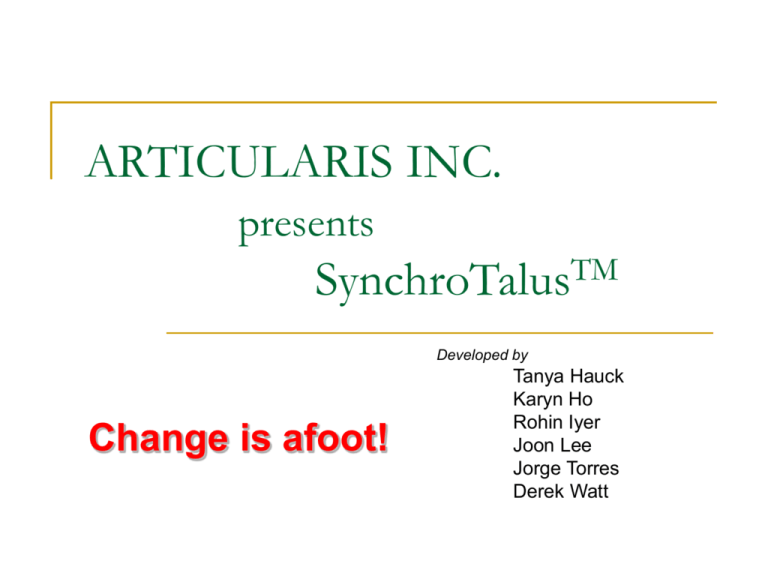 ARTICULARIS INC.
presents
TM
SynchroTalus
Developed by
Change is afoot!
Tanya Hauck
Karyn Ho
Rohin Iyer
Joon Lee
Jorge Torres
Derek Watt
Presentation Outline









Need for prosthetic foot
Existing technology
Our product
Regulatory issues
Other applications
Target market
Commercialization
Economic plan
Conclusions
Need for Prosthetic Foot





1.55 amputees per 1000 in most
developed countries
91.7% are lower limb amputations
In the UK, only 5% of lower limb
amputees have both limbs
amputated
Most amputees wear a prosthesis
for about 70 hr/week
Some amputees use crutches or
wheelchairs instead
FIGURE ADAPTED FROM: http://amputee-online.com/amputee/newamp.html
Ankle Amputations: Prosthesis Goals







Easy to use
Preferable to wheelchair or crutch use
Appearance of "normal" walking
Maximize social, vocational interaction
Require same energy to walk
Reduce stress on
the healthcare system
Prevent additional stress
or injury
Existing Ankle Prosthetics: Options
1.
2.
3.
4.
5.
Solid ankle
Flexible material, with solid ankle
Single Axis
Multiple Axis
Energy Storing (dynamic elastic)
Source: Arimed http://www.arimed.com/prosthetics.htm
"amputees continue to expend 35% more energy
compared to normals"
IEEE TRANSACTIONS ON REHABILITATION ENGINEERING, VOL. 6, NO. 2, JUNE 1998
Existing Ankle Prosthetics: Concerns




Often discarded for crutches or a wheelchair
Normal walking motion not considered
Emphasis on cosmetics over function
Many do allow motion ("Flex Foot", "Springlite") and
energy recovery
GOAL: To provide a foot and ankle prosthetic that
completely mimics the motion of the non-amputated
limb and permits "normal" mobility.
Gait Analysis

Gait analysis = study of a person's gait/locomotion

Typically using cameras, in a gait analysis lab on a large
sensor-equipped platform

Forces/angles/position of
each joint/limb measured to
generate force/moment
vs. time curves
Photo Credits:
•http://www.sportsci.com/adi2001/adi/services/support/tutorials/gait/chapter2/2.3.asp
•Hansen et al. J Biomech. 2004 Oct;37(10):1467-74.
Our Product –
TM
SynchroTalus





Pressure/tilt/proximity/gyro-scopic
sensors built into sole of "gait
shoe."
Unique feature: gait symmetry
mode (emulates motion of
unaffected ankle).
Gait analysis data wirelessly
transmitted to built-in CPU
CPU actuates motors in ankle
joint of prosthesis to emulate
normal locomotion
Conveniently fits over/interfaces
with any conventional prosthesis!
Media Credits: • http://www.marlbrook.com/medical.html
•http://www.media.mit.edu/resenv/GaitShoe/ •http://www.ifr.mavt.ethz.ch/research/prosthesis/
Superior design standards

FDA regulations




Classification: External limb prosthetic
component
Requires failure and complaint reporting
Exempt from pre-market notification
Exempt from good manufacturing practice
Superior design standards

Fail-safe mechanisms





Powers off when shoe or prosthesis detached
Control or sensor failure defaults to passive mode
Can be switched manually to passive mode
Simple battery replacement and testing
Self-diagnostic program allows easy calibration
and testing at home
Additional applications

Other joints for
symmetrical prostheses




Other
symmetric
joints for
prosthetics
Total joint
replacement
Robotics
Automation

Real-time
measurements
for rehabilitation
PHOTO CREDITS: http://health.allrefer.com; http://www.waramps.ca; http://www.ksaria.com;
http://www.allaboutmydoc.com
Target Market


Approximately 60,000 new patients in need of a lower
limb (transtibial) prosthesis annually
Diabetes






5% of Canadians suffer from diabetes, rate is currently
increasing by over 1% every five years
15% will develop a foot ulceration
10% will require amputation
over 50% of all leg amputations are performed on diabetics
market will continue to grow for many years as population
ages
This product would be ideally suited for the young and
the active
Market Share and Competitors




Most widely available foot prostheses products have
little, if any, functionality besides aesthetics
Foot prostheses products generate approximately
$500 million annually in North America, and
currently cost anywhere between $7,000 and
$20,000
Minimum 5-10% market share at 5 years, revenue of
approximately $25-50 million annually
Plan to approach Canadian government for possible
subsidization or coverage for patients to increase
availability and revenues
Product Life Cycle


Currently
reaching end of
stage III
Product will be
reaching
profitability in
near future
Development Times – Gantt Chart
TODAY
Initial research & devel.
Devel. of Prototype
Test phase
Regulatory
Plant opening
Time to market
Time to revenue
Investment recovery
2003
2004
2005
2006
2007
2008
2009
2010
2011
Business case - Investment
Concept
Cost (USD)
/ 2 years
Patent1
8,000
Research & test
phase
100,000
Prototype
250,000
Prod. Plant set-up
500,000
Miscellaneous (pub.,
reg., etc.)
80,000
Prod cost per unit (inc. 1,920,000
packaging, etc)
Prod cost fixed (rent,
utilities, salaries, etc.)
1. http://www.patents.com/cost.htm
2,400,000
Fixed prod.
Cost 46%
Patent 0%
Previous
Research &
1%
test 1%
Prototype 3%
Unit prod.
Cost 38%
Prod. Plant
10%
Misc. 2%
PHASE
COST USD
Initial
108,000
Prototype
250,000
Plant set-up
580,000
Production
4,320,000
Total (2 Yr.)
5,258,000 USD
Investment Analysis




Market analysis gives approximate Time to Revenue
(TTR) of 2 years.
Partnership with existing industries can extend
market share and reduce TTR.
Possibility to acquire external
investment sources (Capital growth,
dilution).
Estimated time to investment
recovery from 4 to 6 years
Conclusions





Novel product that will improve more than just walking
for lower limb amputees
Not much regulatory concern
Promising consumer market
Flexibility for alternatives
Staged product development plan
INVEST NOW!
Questions?