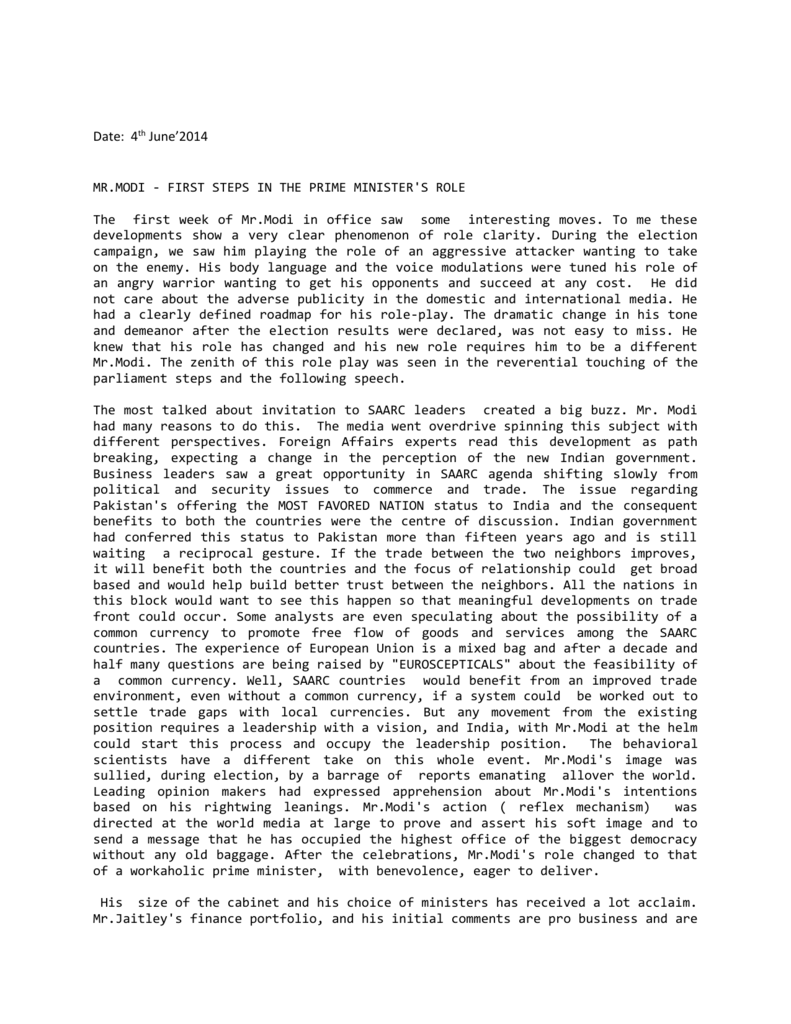 Date: 4th June'2014
MR.MODI - FIRST STEPS IN THE PRIME MINISTER'S ROLE
The first week of Mr.Modi in office saw some interesting moves. To me these
developments show a very clear phenomenon of role clarity. During the election
campaign, we saw him playing the role of an aggressive attacker wanting to take
on the enemy. His body language and the voice modulations were tuned his role of
an angry warrior wanting to get his opponents and succeed at any cost. He did
not care about the adverse publicity in the domestic and international media. He
had a clearly defined roadmap for his role-play. The dramatic change in his tone
and demeanor after the election results were declared, was not easy to miss. He
knew that his role has changed and his new role requires him to be a different
Mr.Modi. The zenith of this role play was seen in the reverential touching of the
parliament steps and the following speech.
The most talked about invitation to SAARC leaders created a big buzz. Mr. Modi
had many reasons to do this. The media went overdrive spinning this subject with
different perspectives. Foreign Affairs experts read this development as path
breaking, expecting a change in the perception of the new Indian government.
Business leaders saw a great opportunity in SAARC agenda shifting slowly from
political and security issues to commerce and trade. The issue regarding
Pakistan's offering the MOST FAVORED NATION status to India and the consequent
benefits to both the countries were the centre of discussion. Indian government
had conferred this status to Pakistan more than fifteen years ago and is still
waiting a reciprocal gesture. If the trade between the two neighbors improves,
it will benefit both the countries and the focus of relationship could get broad
based and would help build better trust between the neighbors. All the nations in
this block would want to see this happen so that meaningful developments on trade
front could occur. Some analysts are even speculating about the possibility of a
common currency to promote free flow of goods and services among the SAARC
countries. The experience of European Union is a mixed bag and after a decade and
half many questions are being raised by "EUROSCEPTICALS" about the feasibility of
a common currency. Well, SAARC countries would benefit from an improved trade
environment, even without a common currency, if a system could be worked out to
settle trade gaps with local currencies. But any movement from the existing
position requires a leadership with a vision, and India, with Mr.Modi at the helm
could start this process and occupy the leadership position.
The behavioral
scientists have a different take on this whole event. Mr.Modi's image was
sullied, during election, by a barrage of reports emanating allover the world.
Leading opinion makers had expressed apprehension about Mr.Modi's intentions
based on his rightwing leanings. Mr.Modi's action ( reflex mechanism)
was
directed at the world media at large to prove and assert his soft image and to
send a message that he has occupied the highest office of the biggest democracy
without any old baggage. After the celebrations, Mr.Modi's role changed to that
of a workaholic prime minister, with benevolence, eager to deliver.
His size of the cabinet and his choice of ministers has received a lot acclaim.
Mr.Jaitley's finance portfolio, and his initial comments are pro business and are
on expected lines. His decision to work with Raghuram Rajan, the governer of RBI
augurs well for the economy, sending the correct signal that his government
values professionalism. Without wasting any time Mr.Jaitley has initiated to
bring GST back on the table.
Mrs.Nirmala Seetharaman is a
rookie and is
untested.
But her background and stint at international accounting and
consultancy firm PWC, gives a level of comfort to the business and industry.
Mr.Modi's ten point guidelines to ministers is an excellent start for good
governance. Though the points are all disconnected, each one of the point is very
important and is reassurance to the people and the businessmen in general that
Modi will be proactive and wants his ministers to follow his work culture. The
latest move to abolish
various committees of ministers to avoid delay in
decision making is also a welcome change. His directions to the bureaucracy to
inculcate a sense of urgency to complete the projects on time shows that Mr.Modi
is interested only in delivery and not just bluster. His directive to all the
ministers not to include relatives as personal staff and not to grant contracts
to relatives and friends takes the cake, and will kill nepotism in the bud.
While Mr.Modi is busy with overall governance and growth, it's encouraging to
hear the right messages from other ministers. The talk of privatizing Air India
is music to ears. The environment ministry wants to move fast in clearing pending
mega projects without compromising on protection to mother nature. A balance
between growth,progress and environment with speedy approvals makes a huge sense.
This could unlock five lakh crores of rupees worth of investment and trigger a
deluge of new investment in infrastructure. No doubt, a beginning was made by
Mr.Moily during UPA 2, but the element of certainty was missing. The proposal of
100% FDI in defense sector , developing of 100 cities to promote growth, are some
of the serious proposals coming from other ministers. It's is just a week since
many ministers have takeover and the deluge of interesting proposals and
initiatives are very encouraging and the business community is really upbeat.
But let's also cut some slack for first time ministers to settle down.
Mr. Modi has smoothly fitted in the role of PM, a round peg in a round hole.