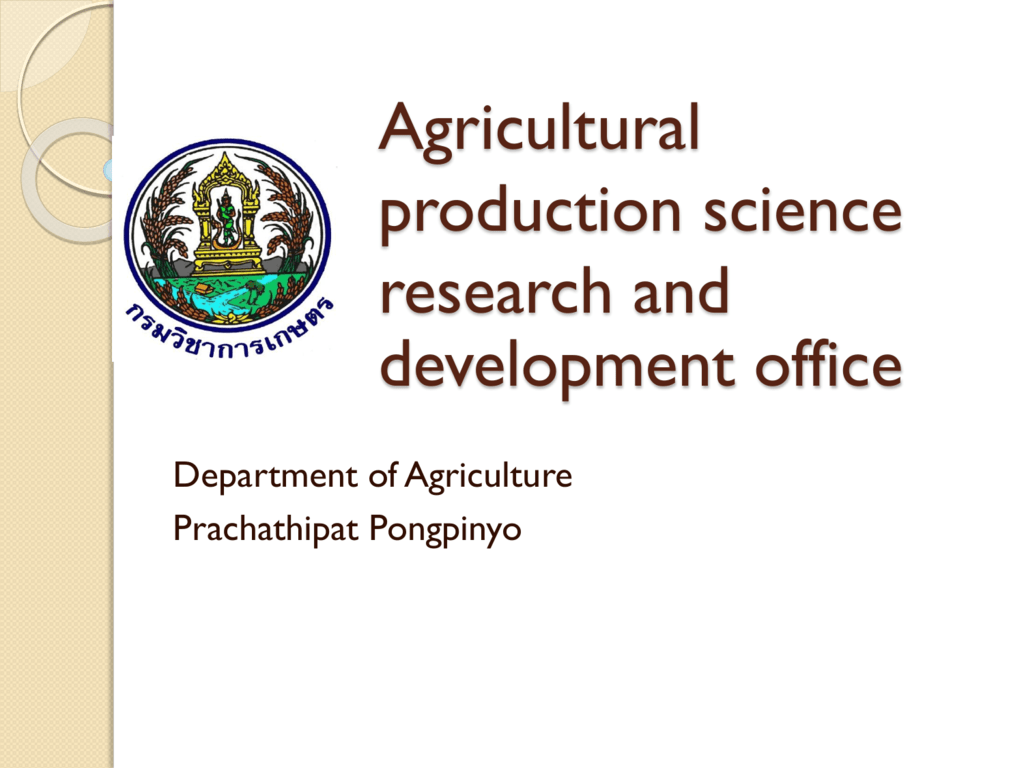 Agricultural
production science
research and
development office
Department of Agriculture
Prachathipat Pongpinyo
Responsibility
Performing research works and technical
development in relation to agricultural
inputs which are soil, water, fertilizer,
plant, pesticide and others agricultural
production inputs.
 Providing services for analysis, inspection,
consultation and laboratory certification
in relation to agricultural production
inputs.

Organization Chart
Agricultural
Production Science
Research and
Development Office
Research Project
Administration Subdivision
Soil Science Research
Group
Administration Subdivision
Agricultural
Chemistry Research
Group
Pesticide Research
Group
Pesticide Research Group
Conducting research and development on
pesticides including pesticide formulation
and quality control, pesticide residue
analysis, impact of pesticide and risk
assessment along with the synthesis of
pesticides from natural products.
 Providing services on pesticide analysis
for quality and certification of agricultural
commodities for export.

Certificate
Past…
2006: Accredited in Organophosphorus
in Mango (11 pesticides)
 2008: Accredited in Organochlorine and
Pyrethroid in Mango (10 pesticides)
 2009: Accredited in Carbamates in Mango
(7 pesticides)
 Total accredited 28 pesticides

Present

With GC/MS instrument: Screening 430
Pesticides by GC/MS with Deconvolution
Reporting Software and Pesticide Library
Future…

With the technical support from FAO on
the enhancement of laboratory capacity;
we hope that the scientists will gain
knowledge and skill from technical
training and can also Expand the scope of
pesticide residues analysis in both
Qualitative and Quantitative by modern &
high efficiency equipment such as LCMS/MS.