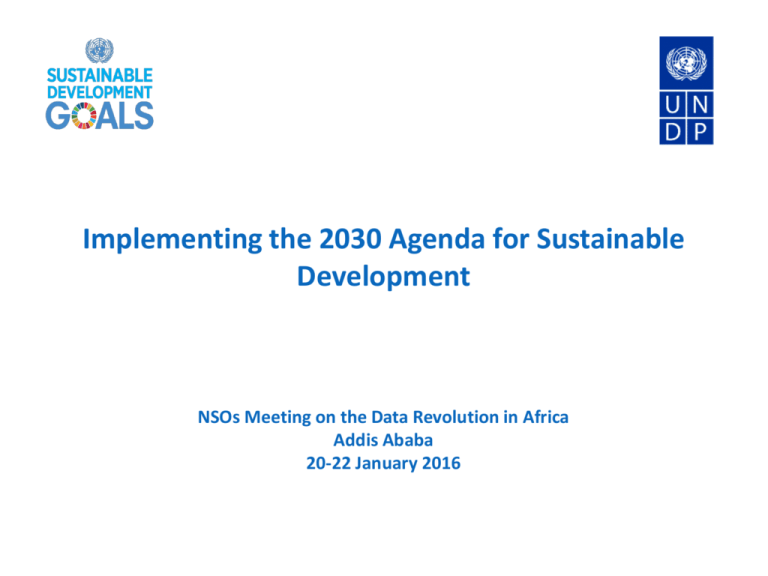 Implementing the 2030 Agenda for Sustainable
Development
NSOs Meeting on the Data Revolution in Africa
Addis Ababa
20-22 January 2016
The New 2030 Agenda
• Adopted 25 September 2015; January 2016 – December 2030
• "a plan of action for people, planet and prosperity", "leave no
one behind"
• Consists of
– Declaration
– 17 Sustainable Development Goals (SDGs), 169 targets
– means of implementation and renewed global partnership
– framework for review and follow-up (possibly 229
indicators)
Result of a Participatory Process
Sustainable Development Goals
From MDGs to SDGs
• A much wider scope, beyond predominantly 'social' goals of
MDGs, incorporating more fully aspects of economic and
environmental sustainability, aspiration for peaceful and
inclusive societies.
• A more ambitious agenda, to eliminate rather than reduce
poverty, with more demanding targets on health, education,
gender equality
• A universal agenda, applying to all countries and all people,
with explicit recognition that international collective action is
required
Implementing the SDGs
Now that this historic agenda has
been adopted, how do we translate
these goals into practical action?
What is MAPS?
MAINSTREAMING
ACCELERATION
POLICY SUPPORT
 Land the SDG agenda
at national and local
levels: integration into
national and subnational plans for
development; and
into budget
allocations
 Focus on priority
areas defined by
countries
 Support integrated
approach, considering
synergies & trade-offs
 Target resources at
bottlenecks and gaps
- financing,
partnerships,
measurement
 Support – skills and
experience - from UN
agencies to countries,
which should be made
available at a low cost
in a timely manner
MAPS
 Pay attention to cross-cutting issues:
 Partnerships
 Accountability
 Data
 MAPS components will not follow a sequential order,
but can frame a coherent approach to policy guidance
by the UN development system. The UNDAF remains
the strategic framework for the UNCT.
 Deliverables 2015/2016:
 Mapping of agency / joint policy support tools
 Guidance for support to mainstreaming SDGs
 Guidance for national reporting on SDGs
 Toolkit for SDG-based acceleration framework
Mainstreaming Reference Guide
 Array of approaches and tools that UNCTs can discuss with
Member States to adapt the Agenda to national, sub-national
and local conditions and realities.
 A menu of options, with case studies providing examples of
how some countries have begun to develop and use relevant
tools.
 It might also be of direct use to a broader audience of
government officials and development practitioners.
Early Implementation Efforts
• Algeria is undertaking a study on the current capacities of the national
statistics systems and their readiness to contribute to the SDGs.
• Cabo Verde and Rwanda undertook a gap analysis to ascertain alignment of
national development targets with SDGs.
• Botswana is conducting dialogues to map potential shocks that might
impact SDG achievement, to inform long-term vision & medium-term plan.
• DRC is convening a multi-stakeholders discussions on the prioritization and
integration of the SDGs in the upcoming national development plan.
• Morocco is using the ongoing United Nations Development Assistance
Framework process as an opportunity to raise awareness about the SDGs.
• Somalia is localizing and prioritizing the SDGs in the special context of
fragility, and is establishing a statistics database for key indicators.
• To popularise the goals, Uganda has appointed SDG Ambassadors (President
on Goal 16) and mapped SDGs onto text of national anthem.
SDG Action Campaign
UN Millennium Campaign:
 Build and maintain political will for achieving the MDGs
 Build multi-stakeholder partnerships
 Citizen & stakeholder outreach for post-2015 Global
Conversation
New UN SDG Action Campaign:
 Popularize SDGs in every country
 Engage stakeholders in implementation
 Sponsor citizen-driven processes to monitor progress
MY WORLD RESULTS
OVER 9.7 MILLION VOTES
194 COUNTRIES
1000+ PARTNERS
82% OFFLINE VOTES
77% VOTERS 30 YEARS OLD & YOUNGER
OPEN SOURCE PLATFORM
LIVE DATA VISUALIZATIONS
COUNTRY LEVEL MULTI-STAKEHOLDER GROUPS
data.myworld2050
.org
A good education
Equality between men and women
Better healthcare
Better transport and roads
Better job opportunities
Reliable energy at home
An honest and responsive
government
Freedom from discrimination and
persecution
Affordable and nutritious food
Political freedoms
Protection against crime and
violence
Access to clean water and
sanitation
Protecting forests, rivers and
oceans
Support for people who can't work
Action taken on climate change
Phone and internet access
MY WORLD 2030
•
Beta version available now at myworld2030.org
•
Respondents asked asked to select the SDGs they are most
passionate about and rate progress
•
Customized survey development options
•
Tool for localization, monitoring and accountability
•
Participating in data revolution
BUILD CUSTOM SURVEYS
COLLECT DATA
ANALYZE AND MANAGE DATA
1000+ PARTNER
ECOSYSTEM
TODAY
MASS CITIZEN
ENGAGEMENT
PRIORITIZATIO
N VEHICLE
FOR SDGS
SCALE AND
REPRESENTATIVE
NESS
MY WORLD
2015
EMBEDDED INTO POLITICAL
PROCESS
GLOBAL , REGIONAL, NATIONAL, SUBNATIONAL
LOCALIZATION,
IMPLEMENTATION AND
ACCOUNTABILITY
MY
WORLD
2030
NATIONAL
STAKEHOLDER
GROUPS FOR DESIGN
AND ADVOCACY
Implementing the SDGs
SDG Implementation in
Fragile
and Conflict-Affected States
Conflict-affected countries were famously
'left behind' by the MDGs
• Fragile and conflict-affected states have been among the
lowest performing countries with regards to the MDGs
Conflict destroying
development gains
• Conflict and disaster often destroys
hard gained development gains
Special approach needed
"Leave no one behind"
• There was criticism that their special
circumstances were not taken enough into
consideration in the MDG process
• For the SDGs, fragile and conflict-affected
countries need targeted support to address
bottlenecks
SDG Readiness in Fragile States
Study
• UNDP Strategic Policy Unit is planning a
research study to support the readiness
of states affected by conflict and
fragility to implement the 2030 Agenda,
in short "The SDG Readiness in Fragile
States Study"
• The study will draw on a range of
countries as case studies and publish
recommendations for SDG
implementation in fragile and conflictaffected states
SDG Indicators
• UN Statistical Commission Roadmap
 Inter-Agency and Experts Group on SDG Indicators established by UN
Statistical Commission in March 2015
 Two work streams: indicator framework, interlinkages across goals and targets
 Process is highly political and contentious​. Strong oversight, or political
guidance by member states.
th
 SDG Indicators Framework to be presented at 47 Session of UN Statistical
Commission expected in March 2016: 149 agreed indicators, 80 for further
discussions
• Mandate/Criteria
 Limited number of indicators, but no target left behind
 Data disaggregation by age, gender and other criteria to address vulnerability
and exclusion
 Respect national policy space: each country can decide own indicators
How did we support MDG
Monitoring?
 Scorekeeper of the MDGs
 500+ national MDG reports in 140+ countries
 Promotion of MDGs
 Assessment of progress
 Contribute to national debate on development
 Highlight challenges and insufficiently monitored issues
• Country Report Guidelines in 2001, 2003, 2009, 2013
 Support statistical capacity for measuring development progress
 Data collection and analysis to produce MDG reports
 Fill data gaps
 Improvement in data quality
 Help create data-friendly environment
National SDG Reports
• United Nations Development Group - Sustainable
Development Working Group
• Inter-agency task team on Data and National SDG Reports
• Objectives:
 Strengthen data systems, capacities, methodologies and
mechanisms to track progress
 Effective and efficient monitoring and reporting through
coordination, facilitation, knowledge sharing
 Guidance for producing national SDG reports
 Pooled expertise from UN System to support for 144 low
and middle income countries
Data Ecosystem Mapping
• Opportunities and constraints for stakeholders engagement in data
revolution for sustainable development
• 7 countries: Bangladesh, Colombia, Moldova, Mongolia, Senegal,
Swaziland, Trinidad and Tobago
Stakeholders
Data producers
Data users
Data funders
Infomediaries
Capacities
Statistical capacity
Analytical capacity
Data literacy
Leadership
Processes
Monitoring,
Accountability,
Transparency
Development
planning
Policy-making
Knowledge sharing
Policies
Laws: FoI, A2I,
Privacy, Security
Enabling
regulations
E-commerce,
Copyrights
International
obligations
Infrastructure
Telecoms, Data
centers
Data analytics,
visualization
Data standards
Inter-operability
Why Data Matters for the SDGs?
 Inform policies
 AAAA: High-quality data is essential for smart and transparent decisionmaking, can improve policymaking at all levels
 The complexity and inter-connectedness of the SDGs will require
significant research and analysis to ensure the coherence of
implementation efforts and manage trade-offs.
 Monitor progress
 With 169 targets, and potentially as many indicators, measuring the SDGs
will require significant improvements in quality, reliability, availability and
timeliness of development data
 Data from non-official, third-party sources can complement official
statistics where gaps exist
 Leave no one behind
 Data can help achieve the transformative impact of the SDGs, by providing
information on who benefits or not from the SDGs, through data
disaggregation according to international human rights framework
 Accountability, participation and empowerment
 Data is necessary but not sufficient for accountability. People must have a
say on which data about them is used and how. They must have access to
data and be empowered to take action within their communities.
Key Dates 2016
• 8-11 Mar: 47th Session of the Statistical Commission to agree on SDG
indicators
• 30 Mar-1 Apr: 3rd Meeting of the Inter-Agency and Experts Group on SDG
Indicators
• 11-12 Apr: UNGA High-Level Thematic Debate: Implementing Commitments
on Sustainable Development, Climate Change and Financing
• 22 Apr: Signing of Paris Climate Agreement
• 11-20 Jul: High Level Political Forum on Sustainable Development
• 18-22 Jul: ECOSOC High-level segment: The Theme "Implementing the post2015 development agenda: moving from commitments to results"
Thank You!