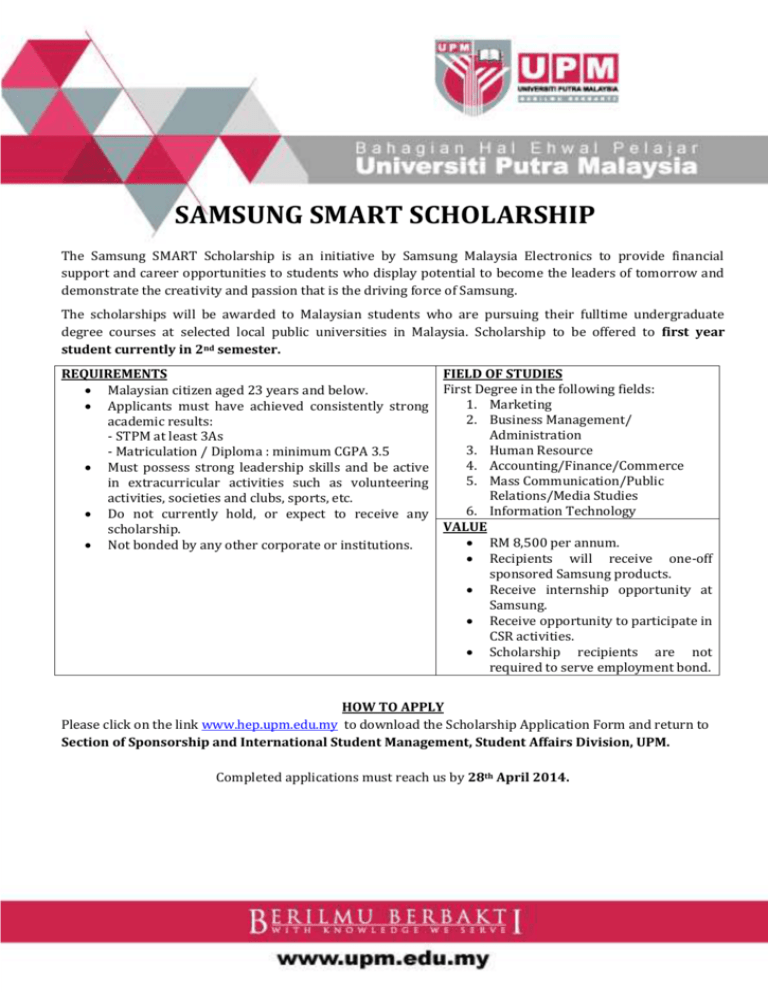 SAMSUNG SMART SCHOLARSHIP
The Samsung SMART Scholarship is an initiative by Samsung Malaysia Electronics to provide financial
support and career opportunities to students who display potential to become the leaders of tomorrow and
demonstrate the creativity and passion that is the driving force of Samsung.
The scholarships will be awarded to Malaysian students who are pursuing their fulltime undergraduate
degree courses at selected local public universities in Malaysia. Scholarship to be offered to first year
student currently in 2nd semester.
REQUIREMENTS
FIELD OF STUDIES
First Degree in the following fields:
 Malaysian citizen aged 23 years and below.
1. Marketing
 Applicants must have achieved consistently strong
2. Business Management/
academic results:
Administration
- STPM at least 3As
3. Human Resource
- Matriculation / Diploma : minimum CGPA 3.5
4. Accounting/Finance/Commerce
 Must possess strong leadership skills and be active
5. Mass Communication/Public
in extracurricular activities such as volunteering
Relations/Media Studies
activities, societies and clubs, sports, etc.
6. Information Technology
 Do not currently hold, or expect to receive any
VALUE
scholarship.
 RM 8,500 per annum.
 Not bonded by any other corporate or institutions.
 Recipients will receive one-off
sponsored Samsung products.
 Receive internship opportunity at
Samsung.
 Receive opportunity to participate in
CSR activities.
 Scholarship recipients are not
required to serve employment bond.
HOW TO APPLY
Please click on the link www.hep.upm.edu.my to download the Scholarship Application Form and return to
Section of Sponsorship and International Student Management, Student Affairs Division, UPM.
Completed applications must reach us by 28th April 2014.