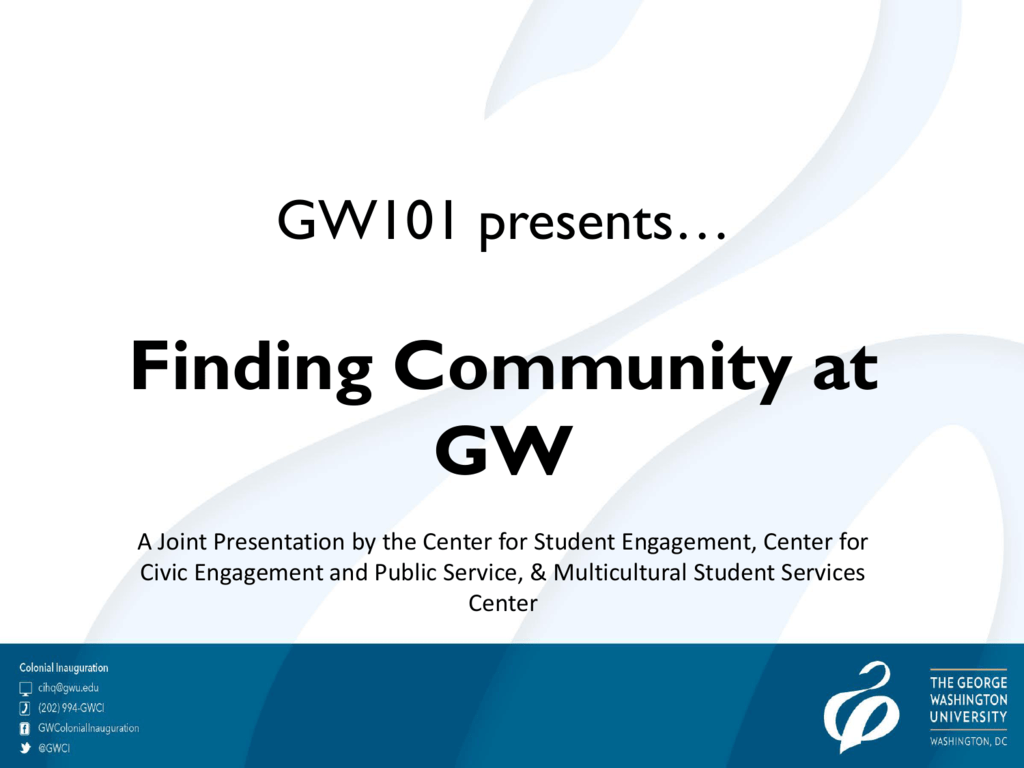 GW101 presents…
Finding Community at
GW
A Joint Presentation by the Center for Student Engagement, Center for
Civic Engagement and Public Service, & Multicultural Student Services
Center
Community…it's what we do
Multicultural Student
Services Center
Center for Civic Engagement
and Public Service
Center for Student Engagement
• The Center for Student Engagement at The
George Washington University is committed to
transforming the student experience and
empowering students to become active and
engaged global citizens and leaders.
How we connect students
•
•
•
•
Residential Experience
Student Organizations
Greek Life
GW Bound
Residential Experience
• Roommate relationships
• Start communication now
• Talk about expectations in the room
• Roommate Agreement
Residential Experience
• Resident Advisors will
• Get to know you
• Connect you to the community
• Maintain the community
• Community Standards
• Maintain a positive living experience
• Includes policies for visitors, quiet hours, civility
and conduct
Student Organizations
•
•
•
•
Over 400 student organizations
Nine categories of organizations
Student Organizations Fairs
http://studentorgs.gwu.edu
Student Organizations
• Make connections
• Pursue interests
• Learn and develop leadership and other
skills
Greek Life
• 32% of undergraduate student body
• Three governing councils
• Interfraternity Council
• Multicultural Greek Council
• Panhellenic Association
Greek Life Pillars
• Scholarship
• All Greek GPA – 3.15
• New member GPA
• Leadership
• Service
• 45750+ hours
• $313,500+
• Brotherhood/Sisterhood
GW Bound
• Three guarantees
• For more information, see our staff
Contact Information
• Center for Student Engagement
• Colonial Crossroads
• Marvin Center 5th Floor
• 202-994-6555
• [email protected]
• http://studentengagement.gwu.edu
About the Center
• The Center aims to integrate civic engagement into
George Washington University's educational work.
We focus GW's resources to meet community
needs beyond the campus, promote active
citizenship in a diverse democracy, and enhance
teaching, learning and scholarship at GW.
• Focus Areas: (1)Community Service & Engagement;
(2)Academic Service-Learning; (3)Service Careers;
(4)Social Entrepreneurship
Community Service & Engagement
• SIGNATURE SERVICE EVENTS & IMMERSION PROGRAMS
Class of 2019 Specific Programs &
Events
Community Service & Engagement
• ON-GOING SERVICE PROGRAMS
Academic Service-Learning
• KNOWLEDGE IN
ACTION
•
Over 70 courses from introductory
to capstones that extend
classroom learning into the
community through meaningful
and challenging service for
undergraduate and graduate
students.
•
Engage in scholarship through
community-based research
projects with our faculty and
students.
Service Careers
• CAREERS FOR THE
COMMON GOOD
•
GW has some of the highest
numbers of off-campus
professional opportunities in the
nation. 40% of federal work-study
jobs are in the government &
nonprofit sector.
•
Collaborating with the GW Career
Center, students and alumni can
access volunteer, internship, and
job opportunities online through
GWork.
Social Entrepreneurship
• IDEAS IN ACTION
•
Mentorship and additional
support is available to students
through GWUpstart Social
Innovation Lab.
•
Students working in collaboration
with community organizations
through the Public Service Grant
Commission and the Knapp
Fellowship for Entrepreneurial
Service-Learning can also access
institutional funding through these
programs.
During 2014-15 Academic Year
• Over 9,200 students participated in service.
• 655,192 hours of service to the community
performed.
• 674 Presidential Volunteer Service Awards
presented.
[email protected] | @GWService
Connect with us on:
HTTP://SERVE.GWU.EDU
DIVERSITY AND INCLUSION EDUCATION
ACADEMIC SUPPORT, ADVOCACY, AND RETENTION
RELIGIOUS LIFE
LGBT RESOURCE CENTER
IN THE OFFICE OF DIVERSITY AND INCLUSION
Our Vision
• Through the development of strategic partnerships,
innovative programs, and life long relationships, the
MSSC fosters the development of a university
experience that prepares GW students for success in
an increasingly diverse and global society.
Our History:
•
Congressman Kenneth Adams
•
The Adam's States
•
Office of Civil Rights
•
The Adams Order
•
"Eliminate the present day effect of past discrimination."
•
The 60's, A Movement…….Nationwide Change
•
46 Years
Cultural Education Programs:
"Only at Gw:"
•
•
•
•
•
•
•
•
•
•
•
•
Sept 15-Oct 15
Sept 11
October
October
November
November
January
February
March
March
April
May
Latino/Hispanic Heritage
9 – 11 Vigil
LGBT National Coming Out
Bi-Racial Awareness Week
Interfaith Dinner
Native Indian Heritage Month
Dr. Martin Luther King Jr.
Black History Month
Women's History Month
South Asian Heritage
Asian & Pac. Islander Heritage
Interfaith Baccalaureate
Campus Community Building Programs:
•
ICL Leadership Retreat
•
Block Party
•
D & I Thanksgiving
•
Late Night Study Zone
•
Graduation Celebration
•
M/C Leaders Council
Diversity & Inclusion Training:
•
Cross Cultural Communication
•
Diversity 101
•
Speak Up – Responding to Bias Statements
•
Safe Zones – Become and LGBT Ally
•
Transgender 101
•
Understanding Religious Life on Campus
•
Diversity and Leadership
OFFICE OF RELIGIOUS LIFE
Religious Diversity & Interfaith Programs
•
Interfaith Dinner
•
President Obama's Interfaith & Service Campus Challenge
•
9-11 Vigil
•
Interfaith Service - Dr. Martin Luther King, Jr. Day of Service (CCEPS)
•
Religious Diversity Training
•
Faith-Based Student Organization Support
•
Religious Diversity and Interfaith Programming
•
Partnership with the Religion Department & Local Faith Leaders
•
Interfaith Baccalaureate
Mission Statement:
• The George Washington University Lesbian, Gay, Bisexual and Transgender
(LGBT) Resource Center provides a comprehensive range of
education, support and advocacy services to create and maintain an open,
safe and inclusive campus environment. The LGBT Resource Center
welcomes a diversity of racial, ethnic, religious, political and cultural
values and is committed to enhancing acceptance and quality of life for
the entire GW community.
MSSC Lesbian, Gay, Bisexual & Transgender
Resource Center (LGBT)
•
•
•
•
•
•
•
•
Safe Zone & Transgender 101 Trainings
Speakers Bureau
Mentor Program
LGBT and Sexuality Studies Minor
Community Service
Resource Library
Allied in Pride Student Organization
LGBT Alumni Association
How do I get involved?
• Check out our website,
http://gwired.gwu.edu/mssc/LGBT/
• Sign up for the LGBT Resource Center's
"Gay Agenda," our weekly newsletter.
• E-mail us at [email protected]
• Come see us this Fall in Room 103 in the MSSC!
Key's to our Success: Student Centered Resources
•
•
•
•
•
Oasis Model
Mon - Friday 9 to 11pm
Saturday
12 to 6 pm
Sunday
4 to10 pm
46 years on G Street
•
•
•
•
•
Student Org Spaces
MSSC E-Newsletter
Cultural Resource Info
Academic Resources
Cultural Competency
Key's to our Success:
Key's to our Success:
"Anyone's home away from home"
• We Believe:
• THE MSSC, it is more than just a building!
• Where are you from….and where are you from from?
• Illuminating diversity…in the university!
• IT'S A BEAUTIFUL DAY ON "G" STREET!
• Don't be a stranger, more importantly…… don't be strange.
• Enthuuuuuuusiasm!
• Every student belongs
• The MSSC - 2127 G
[email protected]
www.gwired.gwu.edu/mssc
• @gwmssc
• https://www.facebook.com/GWMSSC
• 202-994-MSSC
Questions?