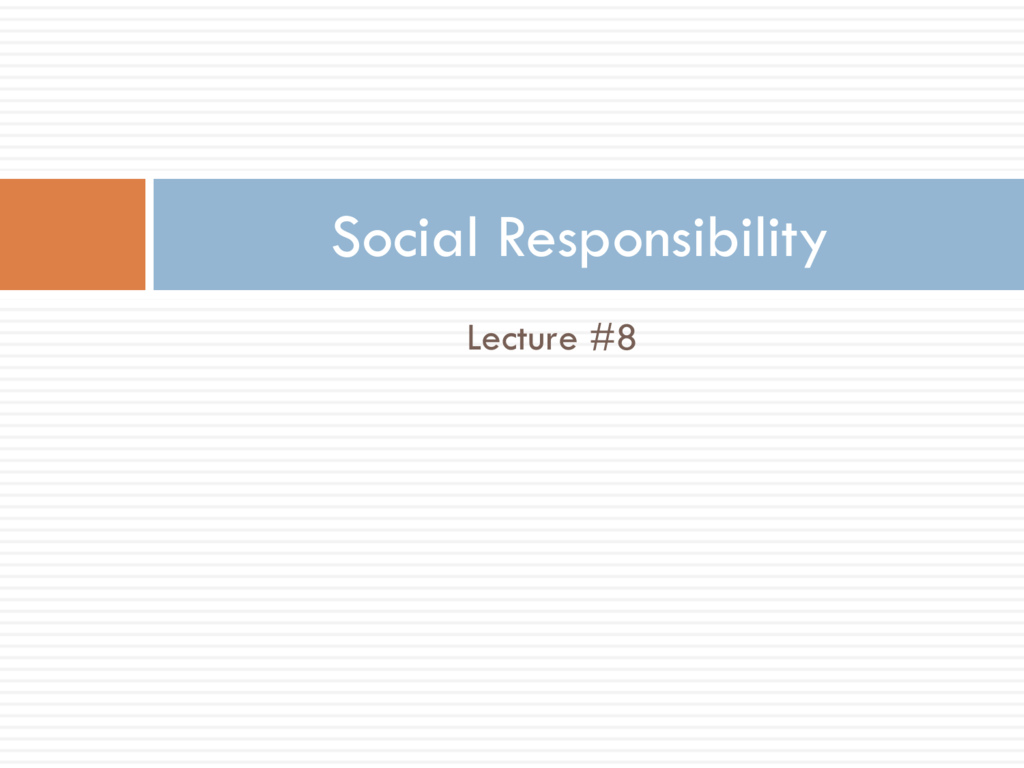 Social Responsibility
Lecture #8
In Class Assignment #4

Name 5 current campaigns in fashion that represent
social responsibility?
Why do Fashion Public Relations
Professionals Need to Understand
Social Responsibility?
What is Social Responsibility?

Social Responsibility- The notion that, in addition to
their business interests, individuals and organizations
have certain obligations to protect and benefit
other individuals and society and to avoid actions
that could harm them.
Social Responsibility



Is directly linked to ethics; considered corporate
ethics.
Society demands that organizations play an active
role in solving society's problems.
Organizations must nourish cultures and promote
ethical behavior.
Social Responsibility


Being socially responsible does not mean making
everyone happy.
For example, an organization may choose to make
a charitable contribution rather than increasing
dividends to stockholders.
Social Responsibility


Corporations are often short sighted paying attention to
only its mission, products, and competition.
Overtime, ignoring the needs of others actually causes us to
ignore our own needs.




We may need neighborhood help to open new stores
We need well funded institutions to train technical skilled
employees
We need health care to lower absenteeism in our organization
However large or small our organization is we cannot keep
our business separate from the societies in which we
operate.
Ethics in Business

Business Ethics has become an oxymoron because of
today's disgrace of CEOs
 Enron
Executives charged with massive accounting fraud
 The accounting firm Arthur Anderson was wiped out
because of its aid of the Enron scandal
 WorldCom, Global Crossing, and Qwest
Communications executives were accused of massive
accounting fraud as well
Ethics in Business





Martha Stewart Charged with insider trading
Kathie Lee Gifford- sweatshops and child labor
laws in the factories that manufactured her clothing
Nike- Sweatshops
American Apparel- Selling Sex/Plus Size model
hunt
Target- Missoni Collection
Ethics in Business


According to a 2007 survey conducted by Junior
Achievement and DeLoitte, 41% of teenagers
believed they must act unethically in order for them
to get ahead.
In 2007, organizations began devoting large
amounts of time and attention to corporate ethics .
Corporate Codes of Conduct


Many organizations have corporate codes of conduct,
which help guide decisions
The purpose of codes of conduct:
To increase public confidence- public trust and confidence in
business.
 To stem the tide of regulation- government regulation of
business has increased.
 To improve internal operations- standards of conduct to
ensure that employees were meeting the business objectives
of the organization in a legal and ethical manner.
 To respond to transgressions- when a company itself is
caught in the web of unethical behavior, it responds with its
own code of ethics/conduct.

Corporate Codes of Conduct
Continued

Just as individuals have certain responsibilities as a
citizen, so do corporate citizens in the operations to
the society they are privileged to operate
Corporate Social Responsibility


Corporate social responsibility (CSR)- is about how
the organization manages the business processes to
produce an overall positive impact on society.
Social responsibility touches nearly every level of
organizational activity: marketing, hiring, training,
hiring and work standards.
Responsibility to Stakeholders

Stakeholder: anyone who have interest in or are
affected by how an organization conducts itself.
 Owners,
stockholders, employees, customers, suppliers,
communities.
Corporate Social Responsibility Needs
to be Considered in:



Product Lines- dangerous products, performance
and standards, packaging, and environmental
impact.
Marketing Practices- sales practices, consumer
complaint policies, advertising content, fair pricing.
Environmental Activities- pollution-control, climate
change projects, federal standards, evaluations
procedures for new products and packages.
Corporate Social Responsibility Needs
to be Considered in:




Corporate Philanthropy- contribution performance,
encouragement of employee participation in social
projects, community development projects
External Relations- support of minority enterprises,
investment practices, and government relations
Hiring Policies- employment diversity in retaining and
promoting minorities and women, advancement policies
Employee Safety and Health- work environment
policies, accident safeguards, and food and medical
facilities
Responsibility to Owners and
Stockholders




An organization and its employees owe their best
efforts to its owners.
Assets must be used effectively and efficiently.
Employees must do their best to maximize the return on
invested capital and create a profit.
Owners and employers must have the right to expect
ethical, moral, and legal conduct from their employees.
Responsibility to Employees





Employees should enjoy equal access to the rights,
responsibilities, and privileges given to employers.
Employees need to receive fair and equitable
compensation.
Be dismissed only for a just cause.
Be treated without discrimination.
Have a quality of work life that provides satisfying
jobs.
Responsibility to Customers



Organizations owe fair and honest representations
of their products to their customers.
Should include quality of design, manufacture,
distributions and sales.
Organizations must warn customers of any hazards
with their products that they may encounter.
Responsibility to Suppliers




Should build relationships on mutual trust.
Suppliers deserve to receive notification in time to
render quality service and suppliers.
They have the right to be treated according to the
terms of their legal agreements.
Mutual trust can make a 20-40 percent difference on
service, quality, cost and other items.
Responsibility to Communities



Communities have the right to quality of life.
Quality of life can mean: air, land, and water
quality.
We have to look at how products and packages
may harm the environment.
Responsibility to Communities



Within the last decade there has been a boom in
"green" businesses and products, and even green
services.
Green products- are those that minimize energy
consumption and pollution by products connected
with their manufacture and disposal.
Not only is this becoming a huge trend in retail and
fashion, but as a multibillion dollar industry there
are laws that are cracking down on pollution and
natural resources.
Government Regulations





The laws that are now put into place are there because of
these abuses.
Although the laws are in place, most governments do not
have enough money or people to adequately enforce
regulations.
These abuses can be brought to the attention of those who
can doing something about it by a practice called whistleblowing.
Employees who bring these abuses to the surface are called
whistle-blowers.
There are roughly 20 federal laws and 40 state laws that
protect whistleblowers.
Sustainable Communities




Many organizations are now investing the resources
into creating sustainable work communities.
Sustainable Communities: are healthy. Livable
communities effectively using resources- economic,
social, and environmental to meet the needs of
today's communities while ensuring that resources
are available to meet the community's future needs.
All of NIKE's headquarters are sustainable.
Can be expensive to make, but costs can be lower in
the long-run.
Management's Social Responsibility


All social responsibility must be supported by topmanagement, or else others in the organization
cannot be expected to be socially responsible.
Executives in top management must commit the time
and money necessary to make their organization
socially responsible
 Commitment
and Support
 Integrate environmental issues into their policies
 Awareness and training for employees
 Strong auditing programs
Corporate Viewpoint



Most organizations realize that social responsibility
must be a corporate lifestyle.
Not all organizations participate in it.
Organizations must be responsible for acting
ethically, improving the quality of life of their
workforces, their families, and broader society.
Corporate Viewpoint

Organizations that are truly committed to meeting
its social responsibilities, their commitments reflect
their management decisions. It also monitors its
efforts to ensure compliance.
Social Audit



To make sure that an organization is compliant with
its social responsibility initiatives they may complete
a social audit.
Social Audit: is a report on the social performance
of a business or organization.
Management should cite and reward people who
contribute to successes.
How Can We Determine If Our Plans
Are Socially Responsible?

When in doubt, don't!

Do not try to find out "How far is too far."

Superiors who push you to do things better, faster,
cheaper will turn on you when you, cross the line
between right and wrong
Approaches to Social Responsibility


Resistance Approach- actively fight to eliminate ,
delay, or fend off demands being made.
Reactive Approach- a strategy in which businesses
wait the for the demands to be made and then
react to them, choosing to react to them by
evaluating alternatives.
Approaches to Social Responsibility


Proactive Approach- a strategy in which businesses
continually look to the needs of constituents and try
to find ways to meet those needs.
This should be the approach most widely used,
organizations should actively look for ways to
include social responsibility into their policies, as
well as, ways to better products, services,
communities, employees, and stakeholders.
Final Thoughts





Social Responsibility must be developed and
committed to by top-management.
Social Responsibility can put a competitive
advantage on your organization.
Social Responsibility within itself is an act of ethics.
Organizations should proactively look for ways to
enhance social responsibility.
Social Responsibility initiatives must consider all
stakeholders.
References


Plunkett, W.R., Attner, R.F., Allen, G.S. (2008).
Management: Meeting and Exceeding Customer
Expectations. (9th ed.). South-Western: United
States.
Seitel, F.P. (2011). The Practice of Public Relations.
Prentice Hall: Boston.