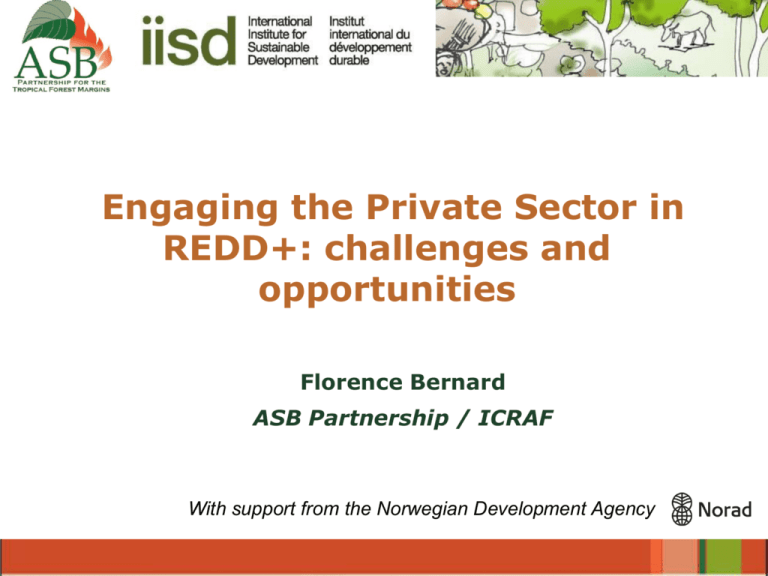 Engaging the Private Sector in
REDD+: challenges and
opportunities
Florence Bernard
ASB Partnership / ICRAF
With support from the Norwegian Development Agency
Presentation outline
1.
2.
3.
4.
Research objectives
Research methodology
Durban agreements
Initial key findings
– Who is the private sector?
– Private sector in the REDD+ value chain and
motivations
– Private sector perspectives
– Government perspectives
5. Key questions
Research objectives
• Goal: Improving REDD+ outcomes by fostering successful private
sector engagement.
• Outcome: Enhanced understanding of current and potential future
contributions of the private sector to REDD+ initiatives, and
identifying key components of effective private sector engagement.
• Output: A policy paper outlining the key lessons learned for
successful private sector participation in implementing REDD+
initiatives.
Research methodology
• Comprehensive desk review
• Semi-structured interviews with key informants at the country and project
level (11 interviews conducted)
• Review of 16 selected projects : Kenya (2), Cameroon (1), Tanzania (4),
DRC (2), Madagascar (2), Zimbabwe (1), Vietnam (2), Philippines (2).
Private sector is a key component in
moving forward
• Financing gap between current public funding commitments ($4.5bn)
and the amounts required to significantly reduce deforestation
(estimated at $17bn - $33bn)
• COP 17: Private sector sources "could be developed" to fund project
activity; financing "may come from a wide variety of sources, public and
private, bilateral and multilateral, including alternative sources" and
"appropriate market-based approaches could be developed"
• Green Climate Fund : "private-sector facility" intended to enable the
sector to finance private-sector mitigation and adaptation activities
• Appropriate means and scope of private sector involvement, going
beyond financing
Who is the private sector?
• Definition : all of the paradigm cases of private firms, including sole
proprietorships, partnerships (general, limited, or limited liability),
corporations (privately owned or publicly traded), cooperatives and
franchises
• Diverse array of firm sizes, structures and operations that range from
the purely local to national, regional and international in scope.
• Not-for-profit ventures, non-governmental organizations and
charitable foundations will be treated as a "third sector".
Private sector in REDD value chain and
their motivations
(i) Producers
through
project
development
and
investment
•
•
•
Some medium to large-sized
private firms (e.g. Wildlife
Works)
Large multinational firms
motivated by CSR (e.g. Walt
Disney Corporation)
REDD+ investors not
developing projects
themselves (e.g. Althelia
Climate Fund and Ned Bank)
(ii) Advisors
through
capacity
building and
technical
development
•
(iii) Brokers
through
carbon credit
trading and
retailing
Private consulting
•
companies for capacity
building and technical
development services
(e.g. PDD, establishing
Reference Levels,
MRV or the
accreditation
processes)
Small number
of companies
(e.g. Carbon
Neutral)
(iv) End
buyers
through
carbon credit
purchasing
•
•
Companies that are
major emitters : to
offset their own
emissions and reach
''carbon neutrality''
A lot of CSRmotivated companies
Strategies to incentivize Private Sector investments
and create demand for REDD+ ER credits
• Number of new multimillion dollar private REDD+ investment funds
have been established (e.g. Althelia ($250m), Macquarie-IFC ($25m+),
Terra Global Capital ($50m+))
• Compliance markets, including new and emerging compliance markets
such as the Australia and California cap and trade systems.
• REDD+ delivering more and more VCS and CCB standard carbon
credits which are likely to be used to access some compliance regimes
• REDD+ opportunities should be brought to the attention of banks,
insurance companies, large companies with a CSR orientation,
customer sales, event management companies.
The private sector requires a conductive regulatory,
institutional and policy framework and active government
support in protecting their investments
• Need for a strong policy signal such as a national REDD+ strategy
and incentive structures to be put in place to drive REDD+
• Level (national or project) of the performance-based payment,
question of payments for overall national performance versus projectlevel performance and risk mitigation mechanisms
• Need for a clear land tenure system
• Issue of the non-permanence of emissions reductions which needs
further insurance
The government also needs some guarantees from the
private sector to enable their engagement
• Carbon rights: an agreement and Benefit Sharing Mechanism (BSM)
needs to be developed
• Forest rights: there is a need for a clear understanding of the
implications and impacts for the communities' access to forest
resources
• Land rights have to be clarified to avoid land-grabbing and
appropriation
• Potential role of broker raises fairness or equity issues
• Need to develop appropriate social and environmental safeguards
Key questions
1. Who are the private sector 
players, what is their type of
intervention in the REDD+
value chain, and what are
their motivations?

Question Components
What are the prevailing current trends of
private sector involvement in REDD+
initiatives? What can be the role of private
sector across the value chain?

What is the main motivation of the private
sector and how does this vary between
firms?
How does the private sector interact with
different jurisdictional levels and what could
be the future of these trends?
Key questions
2. What strategies / best 
practices should be
developed or promoted
to incentivize private

sector investments in
REDD+ and to create
demand for REDD+
emissions reductions
credits?

Question Components
Should REDD+ be allowed to access compliance
markets within a future post-Kyoto regime? Under
which modalities?
What are the characteristics that could make
REDD+ particularly appealing to the private sector
and what types of strategies could be devised for
increasing their appeal? How to create a business
case beyond corporate social responsibility and
voluntary action?
Is there a need for marketing studies to scan all
potential investors and buyers in REDD+, gauge
and build interest, at local, national and international
levels?
Key questions
3. What are the aspects of the 
overall regulatory, policy,
and institutional
environment that need to be
addressed to enable greater

collaboration between the
public and private sectors on
REDD+ initiatives?
Question Components
What are the main barriers to overcome and
the priority measures to develop in order to
tackle expectations of the private sector and
government/third parties?

Is there a need for engaging the private
sector in the policy arena to build a workable
framework?
Which types of safeguards should be
developed to circumscribe private sector
activities without serving as too great a
disincentive?
Socio-economic International context
Regulation/Policy Framework
Global
National
REDD Value Chain
SubNational
Thank you for your attention
and now…
Sharing your thoughts and
ideas!