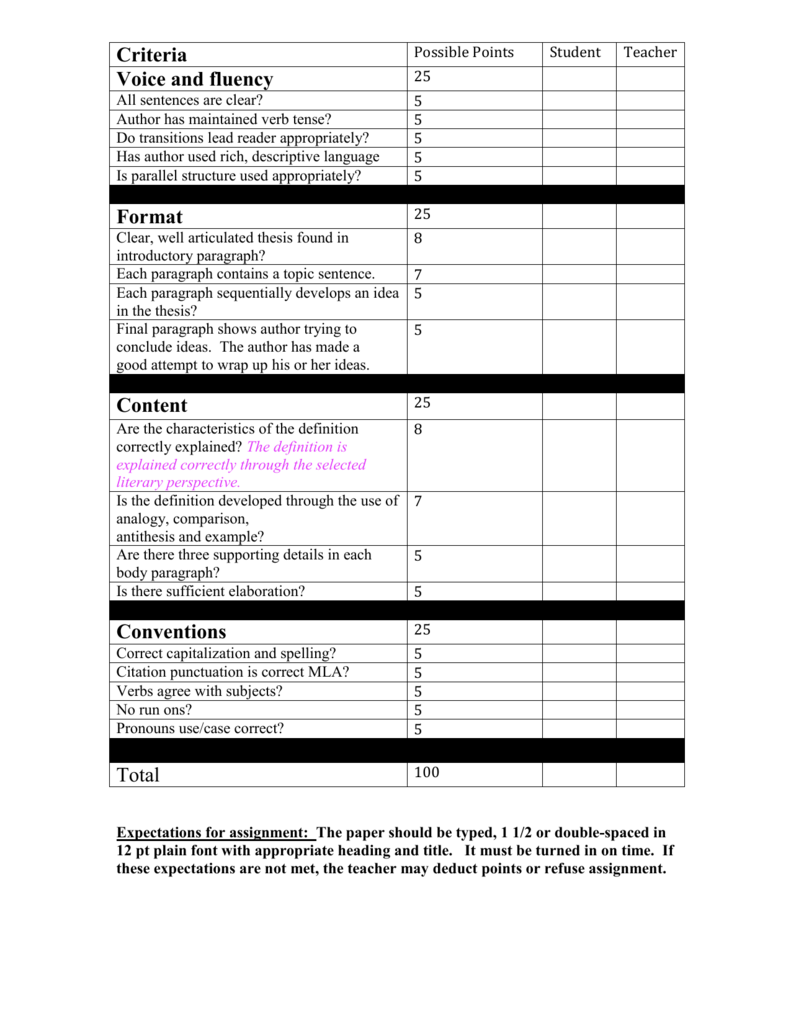 Criteria
Voice and fluency
Possible Points
All sentences are clear?
Author has maintained verb tense?
Do transitions lead reader appropriately?
Has author used rich, descriptive language
Is parallel structure used appropriately?
5
5
5
5
5
Format
25
Clear, well articulated thesis found in
introductory paragraph?
Each paragraph contains a topic sentence.
Each paragraph sequentially develops an idea
in the thesis?
Final paragraph shows author trying to
conclude ideas. The author has made a
good attempt to wrap up his or her ideas.
8
Content
25
Are the characteristics of the definition
correctly explained? The definition is
explained correctly through the selected
literary perspective.
Is the definition developed through the use of
analogy, comparison,
antithesis and example?
Are there three supporting details in each
body paragraph?
Is there sufficient elaboration?
8
Conventions
25
Correct capitalization and spelling?
Citation punctuation is correct MLA?
Verbs agree with subjects?
No run ons?
Pronouns use/case correct?
5
5
5
5
5
Total
100
Student
Teacher
25
7
5
5
7
5
5
Expectations for assignment: The paper should be typed, 1 1/2 or double-spaced in
12 pt plain font with appropriate heading and title. It must be turned in on time. If
these expectations are not met, the teacher may deduct points or refuse assignment.