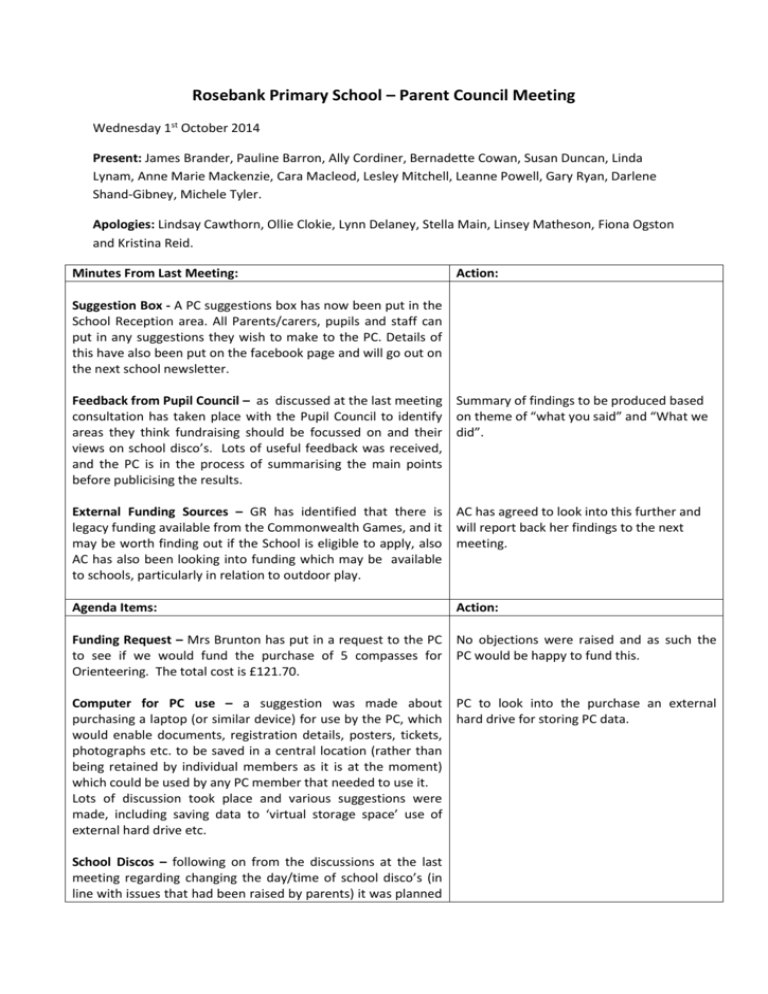 Rosebank Primary School – Parent Council Meeting
Wednesday 1st October 2014
Present: James Brander, Pauline Barron, Ally Cordiner, Bernadette Cowan, Susan Duncan, Linda
Lynam, Anne Marie Mackenzie, Cara Macleod, Lesley Mitchell, Leanne Powell, Gary Ryan, Darlene
Shand-Gibney, Michele Tyler.
Apologies: Lindsay Cawthorn, Ollie Clokie, Lynn Delaney, Stella Main, Linsey Matheson, Fiona Ogston
and Kristina Reid.
Minutes From Last Meeting:
Action:
Suggestion Box - A PC suggestions box has now been put in the
School Reception area. All Parents/carers, pupils and staff can
put in any suggestions they wish to make to the PC. Details of
this have also been put on the facebook page and will go out on
the next school newsletter.
Feedback from Pupil Council – as discussed at the last meeting Summary of findings to be produced based
consultation has taken place with the Pupil Council to identify on theme of "what you said" and "What we
areas they think fundraising should be focussed on and their did".
views on school disco's. Lots of useful feedback was received,
and the PC is in the process of summarising the main points
before publicising the results.
External Funding Sources – GR has identified that there is AC has agreed to look into this further and
legacy funding available from the Commonwealth Games, and it will report back her findings to the next
may be worth finding out if the School is eligible to apply, also meeting.
AC has also been looking into funding which may be available
to schools, particularly in relation to outdoor play.
Agenda Items:
Action:
Funding Request – Mrs Brunton has put in a request to the PC No objections were raised and as such the
to see if we would fund the purchase of 5 compasses for PC would be happy to fund this.
Orienteering. The total cost is £121.70.
Computer for PC use – a suggestion was made about PC to look into the purchase an external
purchasing a laptop (or similar device) for use by the PC, which hard drive for storing PC data.
would enable documents, registration details, posters, tickets,
photographs etc. to be saved in a central location (rather than
being retained by individual members as it is at the moment)
which could be used by any PC member that needed to use it.
Lots of discussion took place and various suggestions were
made, including saving data to 'virtual storage space' use of
external hard drive etc.
School Discos – following on from the discussions at the last
meeting regarding changing the day/time of school disco's (in
line with issues that had been raised by parents) it was planned
to consult with parents/carers and children before making any
changes, however due to the tight timescales it was decided to
run with the existing format for the Halloween Disco, but
consultation will take place to identify what, if any changes are
to be made. One thing that will change for this disco is the sale
of sweets/snacks, from now on the admission price (£2.50) will
include a drink and snacks. Glow sticks and tattoos will still be
available at an additional cost if children wish to purchase
them. The disco will take place on Friday 7th November,
6-7:30pm (N-P3) and 8-9:30pm (P4-7)
Feedback on proposed changes to be sought
through questionnaires at the disco and
through Facebook page. Paper copies will
also available. Outcome of feedback will be
presented at next PC meeting.
Helpers are required for the disco's, so
please let Lesley know if you are able to
help.
In addition, it was felt that Nursery pupils should be
accompanied by an adult for the duration of the disco.
Forthcoming Events:
Christmas Market (shopping Evening) – this will take place on
Tuesday 25th November, between 6:30 and 8:30pm.
A fundraising sub-committee is due to meet
next week to go through the details of what
is required for these activities, anyone
rd
Christmas Sing-a-long evening performance – Wednesday 3
interested in being part of this should let
December at 7pm, afternoon performance – Thursday 4th Lesley know asap. In addition, MT has been
December 1:30pm.
working on a calendar/planner for
scheduling all proposed events/activities for
Pupil Designed Christmas Cards - again, due to the tight the academic year.
timescale it was decided to go with the same company as last
year, however we may look at doing something different for
next year.
Mr Brander – was pleased to be able to tell the PC about a new
facility opening in Nairnshire, which will support children who
have difficulty coping with their emotions in a school
environment. This new venture is something that the Nairn ASG
(Rosebank, Milbank, Auldearn, and Cawdor PS along with Nairn
Academy) has been working towards for a long time. Something
similar currently exists in Inverness, and is called 'Doorways'.
Funding has been secured from a group that supports military
families and the old dental clinic in the grounds of Milbank
School has been refurbished to be the new base. Staff including
2 PSA's, have also been employed through the military funding,
and Highland Council funding for a teaching post for one year
has also been secured. It will open after the October holidays
and each school in conjunction with health and social work
representatives will identify children that they feel may benefit
from this new facility.
Next Meeting: Monday 17th November 2014 - 6:30pm
A competition is being held for the children
at schools within the Nairn ASG to come up
with a name for the Community Support
Facility.