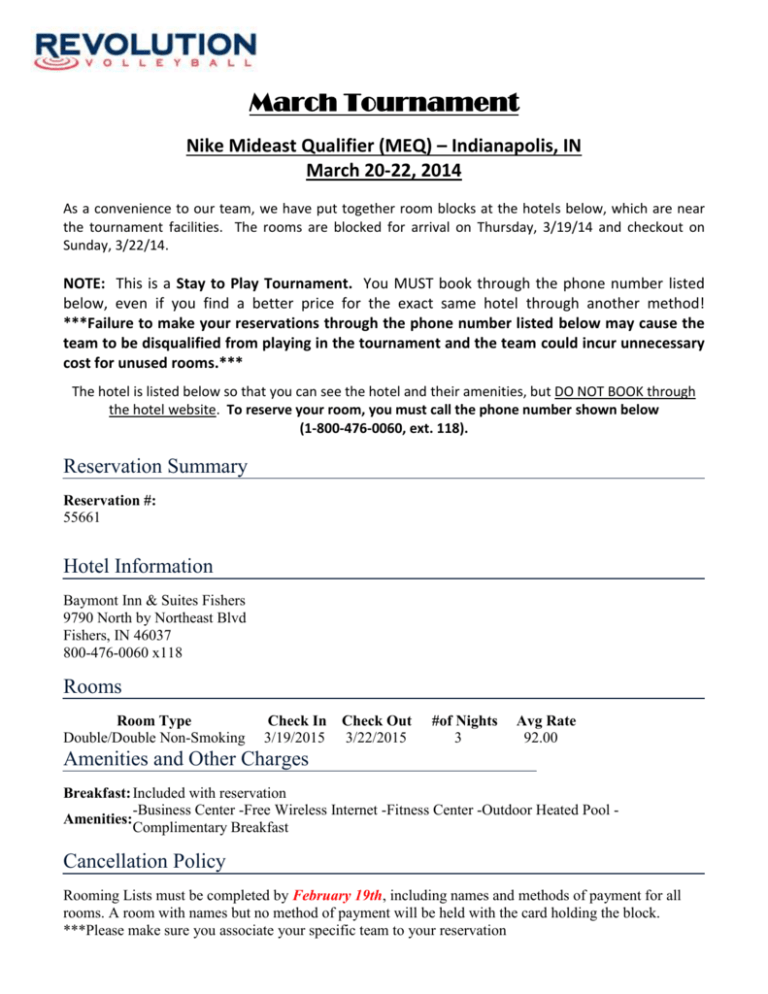 March Tournament
Nike Mideast Qualifier (MEQ) – Indianapolis, IN
March 20-22, 2014
As a convenience to our team, we have put together room blocks at the hotels below, which are near
the tournament facilities. The rooms are blocked for arrival on Thursday, 3/19/14 and checkout on
Sunday, 3/22/14.
NOTE: This is a Stay to Play Tournament. You MUST book through the phone number listed
below, even if you find a better price for the exact same hotel through another method!
***Failure to make your reservations through the phone number listed below may cause the
team to be disqualified from playing in the tournament and the team could incur unnecessary
cost for unused rooms.***
The hotel is listed below so that you can see the hotel and their amenities, but DO NOT BOOK through
the hotel website. To reserve your room, you must call the phone number shown below
(1-800-476-0060, ext. 118).
Reservation Summary
Reservation #:
55661
Hotel Information
Baymont Inn & Suites Fishers
9790 North by Northeast Blvd
Fishers, IN 46037
800-476-0060 x118
Rooms
Room Type
Double/Double Non-Smoking
Check In
3/19/2015
Check Out
3/22/2015
#of Nights
3
Avg Rate
92.00
Amenities and Other Charges
Breakfast: Included with reservation
-Business Center -Free Wireless Internet -Fitness Center -Outdoor Heated Pool Amenities:
Complimentary Breakfast
Cancellation Policy
Rooming Lists must be completed by February 19th, including names and methods of payment for all
rooms. A room with names but no method of payment will be held with the card holding the block.
***Please make sure you associate your specific team to your reservation
Individual changes will be accepted up to March 9th. No changes can be made after 10 days prior to
arrival. If the reservation is no longer required and is not cancelled prior to this time, subsequent room and
tax charges will be billed to the credit card on file.
***No shows for the first night of your reservation will be assessed a one night penalty and your
reservation will be cancelled for the remainder of its scheduled stay.
***Hotels may pre-authorize credit cards on file up to 7 days prior to your check in to ensure that funds
are available
Instructions for Adding Rooming Lists:
1. Go to http://www.advancedeventsystems.com/Hotel/UpdateReservation.aspx.
2. Enter the e-mail address of the person who made the reservation: ajmowen@comcast.net. This can
also be found in the contact information section of the confirmation e-mail.
3. Type in 55661 as the Reservation #.
4. A summary of your reservation will appear.
5. From this page, identify the room type you would like to add your rooming list to. Be sure to
check the check in and check out dates.
6. Please select an available room from the reservation drop down.
You will need to type one person per row. Please make this as accurate as possible for check
in and security purposes.
7. Type in your credit card information.
No one has access to your credit card information except for the hotel. AES web site is
secure using SSL (Secure Socket Layer) encryption.
8. Click update.
9. If you have any problems, please contact Housing Support at 800-476-0060 x118 or Email:
wheels@capitolsportscenter.com
For more information about lodging, please contact Andrea Mowen,
Revolution tournament travel coordinator, at 717-860-6410 or ajmowen@comcast.net.