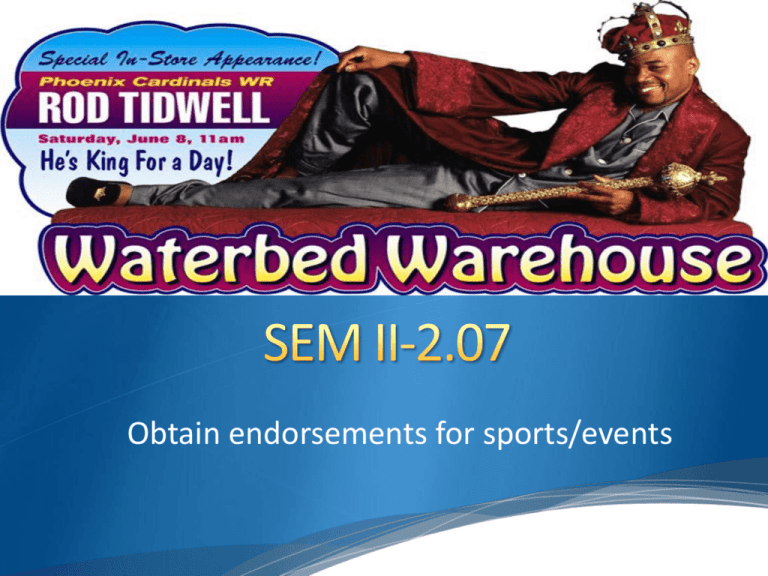 Obtain endorsements for sports/events
• Endorsement is an action made by a celebrity or well-known
person as follows:
Testimonial (statement or advertisement), by a user of the
product proclaiming the product's benefits
Appearance (association), is an action whereby the endorser
appears at an event. The celebrity does not have to do or
say anything but consumers believe they like the product
• Nothing sells a
product/event like a
celebrity endorsement
• Athletes and celebrities
appeal to all advertising
demographics
• Especially to the key younger
demographics.
• INCREASE your event's
brand image, awareness,
equity and loyalty
Must be positive, charismatic, trustworthy
Must be someone consumers know
Must be Directly linked to the company's image
Someone who presents few risks
Develop a licensing program
• Trademark is a word, phrase, symbol, logo or design
that identifies and distinguishes the company from
others.
A trademark has legal protection through the United States
Patent and Trademark Office
Any entity wishing to protect their trademarks must
register the trademark and post the designated symbol next
to the item they wish to protect
It is these trademarks that licensees wish to use
• Service Mark is a word, name, symbol, or device
used to identify and distinguish a company's services,
including a unique service, from those of another
service provider.
Signifies services rather than goods
Professional sports organizations are considered
Service Marks because of the entertainment value
of sports.
• Trade Dress is a a particular type of trademark that
protects the distinctiveness of the appearance and
image of a good or service
Protects a product's packaging
Protects distinctive décor and atmosphere
• Collective Mark a trademark or service mark used
by members of a cooperative, association, or other
group or organization.
• Mark is a shorthand reference to any type of mark,
including trademarks, service marks, and collective
marks
• Registered Mark is registered in the United States
Patent and Trademark Office
© TM ® SM
A trademark search of conflicting/similar marks
be should be done
by sports organizations before registering.
Trademarked Property are owned by the entity
(licensor) that registers them and no other
entity may use them or the likeness without
permission from the licensor.
Licensing
• Licensing
•
is the permission to copy the name, logo, or trademark
of a league, athlete, sports team, entertainer, film,
television show, or character for a fee, also called a
royalty
"Logo cops"
Addresses trademark protection
and enforcement concerns for
all the major sport leagues and
college athletic departments
License agreement is a contractual agreement by which a
sports team or organization gives a company a license to use
its name, logo or trademark on the company's products
Basic components of license agreements
License grant
Specifies which rights and properties are being licensed
Specifies what types of merchandise will be produced
Describes the exclusivity of the category
Term
Specifies the begin and end dates of the contract
Describes the processes for contract renewal
Compensation
Contains all details regarding payments
Ways licensor is paid:
Guarantee—up-front fee based on expected sales
Royalties—5 to 15 percent of profits after the guarantee
Includes a detailed payment schedule
https://www.youtube.com/w
atch?v=4unDXE9K4QE
https://www.youtube.com/wat
ch?v=v79Rw5RglZI
An exclusive category is one in
which only one licensee can
manufacture merchandise.
Nike—only business authorized
to produce uniforms for the
NFL
A nonexclusive category is one
in which more than one
licensee can manufacture
merchandise.
Trading cards
A licensing program should determine whether
it is more cost-effective to administer the
program internally with university employees,
or externally by contracting with an outside
agent.