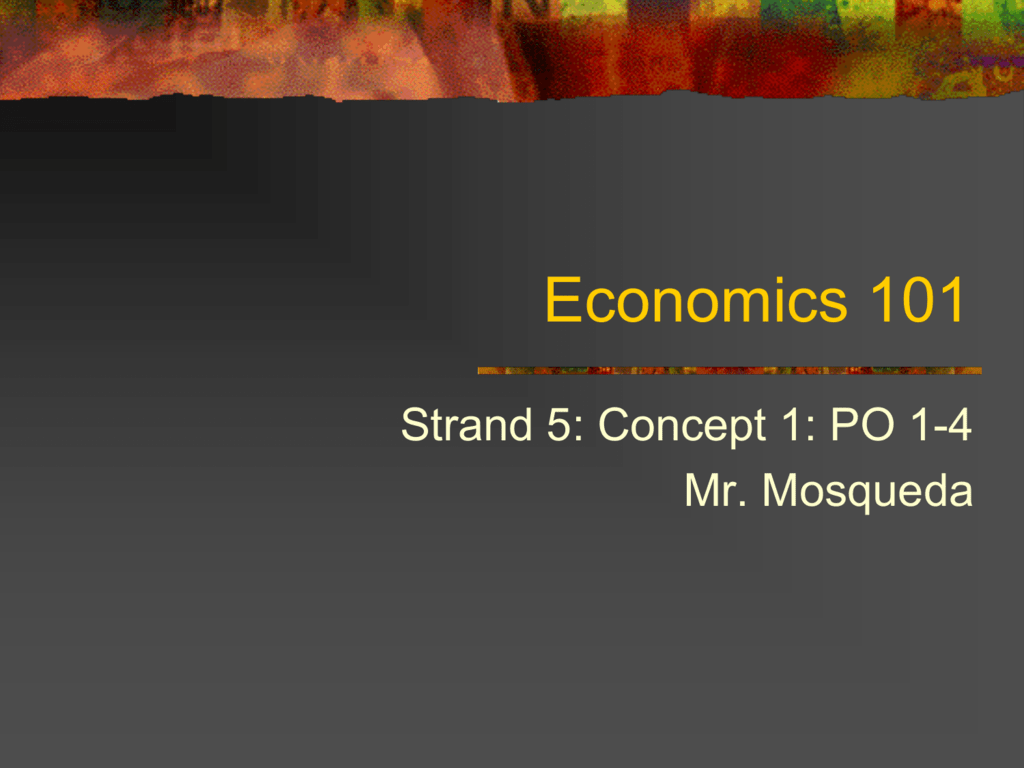 Economics 101
Strand 5: Concept 1: PO 1-4
Mr. Mosqueda
Wants & Choices




Economics is the study of
CHOICES (as they pertain to
PRODUCERS, CONSUMERS
and the GOVERNMENT)
Everybody wants different things
 Clothing, food, shelter, etc
 Wants change over time
(toys, etc)
Depends on society, cultures,
climate, interests, etc…
Wants can be long or short term
Willy Wonka: I Want It Now!
VIDEO CLIP
Productive Resources

The price/cost of the items
we want depend on three
factors:

Factors of production



LAND (Resources from the
Earth, unaltered by man)
LABOR (People's effort, skills
and knowledge)
CAPITAL (Man-made resources
used over and over– eg.,
computers, machines, etc.
Production to Consumption
The GOODS and
SERVICES produced are
then sent to the consumers
to be:

BARTERED without
money

PURCHASED with money
(savings)

(This is called consumption)
The Consumption Problem



Productive resources
(land, labor and
capital) and goods
and services are
limited
Human wants and
needs are unlimited
Resulting in
SCARCITY
Making Choices


There are never
enough resources to
produce all the goods
and services people
want (SCARCITY)
As a result, people
must make CHOICES
about what want they
want to satisfy
Making Choices

Because things are scarce, buyers (consumers) and sellers
(producers) have to make ECONOMIC CHOICES (resulting
in OPPORTUNITY COSTS)
 Costs (what you have to give up in order to get what you
want, eg. Money, time, etc.)
 OPPORTUNITY COST: the highest valued benefit
given up when a choice is made

If the opportunity cost is worth it, then you should consume it!
What does it mean to study
Economics?

Based on consumer choice and
opportunity costs, economists must
answer three basic questions:



WHAT goods and services will be produced?
HOW will the goods and services be
produced
TO WHOM will the goods and services be
distributed?
The Study of Economics

By answering these questions most
efficiently creates the need for
SPECIALIZATION and
INTERDEPEDENCE resulting in trade

Economics: DECSISION-MAKING under
SCARCITY
Independent Practice

Answer Questions 2-6 on page 357, use
Chapter 13, Section 1 (PP 349-357) for
help if needed.

What you don't finish in class, will be
HOMEWORK!
Types of Economies

People do not make
economic decisions all
by themselves


Communities working
together to produce,
distribute and consume
products is called an
ECONOMY
There are 3 types of
economies

Traditional, Market and
Demand
Traditional Economies

Traditional economies
rely on people working
together to help the
whole community

EX: Ancient tribes of
hunters, families, etc.


All men hunting to "produce"
enough food for the entire
tribe, all resources are
shared by the entire
community
Pure traditional economies
are rare today
Command Economies

Government owns and
controls the factors of
production and makes
economic decisions for
the entire community


Government decides
what people "need" or
"want" and distributes it
to the people
Socialism (USSR),
North Korea, China,
Kings
Market Economy

Opposite of a Command Economy
 Private individuals produce factors of
production and are free to make their own
choices about production, distribution and
consumption
 Relies on competition to produce high
quality at low prices (Walmart, Target,
etc)
 People are free to do as they wish in
order to make money
 Very little government control
 Also known as Free Enterprise or
Capitalism
 Entrepreneurs create and run
companies and small businesses
 USA
Market Economy
Disadvantages
Benefits
1.
2.
3.
4.
5.
Makes people rich
Competition produces
high quality at low costs
Encourages creativity
More choices for
consumers
Encourages hard work
1.
2.
3.
4.
5.
People can take
advantage of system
Greedy
Can easily get out of
control
Rich get richer, poor get
poorer
Government may have
a difficult time
intervening if necessary
Market Economy

Adam Smith



Father of Capitalism
Book: The Wealth of
Nations
Absentminded




Frequently walked into
things
Horrible cook
Sleepwalker/Daydreamer
Had prolonged
conversations with
himself
Independent Practice

Answer Questions 2-5 on page 369, use
Chapter 13, Section 2 (PP 363-369) for
help if needed.

What you don't finish in class, will be
HOMEWORK!