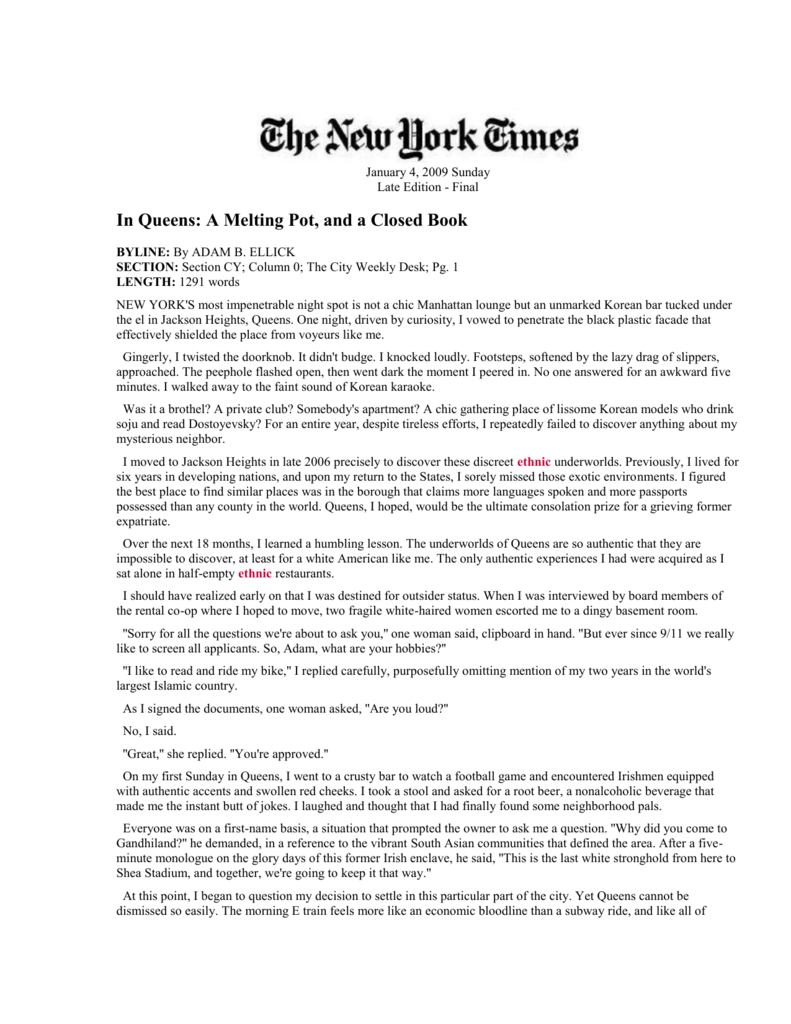 January 4, 2009 Sunday
Late Edition - Final
In Queens: A Melting Pot, and a Closed Book
BYLINE: By ADAM B. ELLICK
SECTION: Section CY; Column 0; The City Weekly Desk; Pg. 1
LENGTH: 1291 words
NEW YORK'S most impenetrable night spot is not a chic Manhattan lounge but an unmarked Korean bar tucked under
the el in Jackson Heights, Queens. One night, driven by curiosity, I vowed to penetrate the black plastic facade that
effectively shielded the place from voyeurs like me.
Gingerly, I twisted the doorknob. It didn't budge. I knocked loudly. Footsteps, softened by the lazy drag of slippers,
approached. The peephole flashed open, then went dark the moment I peered in. No one answered for an awkward five
minutes. I walked away to the faint sound of Korean karaoke.
Was it a brothel? A private club? Somebody's apartment? A chic gathering place of lissome Korean models who drink
soju and read Dostoyevsky? For an entire year, despite tireless efforts, I repeatedly failed to discover anything about my
mysterious neighbor.
I moved to Jackson Heights in late 2006 precisely to discover these discreet ethnic underworlds. Previously, I lived for
six years in developing nations, and upon my return to the States, I sorely missed those exotic environments. I figured
the best place to find similar places was in the borough that claims more languages spoken and more passports
possessed than any county in the world. Queens, I hoped, would be the ultimate consolation prize for a grieving former
expatriate.
Over the next 18 months, I learned a humbling lesson. The underworlds of Queens are so authentic that they are
impossible to discover, at least for a white American like me. The only authentic experiences I had were acquired as I
sat alone in half-empty ethnic restaurants.
I should have realized early on that I was destined for outsider status. When I was interviewed by board members of
the rental co-op where I hoped to move, two fragile white-haired women escorted me to a dingy basement room.
''Sorry for all the questions we're about to ask you,'' one woman said, clipboard in hand. ''But ever since 9/11 we really
like to screen all applicants. So, Adam, what are your hobbies?''
''I like to read and ride my bike,'' I replied carefully, purposefully omitting mention of my two years in the world's
largest Islamic country.
As I signed the documents, one woman asked, ''Are you loud?''
No, I said.
''Great,'' she replied. ''You're approved.''
On my first Sunday in Queens, I went to a crusty bar to watch a football game and encountered Irishmen equipped
with authentic accents and swollen red cheeks. I took a stool and asked for a root beer, a nonalcoholic beverage that
made me the instant butt of jokes. I laughed and thought that I had finally found some neighborhood pals.
Everyone was on a first-name basis, a situation that prompted the owner to ask me a question. ''Why did you come to
Gandhiland?'' he demanded, in a reference to the vibrant South Asian communities that defined the area. After a fiveminute monologue on the glory days of this former Irish enclave, he said, ''This is the last white stronghold from here to
Shea Stadium, and together, we're going to keep it that way.''
At this point, I began to question my decision to settle in this particular part of the city. Yet Queens cannot be
dismissed so easily. The morning E train feels more like an economic bloodline than a subway ride, and like all of
Queens, it runs on Arabic, Urdu, Spanish, Russian, Mandarin and a dose of English.
If we are to eat pasta in Rome, see theater in London and go on a safari in Kenya, in New York we have to explore
Queens. Many big cities have immigrant enclaves, but the diversity and breadth of Queens is unparalleled, and
exemplified by its most sacred intersection -- 74th Street, Broadway and Roosevelt Avenue.
In Little India, a block to the north, Bangladeshi and Pakistanis have supplanted the more assimilated Indians who
have since moved to the suburbs. To the south are Korean spas, Korean barbecue joints and hofs, or Korean pubs.
Southeast on Broadway are Southeast Asian restaurants, mainly Indonesian and Thai. Nearby are Filipinos, and their
cured-pork Sunday brunches.
East on Roosevelt is Latino nightlife: Colombian, Mexican, Ecuadorean, Peruvian, with salsa clubs that open at 2 a.m.
Sprinkled along these unofficial borders are Burmese, Tibetan and Polish populations, all with their own shopping
centers and cafes.
Come summer, I was determined to make Queens work by testing my hobbies: jogging, biking and photography. My
success was limited.
Documenting the neighborhood's colorful streets was like a lesson in intelligence gathering. When I raised the
viewfinder to my eye, street vendors and pedestrians alike jumped out of sight, as if I were wielding an AK-47. Several
men mumbled the words ''snitching'' and ''immigration'' under their breath.
Jogging in the morning was like playing Frogger. I dodged Mexican mothers pushing flimsy strollers, not to be
confused with the robust four-wheelers found on the Upper West Side. Laborers unloading trucks gaped as if I were
fleeing a crime scene. In a month of morning runs, I passed only two other joggers.
As I biked along the Flushing waterfront one bright day, I came to an outdoor Guyanese wedding. Women in saris
unknowingly clogged the public bike path. They blatantly ignored me, forcing me to awkwardly walk my bike through
the dense crowd. One gorgeous young woman smiled flirtatiously, but before I could return the gesture, her father
whisked her away. Clearly, I wasn't going to crash this party.
When befriending locals proved difficult, I invited my Manhattan-based friends to explore Queens. Only three friends
made the trip, and none of them came a second time.
On the plus side, there was the food, whose variety reflected the inhabitants. On cold nights, I found myself at Spicy
Mina, a Bangladeshi restaurant where a dingy curtain divides a few tables from the kitchen of Mina, a 70-year-old who
serves dal and mango curry. I don't think there's a better way to spend $6.
Donovan's, which has won awards for serving the city's best burgers, was a 10-minute walk from my apartment. So
was Elmhurst and its two stellar and seriously spiced Indonesian restaurants. Sichuan food could be found in Flushing,
the city's real-deal Chinatown. But after many nights of eating well but eating alone, the thrill, unlike the weight, wore
off.
Nightlife was downright depressing. Bars along Roosevelt Avenue were packed with Latino laborers who send
currency back home via the dozens of money-transfer businesses along the drag. Each night, rows of men could be
found draped over the bars, passed out. The only women I saw were the baristas. Almost all apparently were in the
country illegally, hence afraid to talk to me.
With only a few weeks of my Queens experience remaining, I, with a friend, approached the Korean karaoke joint one
last time. I turned the doorknob, waiting for it to jam. But it opened seamlessly, and I took a quick step inside. A frail
Korean woman, about 60, sprinted to the door in her slippers. ''No! Korea! Korea! Only Korea!'' she shouted.
After an awkward five-minute conversation, she allowed us to enter, then dumped a bottle of soju and a plate of celery
sticks on our table.
Four Koreans lined the bar. One was a hunched woman in her 80s who, when she grabbed my friend and jerked him
into a slow dance, seemed to have risen from the dead.
When it was my turn to dance, the woman grabbed me even closer. I concentrated less on dancing than trying to
support her drunken body.
Finally, I had infiltrated one of the hidden enclaves of my recently adopted borough. I left the bar reinvigorated about
the possibilities in Queens, imagining the other underworlds that I could discover. But it was too late. I had already
signed a lease with a girl named Manhattan.