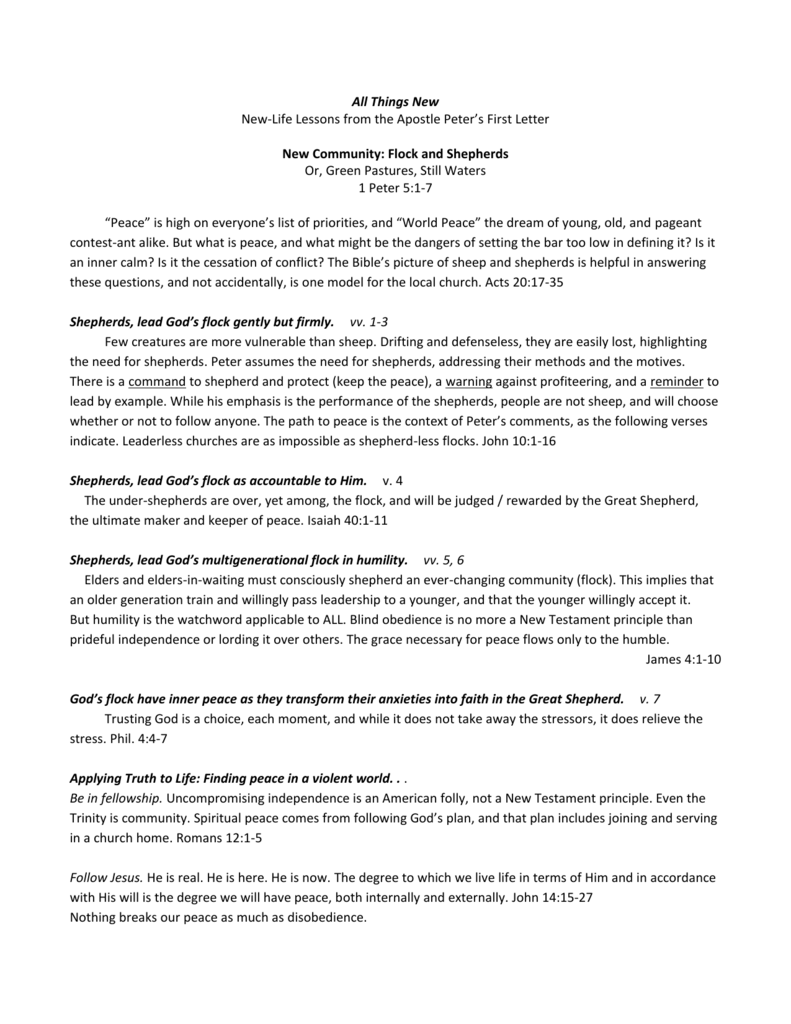 All Things New
New-Life Lessons from the Apostle Peter's First Letter
New Community: Flock and Shepherds
Or, Green Pastures, Still Waters
1 Peter 5:1-7
"Peace" is high on everyone's list of priorities, and "World Peace" the dream of young, old, and pageant
contest-ant alike. But what is peace, and what might be the dangers of setting the bar too low in defining it? Is it
an inner calm? Is it the cessation of conflict? The Bible's picture of sheep and shepherds is helpful in answering
these questions, and not accidentally, is one model for the local church. Acts 20:17-35
Shepherds, lead God's flock gently but firmly. vv. 1-3
Few creatures are more vulnerable than sheep. Drifting and defenseless, they are easily lost, highlighting
the need for shepherds. Peter assumes the need for shepherds, addressing their methods and the motives.
There is a command to shepherd and protect (keep the peace), a warning against profiteering, and a reminder to
lead by example. While his emphasis is the performance of the shepherds, people are not sheep, and will choose
whether or not to follow anyone. The path to peace is the context of Peter's comments, as the following verses
indicate. Leaderless churches are as impossible as shepherd-less flocks. John 10:1-16
Shepherds, lead God's flock as accountable to Him. v. 4
The under-shepherds are over, yet among, the flock, and will be judged / rewarded by the Great Shepherd,
the ultimate maker and keeper of peace. Isaiah 40:1-11
Shepherds, lead God's multigenerational flock in humility. vv. 5, 6
Elders and elders-in-waiting must consciously shepherd an ever-changing community (flock). This implies that
an older generation train and willingly pass leadership to a younger, and that the younger willingly accept it.
But humility is the watchword applicable to ALL. Blind obedience is no more a New Testament principle than
prideful independence or lording it over others. The grace necessary for peace flows only to the humble.
James 4:1-10
God's flock have inner peace as they transform their anxieties into faith in the Great Shepherd. v. 7
Trusting God is a choice, each moment, and while it does not take away the stressors, it does relieve the
stress. Phil. 4:4-7
Applying Truth to Life: Finding peace in a violent world. . .
Be in fellowship. Uncompromising independence is an American folly, not a New Testament principle. Even the
Trinity is community. Spiritual peace comes from following God's plan, and that plan includes joining and serving
in a church home. Romans 12:1-5
Follow Jesus. He is real. He is here. He is now. The degree to which we live life in terms of Him and in accordance
with His will is the degree we will have peace, both internally and externally. John 14:15-27
Nothing breaks our peace as much as disobedience.