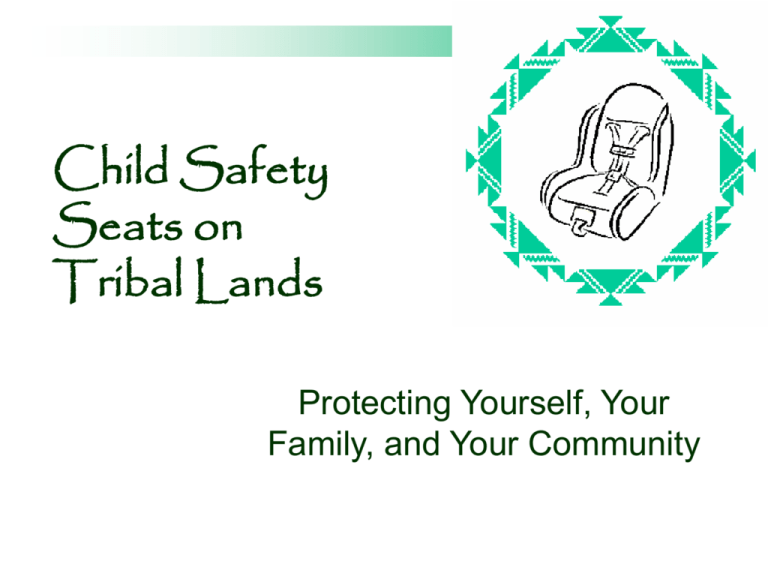 Child Safety
Seats on
Tribal Lands
Protecting Yourself, Your
Family, and Your Community
Why use Car Seats?
Motor Vehicle Accidents are the
LEADING CAUSE OF DEATHS from
unintentional injuries for Native
Americans… 1
 … and more Natives die from motor
vehicle accidents than poisonings,
falls, or suffocations COMBINED 1

[1]
CDC Web-based Injury Statistics Query and Reporting System (WISQARS).
http://www.cdc.gov/ncipc/wisqars/. Aggregated 1999 – 2005 data. Accessed online 4/12/2008.
What Is the Best Car Seat or
Restraint To Use?
The one that:
Fits your child
 Fits your vehicle
 You will use correctly every time

4 Steps for Kids
1. Rear-facing
2. Forward-facing
3. Booster seats
4. Adult seat belts
Step 1: Rear-facing Infant
Seat
■
They have a 5-pt. or
3-pt. harness
■
Keep infants rearfacing until a
minimum of age 1
and at least 20
pounds.
Rear-Facing Infant Car Seats
Why Infants Should
Travel Rear-facing…




Increased crash
protection
Spreads crash force
along the entire head,
neck, and back
Protects head, neck,
and spinal cord
Car Seat absorbs
forces of the crash
Step 1 & 2: Rear-Facing /
Forward-Facing Convertible
■ Rear and Forward facing
■ 5-point harness
■ Reclined for rear-facing and
upright for forward-facing
■ Harness slots at or below the
shoulders for rear-facing and at
or above for forward-facing
■ Can be used for larger infants
less than one year, and 20-35
pounds
Installation: Rear -Facing

Never put in front of an active airbag

Correct Belt Path/or LATCH

Recline angle (30-45 degrees)

Tight belt
Step 2: Forward-Facing Child
Restraints

Convertible and
Forward-facing only

5-point harness or
Tray-shield

Must be: One year
AND 20 pounds
Installation: Forward -Facing
■Back and bottom flat
■Harness at or above shoulders
■Snug
■Retainer clip at armpit level
■Pinch test
Step 3: Booster Seats

Booster seats are for children from 40 to
80 pounds

Lap/shoulder belt only

Head restraint

Shoulder belt positioners

Use the 5 Step Test
High back
Belt-positioning Backless Booster
Boosters: The 5-Step Test
1. Does the child sit all the way back against the auto seat?
2. Do the child's knees bend comfortably at the edge of the auto seat?
3. Does the belt cross the shoulder between the neck and arm?
4. Is the lap belt as low as possible, touching the thighs?
5. Can the child stay seated like this for the whole trip?
If "No"  A booster seat is needed
If "Yes"  Ready for the vehicle seat belt
Step 4: Seat Belts



Vehicle seat belts are made
for adults 4'9" or taller
Most children reach this
height at 8 years old and 80
pounds
All children under the age of
13 should still sit in the back
seat
Parts and Functions
Shell/frame
Padding/cover
Retainer Clip
Buckle
Recline
adjustment
Harness Slots
Harness Straps
Belt path
Harness
Adjustment
Splitter Plate


Splitter plate is located on the
back of the car seat (tightens
the harness straps)
When moving to a different
harness slot…
unhook the harness straps from
the splitter plate
2. thread straps through the
desired slot and re-attach.
1.
Locking Clip
Locking clip is placed within 1 inch
of a seat belt so that its retractor
will keep the belt and car seat
locked in place in event of a crash.
Usually stored on the back
or bottom side of the car seat
Belt Path


Belt path is indicated by labels on
the side of the car seat.
Convertible seats have two belt
paths:
1) One if car seat is facing forward
2) Another if facing backward

Be sure to use the correct belt
path for the direction your child's
car seat is facing.
Lower Anchors and Tethers for
Children (LATCH)
■
Tether anchors the top
■
Lower attachments anchor the bottom
■
Used in place of a seat belt
Parts and Functions for Infant
Seats
Harness
adjust bar
Labels
Level indicator
Instructions
location
Recline adjustment
Recline
adjustment is
located on the
bottom of infant
carriers
 Used to adjust the
tilt of the carrier to
the safest angle
of 30° to 45°

Always register your seat!
Registration Card
HTTP://www.nhtsa.gov
Items can
be recalled
if they do
not
function
properly or
cause
danger to
your child.
Love Them, Buckle Them
Buckling Up for a Safe Ride Home
Conclusion
■Buckle up every time, even for
short trips
■You may be a safe and
responsible driver but you can't
predict when someone else may
crash into you
■There is a lot to know about
correct installation and if you find
yourself confused talk to an expert
(CPS technician or local law
enforcement)
This presentation was developed by the
Tribal Epidemiology Center Consortium.
This publication was supported by Award Number U50 MN024133 from the Centers for Disease Control through a
Cooperative Agreement with the Tribal Epidemiology Center Consortium. Its contents are solely the responsibility of the
authors and do not necessarily represent the official views of CDC.