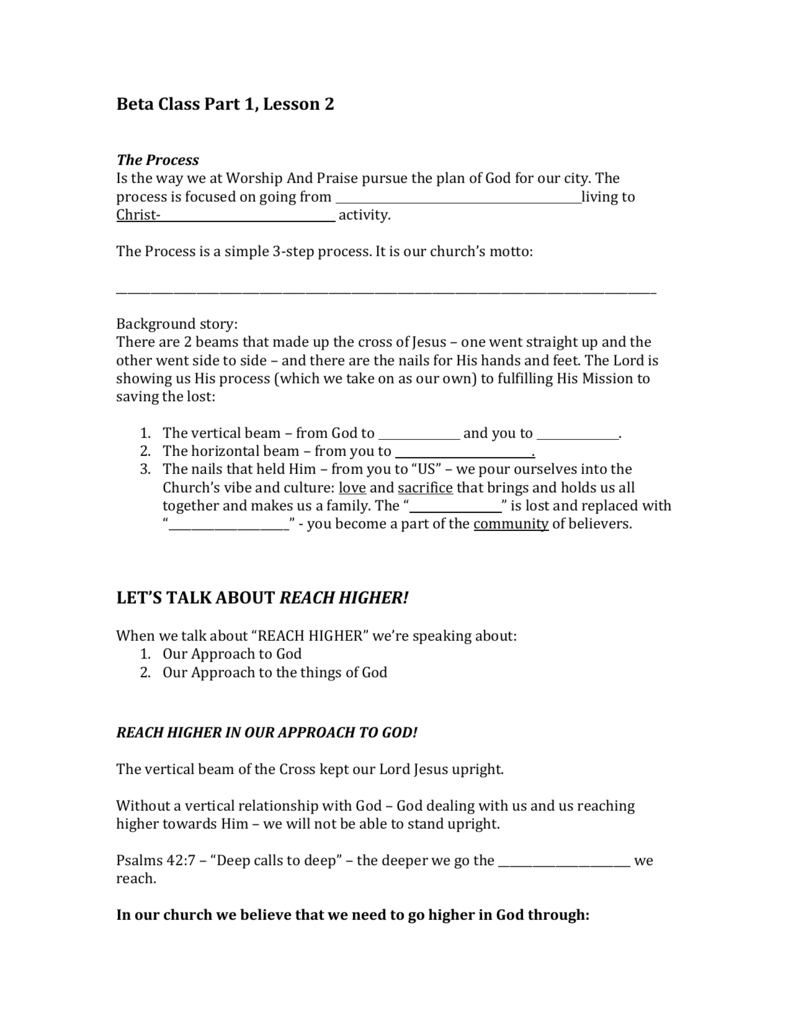 Beta Class Part 1, Lesson 2
The Process
Is the way we at Worship And Praise pursue the plan of God for our city. The
process is focused on going from
living to
Christactivity.
The Process is a simple 3-step process. It is our church's motto:
______________________________________________________________________________________________
Background story:
There are 2 beams that made up the cross of Jesus – one went straight up and the
other went side to side – and there are the nails for His hands and feet. The Lord is
showing us His process (which we take on as our own) to fulfilling His Mission to
saving the lost:
1. The vertical beam – from God to
and you to
.
2. The horizontal beam – from you to
.
3. The nails that held Him – from you to "US" – we pour ourselves into the
Church's vibe and culture: love and sacrifice that brings and holds us all
together and makes us a family. The "
" is lost and replaced with
"_____________________" - you become a part of the community of believers.
LET'S TALK ABOUT REACH HIGHER!
When we talk about "REACH HIGHER" we're speaking about:
1. Our Approach to God
2. Our Approach to the things of God
REACH HIGHER IN OUR APPROACH TO GOD!
The vertical beam of the Cross kept our Lord Jesus upright.
Without a vertical relationship with God – God dealing with us and us reaching
higher towards Him – we will not be able to stand upright.
Psalms 42:7 – "Deep calls to deep" – the deeper we go the _______________________ we
reach.
In our church we believe that we need to go higher in God through:
1. Deeper
life – our prayer life is our lifeline to God.
Without that lifeline we will lose out on our connections with God. God will not
circumvent this method of communication with Him.
We at Worship and Praise are expected to get involved in prayer.
How do we get involved?
Prayer time – every member of the Church of God is
expected to grow in the grace of prayer on his or her own.
You should set a time even a place (make a habit) of it) to pray. You can't get
any higher in God without getting deeper in your prayer life.
2 Chronicles 7:14 – "If my people, who are called by my name, shall humble
themselves, and pray, and seek my face, and turn from their wicked ways;
then will I hear from heaven, and will forgive their sin, and will heal their
land."
church.
Prayer meetings – our home, small groups, with the
We at Worship and Praise gather with our family (if you can) and church
family as an important part of reaching higher – REMEMBER: a family that
prays together, stays and grows together.
Hebrews 10:25 – "Let us not give up meeting together, as some are in the
habit of doing, but let us encourage one another--and all the more as you see
the Day approaching." (NIV)
Prayer Service – whenever it is scheduled,
we make all plans and effort to be with the rest of the church in this special
time of prayer.
Luke 6:12 - "And it came to pass in those days that He went out to a mountain
to pray and continued all night in prayer to God."
2. Deeper
reading – God has revealed His character and
nature to us through the Bible. Universal truths – whether temporal or spiritual –
are revealed by the Bible. The Bible is our source of knowing Who God is through
Jesus Christ. The Bible is the Sword of the Spirit without it we would not be able to
go deeper in our understanding of God.
We at Worship And Praise are expected to read and study our Bibles – along with
memorizing portions of it for our own growth.
How do we get involved?
time – every member of the Church
of God is expected to learn the structure of the Bible (it's divisions,
subdivisions, and books) as well as its themes and values – this will take a
lifetime.
Set a time in your day to read portions of the Bible. Take your time if you
need it just make sure you make the time daily. You cannot go higher in God
if you do not go deeper into His Word. You can also take on a reading plan.
John 5:39 – "You search the Scriptures, for in them you think you have
eternal life; and these are they which testify of Me."
Study – you will not be able to reap the
wealth of the wisdom of the Bible on your own.
We to join or create a group that study the Bible routinely – weekly if need be
– whether in our house or not. You can join TMG – our Young Adults group –
or any Bible study opportunities and reach higher through a group. It doesn't
have to be many, 2 or 3 can be a good starting point for a Bible Study.
Acts 8:30-31 – "Then Philip ran up to the chariot and heard the man reading
Isaiah the prophet. 'Do you understand what you are reading?' Philip asked.
'How can I,' he said, 'unless someone explains it to me?' So he invited Philip to
come up and sit with him. (NIV)
3. Deeper
and
– We express
our surrender and need of God through praise and worship. Learning how to fully
engross yourself in worshipping and praising God will deepen your relationship
with Him and He with you.
We engage God in worship and praise in private and in public.
How do we get involved?
time – your first a servant and a son/daughter
of God. Working out your expression of worship and praise to God in your
own time will help you forget about everyone else in the church when it's
time to do the same with the rest of the family of God.
Worship and praise is expressive – if you want to go higher, you have to let
go of your inhibitions and worship and praise God by yourself in your own
time.
Psalms 42:8 – "By day the LORD directs his love, at night his song is with me-a prayer to the God of my life."
Weekly Worship
– Being a part of the
community of faith is what being a _________________________________ is.
We faithfully commit to our Sunday worship gathering us a part of the
community of faith and the family of God. The Bible is very clear that not
making it for times of gathering is neglect on our part.
We make it to God's house every single time we gather together in worship –
you need it, the community of believers needs you and the new comers need
you to show them what it means to be a Christian and a part of the Worship
And Praise family.
Hebrews 10:25 – "Let us not give up meeting together, as some are in the
habit of doing, but let us encourage one another--and all the more as you see
the Day approaching." (NIV)
Getting engaged in worship and praise means:
- Being
.
o Life groups, care groups, absentee follow up.
o Attendance tracking.
o Be accountable. Family checks in.
o We call when we are going to be absent.
o We call when we are in hospital or when some else is in
hospital.
o We visit our brothers and sisters in Hospital.
o We call when something's happening to us or to someone
that may cause them or us an ill-advice absence.
o We mentor rather than criticize.
o We men mentor men.
o We women mentor women.
o We wives mentor wives and husband mentor husband and
parents mentor other parents.
o We share books and resources and movies and links.
- Being
.
o If we can be on time for work, then no reason why we can't
be on time for church. We are on time for services.
o We show great respect for our God and our church family
by being on time. We do not take light our worship
gathering by not prioritizing the service. (We do not rob
God of what we are willingly giving others.)
- Being a
.
-
-
o We clap our hands, sing songs out loud, shout praises,
dance and weep before the Lord (these are all Biblically
based worship expressions).
o Giving God our sacrifice of praise is stepping up our part of
the 2-way vertical connection. This will help you shake off
your inhibitions in your relationship with God.
o Being physically engaged in praise and worship helps not
only you; but it encourages our worship leaders, eases the
preacher's task of sharing the Word of the Lord and takes
away the attention from the new comers (that they place on
themselves unknowingly).
Being a
.
o The physical aspects of running a church are supported by
our faithful tithing and giving of your offering.
o Part of reaching higher in our worship and praise of God is
being able to __________________________________ Him with our
substance (Proverbs 3:9-10).
o We worship and praise God through our tithing and
offering.
o There are different levels of worship in this area:
 Tithing – the 10th part of our increase. We owe this
to the Lord. When you tithe, you have not given
anything yet; you have just returned His portion.
(Mal 3:10)
 Offering – a portion above the 10th part. This comes
from our heart. This is our giving portion. The more
you give, the more you receive. (Luke 6:38). You
cannot out give God.
 First fruits – the first part of a new source of
increase – a new job or something like that.
(Proverbs 3:9)
 Special offering – a gift directed towards a need.
o We do not come empty handed before the Lord in these
matters. (Exodus 34:20)
o When worshipping the Lord with our substance, we do so
with a cheerful heart. (2 Corinthians 9:6-7)
Being a
and a
.
o We strengthen the fellowship by being a vessel that God
uses to help someone get comfortable, feel welcomed and
wanted in our community. (Acts 2:44-45)
o We greet new comers and loners after service (or before
service) as part of our church culture and community
building efforts.
o We are friendly to everyone especially to our new comers
and guests. We help them any which way we can. (Proverbs
18:1)
-
o We engage people and bring them into communion with us
– help them find a new friend.
o We mentor rather than criticize.
o We men mentor men.
o We women mentor women.
o We wives mentor wives and husband mentor husband and
parents mentor other parents.
o We share books and resources and movies and links.
o We keep our brother close – we are our brother's keepers.
Being a
.
o We count on people as much as they count on us. We count
on you to take a part of being a community.
o If you want to count, you must be accountable. If you can be
accountable, you can be counted on. If you can be counted
on, you can be counted in. If you can be counted in, then
you count. And YOU MUST COUNT! If you don't count, then
you can't be trusted. (Luke 16:10-12)
o There are people I would drive to Connecticut to pick up for
church, and there are those who I wouldn't drive to the
nearest bus stop. Because some are vested.
o They are thankful to be apart and they show it in words and
actions! They do what they can!
o They have the greatest ability of all, availability!
o They want to be here more than anything! God respects
desire!
LET'S TALK ABOUT ANOTHER IMPORTANT PART OF REACHING HIGHER:
Because we are serving God, we believe it is not enough to be spiritually pursuing
higher things; we must present ourselves to God as a whole. We pursue not only
spiritual growth, but we also pursue
growth.
We can't be so spiritual that we have no earthly good. How do we do that? Because
of Who our God is, we pursue excellence. (1 Corinthians 12:31)
We aspire to excellence
We desire to commit ourselves to the tasks God has called us to as a community, and
to perform them with excellence, removing obstacles from individuals paths in
connecting with Christ.
How do we aspire to excellence at Worship And Praise?
- Edwin Bliss once said, "The pursuit of excellence is gratifying and healthy."
The pursuit of
is frustrating, neurotic, and a
terrible waste of time."
We are not pursuing perfection at WPCC, but we do embrace the fact that we can
always make things
.
We refuse to simply live within the status quo, or accept things that are as though
they should be.
We believe that we have a God instilled ability to create, and therefore the church
should be the most creative place on the planet.
Genesis 1:1 & 26-27 (NCV) In the beginning God created the sky and the
earth. ... Then God said, "Let us make human beings in our image and likeness. And let
them rule over the fish in the sea and the birds in the sky, over the tame animals, over
all the earth, and over all the small crawling animals on the earth." So God created
human beings in his image. In the image of God he created them. He created them
male and female.
These verses reveal that God in the beginning was the Creator, and then He created
us in His image. He instilled in us similar attributes that He possesses.
So if we are living out our God designed life, then we should be creating.
Are you living a commitment to excellence?
- Ecclesiastes 9:10 (NCV) Whatever work you do, do your best, because you are going
to the grave, where there is no working, no planning, no knowledge, and no wisdom.
We are committed to excellence in every area of our lives, because through our
worship we find God in every part of our life. From our families to our jobs, we
believe that we should bring excellence.
Our desire is to leave a legacy of excellence to reveal the
place on God in our life.
Our life will be the canvas that displays our authentic love for God and what he
values by our commitment to living an
life.
What areas could you strive for excellence in?
we
We live for the dream of the napkin.
We are _______________________________________ @ Worship And Praise
We are _______________________________________ @ Worship And Praise
At Worship and Praise we believe that God has a directed purpose for our
community. So, we are willing to cash in our lives for a purpose that is greater than
us, the God inspired vision that is scribbled on napkins (or legal pads).
Why on napkins?
- Whenever God speaks we listen and respond.
What is written on the napkin of your life?
1 Peter 2:9 (NCV) But you are a chosen people, royal priests, a holy nation, a people for
God's own possession. You were chosen to tell about the wonderful acts of God, who
called you out of darkness into his wonderful light.
This scripture echoes back to the Old Testament and the relationship that Israel had
with God.
After their deliverance from Egypt, they were living testimony of the miraculous
power of God.
However, it was crucial for them to follow God to keep the relationship healthy and
vibrant.
Such it is for Worship And Praise, we believe that we have a clear purpose and
calling as a community, but it is only effective if we are following God. Hence, when
God speaks we listen, even if it is written on napkins.
On that note,
We don't yearn for the comfort of the box.
Abraham Lincoln said, "I'm willing to go in any direction so long as it is forward!"
We refuse to go backward to comfort zones of how we did church just because that
is what we know.
Abraham Gen. 24:2- 9
We don't yearn for the comfort of the box.
We are willing to go in any direction n so long as it is forward!
We are a daring bunch trying new things and new ways.
If we find ourselves reflecting old ways, it will be because He leads us afresh into
that way, it will not be because we went back to it in a quest for comfort or
familiarity.
We are the sons and daughters of Abraham.
We don't stagger at promises.
We don't remain Heran.
We are not attached to where we have been.
We are New Testament spiritual Israel following the cloud and fire.
Always forward even when we discover we've been here before.
We will try almost anything twice.
We will go in almost any direction so long as it is forward.
Jesus is our comfort zone. John 14
What have you written on it?