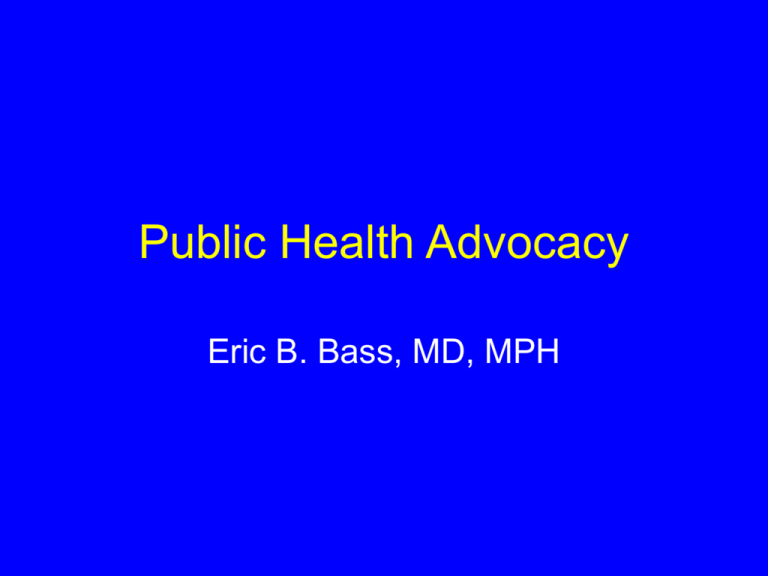 Public Health Advocacy
Eric B. Bass, MD, MPH
What can you do to impact the field of medicine or
improve the healthcare system?
• "I believe that working with local advocacy groups to change the
system can have an effect, even if it may be small."
• "I hope to make an impact…particularly for children in urban areas,
by increasing awareness & advocating for reform."
• "I see myself getting politically active in advocating for the ridiculous
prices of prescription drugs to be more regulated…"
• "Be an advocate for patients who normally fall thru the cracks in the
healthcare system."
• "…lobbying for stronger legal representation of physicians in the
U.S. government. One must take an active role in the government..."
• "I may be interested in taking some type of political role in medicine,
fighting for the interests of patients, which naturally entails fighting
for the interests of doctors."
Health Care Lobbying in U.S.
Am J Med 2004; 116: 474
• How much was spent on health care
lobbying in 2000?
• What % was spent by pharmaceutical &
health product companies?
• What % was spent by physicians & other
health professionals?
• What % was spent by disease advocacy &
public health organizations?
• Who spent more, AMA or PHRMA?
Why is health a political issue?
Annu Rev Public Health 2006; 27: 195
• Individual & institutional health actions
have spillover effects
• Citizens expect government to satisfy
physical, economic & psychological needs
• Protecting public health involves moral
judgments that acquire legitimacy thru
political debate
• Healthy population is vital to economic
growth & social order
When do health problems become
political issues?
• Documentation of scientifically & socially
credible threat
• Agreement on who or what is responsible
for the problem
• Social views about affected populations
• Annu Rev Public Health 2006; 27: 195
Why are health policy changes
usually incremental?
• Limited time & information to think about
problems & solutions
• Checks & balances in political system act
to disperse power & prevent tyranny of
popular majorities
• Political resources distributed among
interest groups
• Fiscal constraints
• Annu Rev Public Health 2006; 27: 195
When are major policy changes possible?
JW Kingdon 1984
• Abrupt shift in how a problem is perceived
or in who controls government
• Convergence of 3 streams in policy
process
– Problem stream
– Policy stream
– Political stream
• Presence of policy entrepreneurs &
supportive government insiders
How can YOU influence policy?
"90% of life is just showing up."
Woody Allen
Diagnose political nature of an issue
J Child Neurol 2001; 16: 513
• Measure public priorities/opinions:
– nationaljournal.com, pollingreport.com
– www.healthaffairs.org
• Measure media coverage:
– Lexis-Nexis, Dialog, Westlaw databases
– www.nytimes.com/pages/health/policy/index.html
– www.washingtonpost.com
• Find priorities of legislative majority:
– www.gop.com, www.democrats.org
• Categorize the salience of issue:
– High (e.g., prescription drugs for Medicare)
– Medium (e.g., graduate medical education)
– Low
Identify key political decision makers
J Child Neurol 2001; 16: 513
• Which governmental organization?
– Federal vs. State
– Legislative vs. Executive vs. Judicial
– Non-governmental
• Who in organization?
– Organizational Web sites
– AMA Congressional Directory
– www.vote-smart.org, www.apha.org/legislative/
• When & how?
– Congressional Quarterly guides
– Washington Post Weekly
– Almanac of American Politics
How does a bill become law?
•
•
•
•
•
•
•
•
•
•
Conceptualization
Introduction
Committee hearings
Committee bill
Mark-up by committee
Floor debate
Floor vote
Conference committee to reconcile differences
Final vote in each house
Signing by President/Governor
Develop an appropriate strategy
J Child Neurol 2001; 16: 513
• High salience
–
–
–
–
–
Think big
Engage media
Use experienced lobbyists
Mobilize grass-roots organizations
Create coalitions
• Medium salience
– Consider incremental changes
– Focus on selected governmental leaders
– Rely on knowledgeable experts
• Low salience
– Think long-term
– Raise awareness thru media or research
Identify groups that support your position
• Professional societies
– e.g., AMA, Med Chi, specialty organizations
• Universities, hospitals & related organizations
– e.g., AAMC, AHA
•
•
•
•
Health insurance & managed care companies
Disease advocacy organizations (e.g., ACS)
Public health organizations (e.g., APHA)
Foundations
– e.g., Kaiser Family Foundation, Commonwealth Fund
• Consumer organizations
– e.g., Public Citizen, FamiliesUSA
How else can you influence policy?
• Develop relationship with & be a resource for a
politician & his/her staff
• Personal staff:
– Chief of Staff or Legislative Director
– Scheduler
– Legislative Assistant or Legislative Correspondent
• Committee staff:
– Committee Chairperson & Ranking Minority member
Examples of Successful Advocacy
• Medicare Prescription Drug Improvement &
Modernization Act of 2003
• Resurrection of Agency for Health Care Policy &
Research, 1995
• NIH Student Loan Repayment Program
• Health care liability reform in Texas, 2003
• Malpractice insurance rate relief in Maryland, 2004
• Maryland insurance chief bars conversion of CareFirst to
for-profit status, 2003
• Massachusetts constitutional amendment calling for
universal health care, 4/06
PAS Advocacy Assignment
• Select topic of interest to you
• Give oral presentation simulating a visit
with a politician
• Prepare 1-page letter
Oral Presentation
• Background prep
– Identify issue
– Set agenda
– Describe politician's
expected position
• Content of meeting
– Define issue, citing
facts
– Give anecdote
– Explain relevance to
citizens
– State position
– Identify supporting
groups
– Plan follow-up
True or False?
• The majority of legislators have a staff
member whose sole responsibility is
health care issues.
Personal Visit Etiquette
• Make appointment 2 weeks in advance
– Be flexible when scheduling
– Be on time
•
•
•
•
•
•
Prepare
Identify yourself as a constituent
Designate a spokesperson
Thank legislator/staff for previous support
Leave briefing sheet with contact information
Send follow-up letter to designated staff person
Personal Visit Don'ts
• Don't bother visiting if no chance of support
• Don't be disappointed if you meet with staff
member
• Don't give nebulous recommendations
• Don't give expert opinion if unsure
• Don't use jargon or confusing statistics
• Don't deny self-interest
• Don't assume ignorance
• Don't be argumentative
True or False?
• Legislators will only reply to your letters if
you live in their district.
Letter Writing
•
•
•
•
Time letter to maximize impact
Identify pertinent bill
Be sure return address is in legislator's district
Address to legislator or staff member
– Spell name & title correctly
• Personalize letter
– Mention your experience & use anecdotes
• Emphasize impact on constituency
• Be concise
Letter Writing Don'ts
•
•
•
•
•
•
•
Don't send form letters
Don't write about too many issues
Don't forget to give supporting evidence
Don't send articles
Don't threaten
Don't make promises you can't keep
Don't pretend to have more influence than
you really have
Summary
• Healthcare lobbying is intense & physicians
must have a voice
• Be realistic about potential for major reform
• Look for windows of opportunity
• Use diagnostic skills & identify decision makers
to design an appropriate strategy
• Identify supporting groups & develop a
relationship with a politician
• Show up!
Recommended Reading
• Mebane F, Blendon RJ. Political Strategy 101: How to
make health policy and influence political people. J Child
Neurol 2001; 16: 513-8.
• Oliver TR. The politics of public health policy. Annu Rev
Public Health 2006; 27: 195-233.
• Landers SH, Sehgal AR. Health care lobbying in the
United States. Am J Med 2004; 116: 474-7.
• Kingdon JW. Agendas, Alternatives, and Public Policies.
Boston: Little, Brown; 1984.
• Laugesen MJ, Rice T. Is the doctor in? The evolving role
of organized medicine in health policy. J Health Politics
Policy Law 2003; 28: 289-316.