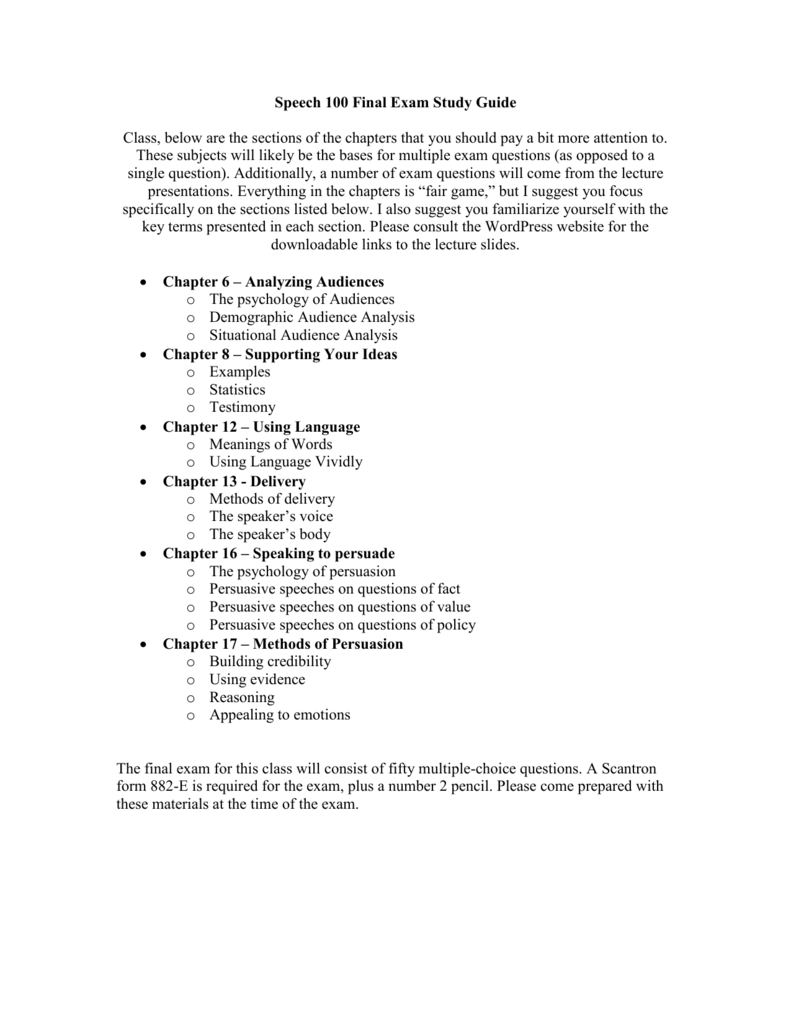 Speech 100 Final Exam Study Guide
Class, below are the sections of the chapters that you should pay a bit more attention to.
These subjects will likely be the bases for multiple exam questions (as opposed to a
single question). Additionally, a number of exam questions will come from the lecture
presentations. Everything in the chapters is "fair game," but I suggest you focus
specifically on the sections listed below. I also suggest you familiarize yourself with the
key terms presented in each section. Please consult the WordPress website for the
downloadable links to the lecture slides.






Chapter 6 – Analyzing Audiences
o The psychology of Audiences
o Demographic Audience Analysis
o Situational Audience Analysis
Chapter 8 – Supporting Your Ideas
o Examples
o Statistics
o Testimony
Chapter 12 – Using Language
o Meanings of Words
o Using Language Vividly
Chapter 13 - Delivery
o Methods of delivery
o The speaker's voice
o The speaker's body
Chapter 16 – Speaking to persuade
o The psychology of persuasion
o Persuasive speeches on questions of fact
o Persuasive speeches on questions of value
o Persuasive speeches on questions of policy
Chapter 17 – Methods of Persuasion
o Building credibility
o Using evidence
o Reasoning
o Appealing to emotions
The final exam for this class will consist of fifty multiple-choice questions. A Scantron
form 882-E is required for the exam, plus a number 2 pencil. Please come prepared with
these materials at the time of the exam.