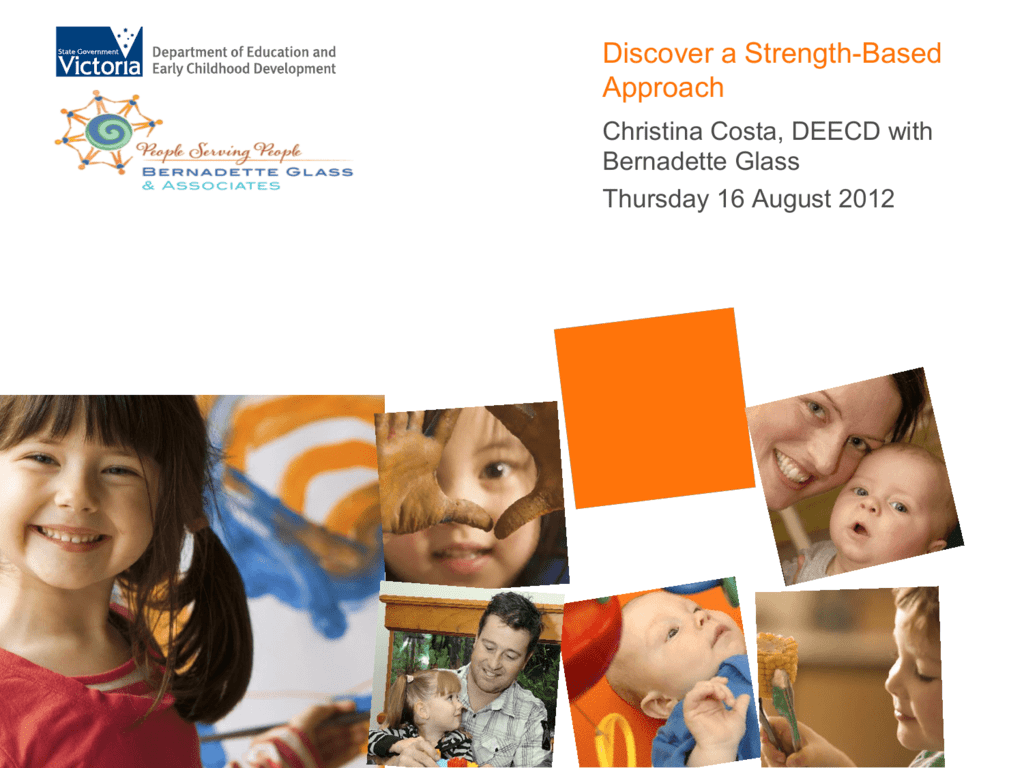 Discover a Strength-Based
Approach
Christina Costa, DEECD with
Bernadette Glass
Thursday 16 August 2012
Presentation outline
•
•
•
•
•
•
•
•
Intention and outcome
Fundamental
What it is and what it isn't
Principles
Practice
Communication
Reflection
Key messages
Intention and outcome
• The intention of the presentation is to…
– reflect on your practice and communication from a strength-based
perspective
– consider the relationship with VEYLDF, assessment and NQF
– acknowledge where the strength-based approach already exists
and where it could be extended
• The outcome of the presentation is that you leave with…
– a deeper understanding of the strength-based approach
– confidence to apply it to your daily practice, writing Statements and
communication
Fundamental to implementation
• The strength-based approach is fundamental to the
effective implementation of:
– The approved Learning Frameworks: VEYLDF, EYLF, MTOP
– Enactment of Practice Principles leads to supporting children
towards developing the five outcomes
– Examples of links to Practice Principles e.g. High expectations for
every child.
– Transition Learning and Development Statements
– National Quality Framework – in particular Quality Area 6
• Knowing a child's strengths
• Builds on assessment for learning
Holistic view of outcomes
From deficit to strength-based
Deficit
Positive
Strength-based
Problem/concern
One-sided
What works
Linh can't tie her own shoe laces
Linh is trying to tie her shoe
laces
With assistance, Linh can tie her
shoe laces
Oliver doesn't like to speak
Oliver has good non-verbal
communication
Oliver uses a range of nonverbal cues such as facial
expressions and gestures
Lucy won't sit still and listen
Lucy likes to be active
Lucy is a 'hands-on' learner,
learning best from tactile and
creative experiences
George can't speak English
George speaks Greek
???
Negative
Incomplete
Potential, Strategies
What is it?
• The strength-based approach IS…
–
–
–
–
–
–
A paradigm shift
An approach to people
Invites connection to the person, first
Non-imposing
Respectful of where the other 'is at'
Fostering honesty, transparency, respect and collaboration in all
aspects of practice
– Focused on what is 'present' as a platform for development
– Never minimising or dismissive of concerns
What it isn't!
• The strength-based approach is NOT…
– Soft and avoidant
– Only about "positive" things
– A way of communicating that covers up or glosses over legitimate
concerns
– A model to be learnt
– Imposing of ideals and beliefs of the practitioner
Principles
• Underpinning the strength-based approach are the
following principles…
–
–
–
–
–
–
We are all essentially the same/equal
We are already 'enough'
We all have strengths and capacities
People are experts about their own situation
The problem and the person are separate
A problem focus can blind us from noticing…
• what is present
• what is working
• what is possible in a situation
Practice
• Individual pedagogical practice
– What is yours?
– How does it align with the strength-based approach?
• How invested are your ideals and beliefs in another's
development?
– Do you say or think 'should' frequently about yourself or others?
– Is your glass half full or half empty?
• A focus on what a child can do is paramount as a platform
for expanding capabilities
– When the focus is on concerns, contraction replaces possibility
Communication
• Is part of every day practice
– Honest, respectful, sensitive
– Reflected in how children are encouraged and supported in daily
activities
– Informs our relationship with families
– Reflects the way we relate to colleagues
• Is part of the culture of the setting
– Kindergarten / Child care / OSHC / School / etc.
• Is reflected in supportive structures
–
–
–
–
Policies / Procedures
Meetings
Resources / Information / Pamphlets
Transition Learning and Development Statements
Examples of strength-based
communication
• Billie's vocabulary about butterflies is extensive and we
have involved her mum and brother in developing the best
strategy to encourage her to share with the rest of the
group
• Mohamed's excitement is shown in his raised voice and
when needed, he will settle quickly when someone moves
close and speaks quietly to him
Activity
• Think of a time when you experienced challenges
communicating a message in a strength-based approach.
• Perhaps you could summarise the message using a deficit
approach.
• Discuss this with the person next to you.
• Refer to Table 6, page 14
• Consider how you can frame the message using a
strength-based approach.
Reflection
• Reflect on your practice and communication from a
strength-based perspective
• Acknowledge where the strength-based approach
already exists
• Where could it be extended?
• Are you already using the approach?
Key messages
• Transition Learning and Development Statement is a tool for
sharing information about a child's early learning journey – it is a
summary of that learning journey
• Self-reflection allows educators to develop a critical
understanding of their own practice and continually develop the
necessary skills to achieve the best outcomes for children
• Using the strength-based approach in your daily practice and
communication contributes to the brevity of writing
Statements…because it's all there!
• Using the strength-based approach is central to creating a
positive learning culture
Tell us…
• How can we grow a culture where strength-based
approach is a natural way of expression/communication?
• How can we streamline the process for writing Transition
Learning and Development Statements?
• Email your thoughts, feedback, comments to…
[email protected]
Resource
The document is available for
download only at…
www.education.vic.gov.au/early
learning/transitionschool
Practice Guides
• Eight Practice Guides to
the VEYLDF Practice
Principles
• By Dr Anne Kennedy and
Anne Stonehouse AM
• fuse.education.vic.gov.au/
pages/View.aspx?pin=GR
H4TT
THANK YOU….