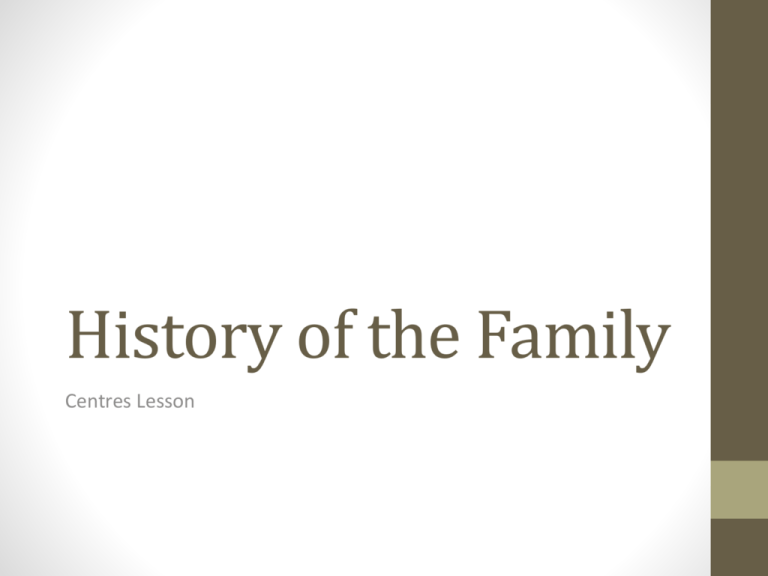 History of the Family
Centres Lesson
Hunter-Gatherers
•
•
•
•
•
•
•
Labour
Relationships
Sexual
Survival
Families
Aboriginal
Men
Hunter-Gatherers
•
•
•
•
•
•
•
•
•
Food
Fruits
Children
Plants
Hunted
Tools
Time
Animals
Follow
Agricultural
1.
2.
3.
11000 years ago in the Fertile Crescent area of Southwest
Asia
China, Mesoamerica and South America, eastern region of
North America
FALSE
Agricultural
• Ancestors domesticated animals and grew plants for food
• Daily quest for food was eliminated
• Able to live in more permanent settlements, communities
formed
• Provided more food but required more labour = larger
families
• Families could acquire more land and become wealthy
• Food surplus enabled development of towns and cities and
new social roles
• Private property = land defense and control of food surplus
• Men who chose not to be farmers became artisans, builders,
merchants, soldiers, and politicians
• Women's economic activity shifted away from community to
private household
• Women cared for children and handled domestic work
Agricultural
4. Monogamy – having one marital partner
Patriarchy – men were rulers and decision makers of the family
5. Women became chattels, the property of their husbands, with few
legal rights
6. Polygamy – the practice of having several spouses
Arranged marriage – marriages that take place through
negotiations between sets of parents, or their agents
7. Since a family used land for agriculture, young adults continued to
live in their parents' households
Pre-Industrial
Down
1. DISCIPLINE
2. FAMILIES
3. VILLAGES
5. EUROPEAN SETTLERS
6. MONOGAMOUS
8. ROLE
10. TECHNOLOGY
Pre-Industrial
Across
4. CHILDREN
7. COTTAGE INDUSTRY
9. FATHER
11. WORK
12. ECONOMIC
Urban Industrial
Status and role of women
• The notion of motherhood as the "sacred" and primary role of
women became the ideal
• Women were nurturers who worked at home and were
supported financially by their husbands
• Only worked outside the home if widowed or deserted
• Women who worked were seen as threats to the role of men
• Working women were demeaned by society and earned onethird less than men in the same job
• Thought to be more gentle, patient, and loving than men
• Felt they only reached their potential if they had children
Urban Industrial
Role and responsibilities of men
• Money earners
• Worked to provide for wives and children
• Link to family and society
• Perceived to be aggressive and tough
• Decision makers
• Sometimes discipline the children
Urban Industrial
Childhood
• No longer a need for children to work in factories
• Compulsory education started in 1871 in Ontario
• Child labour laws passed in mid 1880s
• Idealized notion of childhood as an "age of innocence"
• Expected to play under supervision of mother, attend school,
and remain protected from the hard work of the adult world
• Adolescence became a distinct age group because of the
extension of schooling into the teen years
Urban Industrial
Work
• Economy shifted from one based on agriculture and
commerce to one based on factory production
• Work became something done outside of the home
• Development of industrial class as every family member,
including children, began to work in wage-based labour force
Urban Industrial
Role of the family
• Retained its economic role
• Lost its role as a producer
• Industrial nuclear family
• No longer for economic activity, but love and emotional
support
• Young people married early and moved away because they
could support themselves
• Consumer family
Urban Industrial
Education
• Compulsory education started in 1871 in Ontario
• Working class children often left school as soon as they could
to find work to contribute money to their families
Family Size
• Smaller sized families because birth rate declined
• Delayed marriage until they could afford a separate household
• Fewer children wanted because they needed to be supported
until they could work
Urban Industrial
Technology
• TV programs such as Leave it to Beaver depicted the ideal
family and were immensely popular
• TV programs reflected what have happening in Canadian
society during the "baby boom" years from 1946-1967
Economy
• New products marketed to women, the homemakers
• After WWII the economy expanded rapidly
• Canadians knew they could afford to have bigger families
• Statistics show Canadian women averaged 4 children each in
this time period
Contemporary Canadian Family
• Share your ideas!