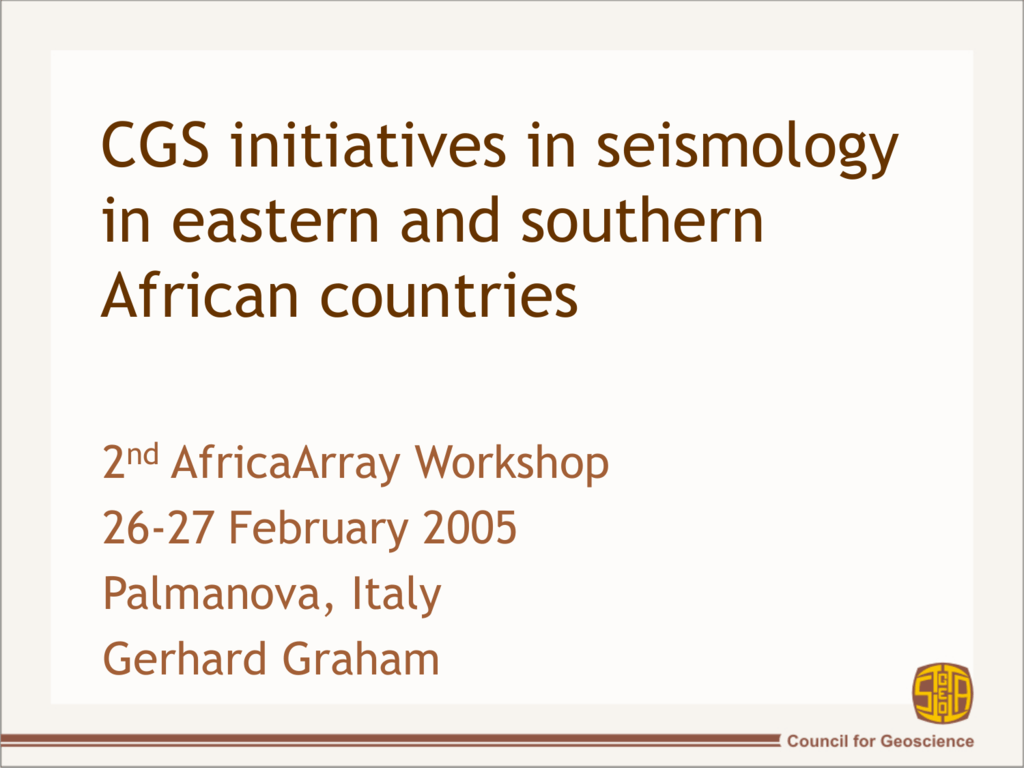 CGS initiatives in seismology
in eastern and southern
African countries
2nd AfricaArray Workshop
26-27 February 2005
Palmanova, Italy
Gerhard Graham
Framework of Presentation
• Brief description of networks CGS is involved in:
– Malawi, Mozambique, Rwanda,
– Swaziland and Lesotho
– Namibia (in progress)
•
•
•
•
Involvement in AfricaArray
Components of a CGS seismic station
Data formats and management
Lab facilities and technical support for the network
operations
• Communication
• Support to Indian Ocean Tsunami Early Warning System
• Conclusions
Seismicity of Sub-Saharan Africa
CGS involvement in Seismology in Africa
• ESAF Working Group on Seismology:
- Ethiopia (1995)
- Malawi (1996)
– Zimbabwe (1996)
• SADC:
- CGS has been producing SADC regional bulletins since 1998
- Sixth Eastern & Southern Africa Regional Seismological Workshop
on Seismic Hazard Analysis held in Bulawayo, Zimbabwe in 1996.
• Mozambique co-funding:
- Training of seismic instrumentation technicians, seismic analysts
• Course on Seismology and Seismic Hazard in collaboration
with GFZ in 2003
• Regional Workshops in partnership with CTBTO 1996, 1997,
2004
Networks Outside South Africa
Networks Outside South Africa
CGS commitment to AfricaArray
• Pledged 11 stations from the SANSN as
AfricaArray stations
• Data from the AfricaArray stations operated by
the CGS will flow to the CGS Seismology Unit in
Pretoria, where the data will be converted into
miniSEED
• File header will be created with the Portable
Data Collection Center (PDCC) software from
IRIS
• Provision of technical training
• Post-graduate training of own staff
CGS involvement in AfricaArray
• CGS can assist in:
– the installation,
– the training of local operators and
– the maintenance of the seismic stations
• CGS will be able to provide lab facilities
and technical support for the network
operations, and a base for a technical
coordinator
SANSN
Incorporating:
Broadband upgrade
Stations committed to the AfricaArray
Components of seismic station
EARS seismograph development
SPECIFICATIONS
EARS Alpha (1999)
EARS Delta (2001)
EARS Sigma (2002)
EARS Omega (2002)
EARS Delta + (2003)
• Record 1-64 channels with 2-24 bit
resolution
• Compatible with many off the shelf
digitisers
• Continuous data recording with
adjustable ring buffers
• User selectable digital filtering on
preferred channels
• Applied triggering algorithm single
or multiple channels with sensitivity
adjustment
• Operates under most popular
operating systems
• Logfile recording for monitoring
system operation and performance
Data Formats
• Seisan:
– Nordic format either binary or ASCII, internal to the SEISAN program.
– Nordic to miniSEED
• ISS:
– binary data, wave form and header (description) are kept in separate
files. Converted to Nordic format for analysis.
• Seed:
– Internationally known format. Can be converted to Nordic format
using SUN Solaris software.
• Nanometrics:
– X and Y files extracted from ringbuffers are converted to Nordic
format.
• ISC:
– FFB files, data are extracted and converted to Nordic format for
inclusion into SEISAN data banks.
Data Management
Digital data (SEISAN)
Download from
remote stations
via
cellular / land modem
Stored in databank
Waveforms from
remote stations are
analysed, compared and
combined for each event
Source and spectral parameters
available to public, clients,
insurance enquiries and
seismic hazard assessments
Published bulletin
of located events
Involved location
procedure to identify
each epicentre
Laboratory Facilities
Human
• More than 40 years experience in seismic instrumentation
–
–
•
•
•
•
4 full time technicians
1 part-time technician
Extensive knowledge in designing and construction of seismograph systems.
Extensive experience in site survey, construction, installation and maintenance of seismograph
stations, in more than 6 southern African countries.
Experience with radio telemetry, modem and satellite communications.
Knowledge of different seismograph systems, such as the EARS, ISS, Nanometric, Quanterra and
IRIS systems.
Instrumentation
• Testing equipment such as digital oscilloscopes, multi-meters, communications testers,
frequency counters, frequency generators, battery testers and transmission line testers.
• Space to set-up, calibrate and test more than 10 seismograph systems concurrently.
• Seismic sensors such as:
• short-period
–
–
–
•
Mark Products L4-C and L4-3D,
Geotech S13,
Sensor Netherland SM6,
broadband
–
–
–
Guralp CMG-40T
Geotech KS2000
Streckeisen STS2
Communication
• Dependent on location and topography of remote sites
• Cellular Modems
– Advantages: telephonic network isolation limits effect of electrostatic
discharges (lightning)
– Disadvantages: expensive call rates, limited band width (9600 baud)
• Landline Modems
– Advantages: improved data transmission speed
– Disadvantages: equipment exposed to lightning damage
• Radio Telemetry
– Advantages: utilised in small networks (Lesotho, Swaziland, client)
• Internet
– Disadvantage: not available at all remote sites, satellite
communication and licensing fees expensive
• WLAN
– Advantage: communication with TCP/IP link
• Storage Media
– Advantage: communication in rural areas not available, data is stored
on external removable storage device such as ZIP or Flash disk,
operator performs data retrieval regularly and couriers data to central
site (Malawi and Mozambique)
Communication in Africa
• Investigations underway into Internet
Very Small Aperture Terminal (IVSAT)
• Makes use of satellite communication
Supporting a tsunami early warning system
Conclusions
• Not the first attempt to increase the number of seismic stations in
eastern and southern Africa, and link these to a regional data
center
• For the first time it is seen as a single unit
• The SANSN and the facilities at the CGS and other parts of eastern
and southern Africa could form the initial backbone of the
proposed AfricaArray
• The long term maintenance and support of the stations and
facilities of the AfricaArray will require strong international
partnerships and local commitment
• Data communication is a weakness that should be addressed in
more detail as the plans for the AfricaArray develop
• The CGS is in full support of the AfricaArray and will participate in
the development of the facilities of this network, data processing,
analyses and interpretation and training programmes
• The potential role of an AfricaArray network to provide primary
information to a Disaster Management Centre for tsunami warnings in the
Indian Ocean should be explored
Thank you!