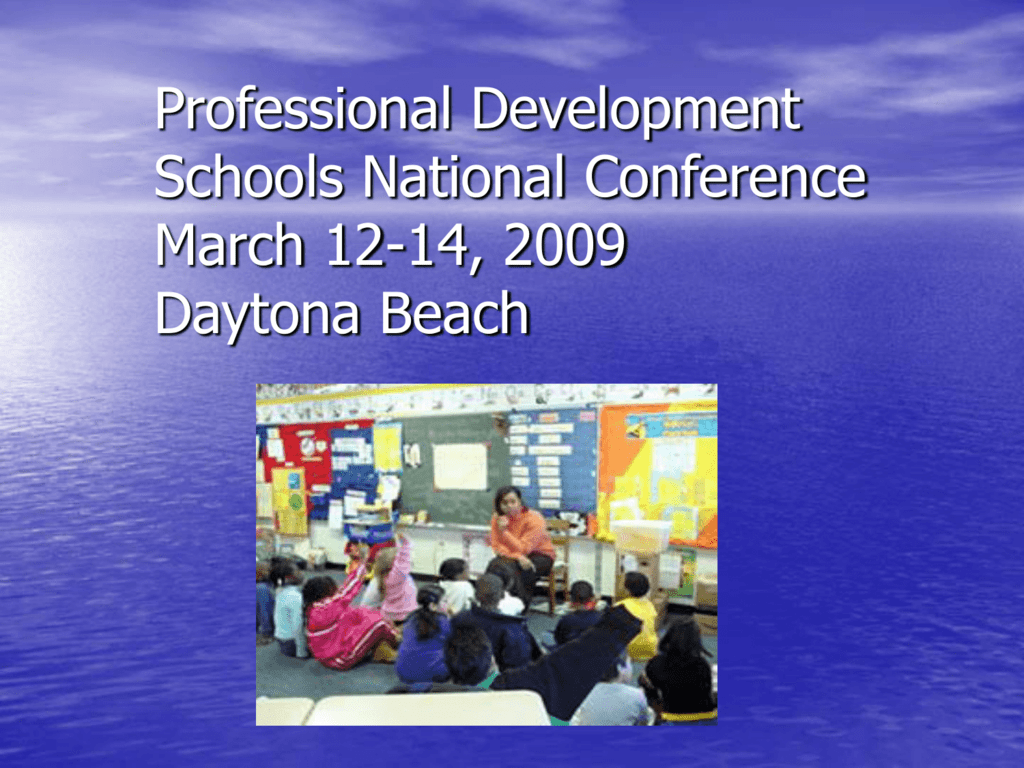 Professional Development
Schools National Conference
March 12-14, 2009
Daytona Beach
ROUNDS
An innovative Way to Provide
Pre-Service Teachers with
Meaningful Opportunities for
Observation and Mentorship
Jane F. Zenger & Beth-Powers Costello
University of South Carolina
Traditional Pre-service
Teacher Preparation
• Observational learning experiences
• Practicum & student teaching experiences
• Mentoring opportunities for first-year
teachers
• Focus on "highly qualified teachers"
(NCLB)
To Better Meet Their Needs
• Need for more in-depth
•
•
reflection with Master
teachers (individual &
group)
Need for observations at
different phases of the
teacher education
program
Need for exposure to a
variety of teaching
settings and pedagogical
practices
Project Background
• Teacher Quality Partnership Enhancement
•
•
•
•
Projects
Between 2002 & 2008, project staff looked at
programs aimed at improving clinical
experiences for pre-service & first-year teachers.
Staff studied successful programs in other parts
of the country
Training at Montclair State University on Rounds
"Rounds" pilot was implemented in 7 PDS
schools
Educational "Rounds" Involve:
• Classroom observations of a master teacher with
•
•
•
selected group of pre-service teachers
Debriefing session with teacher & university
supervisor immediately follows the observation
Reflective discourse between teachers, students,
& university faculty
Second tier (Master/Ph. D. level) rounds may
involve training & use of ethnographic
methodology
* Based on Thomas Del Prete's model of adapting
"medical rounds" into teacher ed. programs
The U.S.C. "Rounds" Process
• Rounds conducted in
•
•
•
established PDS and
potential PDS sites
Identified Partners &
Scheduled Rounds
Rounds Observation
Session (45-60 min)
Rounds Debriefing
Session (30-45 min)
Demographics & Methodology
• Conducted over 8•
year period
Approximately 120
pre-service teachers
completed Rounds in
P-12th grade classes
Methodology
• Participants were asked to complete a
"Rounds" questionnaire
• Completed questionnaires were analyzed
for themes (Boyatzis, 1998) such as
motivation & grouping
• Thematic analysis allowed researcher to
identify saliency among themes and to
quantify themes
Types of Rounds
1.
2.
3.
4.
5.
6.
7.
8.
Secondary education master-level students
Middle school master-level students
Undergraduate elementary education majors
Undergraduate early childhood majors
Special Education majors
Business education majors
Community/Technical college students who
have indicated a desire to matriculate to a
four-year college and major in education
Whole class groups making school-teacher
comparisons
Rounds Evolution
( 2002-2005)
Secondary Content
Classes
MAT
Cross Disciplinary
( with Arts & Sci. Faculty)
Middle School
Special groups
MAT and Undergrads
( AAP, Resource, ESL)
Elementary
MAT and Undergrads
(Master/NBC teachers
Resource and multi-age)
Rounds Evolution
( 2005-2009)
Practicum Experiences
(all levels)
Career Education
Special groups
MAT Business Education
Course cultural experiences
Embedded in courses
(Resource & Special Ed.)
Technical College Students
Pre-Professional Program
(Induction Year Teacher
& Science Lab)
Secondary Content
Classes
MAT
Cross Disciplinary
( with Arts & Science Faculty)
Elementary
MAT and Undergrads
(Master/NBC teachers, resource and multi-age)
Technical College Students
Pre-Professional Program
(Induction Year Teacher & Science Lab)
Classroom Management/Structure
Theme
N
Percentag
e
The learning environment
19
22.35%
The teacher was engaging and/or encouraged participation
19
22.35%
Moving around/attentive to students, active classroom
12
14.12%
Modeling, giving examples, demonstrating behavior
11
12.94%
Specific pedagogical practice
9
10.59%
Being positive/positive reinforcement
8
9.41%
Grouping students
5
5.88%
Needs improvement/no control
2
2.35%
85
100.00%
TOTAL
Comments/Concerns
Theme
N
Percentag
e
Pedagogy issues (repeating, modeling, boys & girls, disabilities)
21
27.63%
Disciplining techniques, students' behavior
17
22.37%
Engaging students, being positive, creating community
17
22.37%
Organization, preparation, and lessons
8
10.53%
Learning environment
6
7.89%
Content issues
6
7.89%
Not impressed
1
1.32%
76
100.00%
TOTAL
Biggest Impression
Theme
N
Percentag
e
Pedagogical practice
18
28.13%
Teacher's personality, personal traits
16
25.00%
Students' behavior, discipline
13
20.31%
Students' work, involvement, engagement
12
18.75%
Content ability/practice
4
6.25%
Not impressed
1
1.56%
64
100.00%
TOTAL
Perception of Rounds' value
Theme
N
Percentage
Yes
73
94.81%
Partially
3
3.90%
No
1
1.30%
77
100.00%
TOTAL
Why Rounds are beneficial
Theme
N
Percentage
See diversity of teachers and pedagogical practices
34
47.22%
Good idea but change timing
17
23.61%
Classroom management techniques
7
9.72%
Good for career changers
5
6.94%
Did not specify
5
6.94%
Good exposure to ESOL, special ed students
4
5.56%
72
100.00%
TOTAL
Elementary Rounds Exemplars
1. "They allow students to observe a variety of instructional
styles/strategies that allow future educators to examine
strengths and weaknesses of differing areas within a
classroom. These areas include: behavior management,
teaching strategies, lesson plans, classroom presence,
and accommodations for children with special needs."
2. "There is no one way to be an effective teacher. It is
beneficial to see a variety of teachers at work in their
classrooms. Individual personalities play a role in
teaching style."
3. "Rounds allows for the opportunity to see other grades
and settings that interns might not normally see (i.e.,
Resource, Arts, and P.E.)."
4. "Debriefing sessions are beneficial because insight is
gained as to why things are done they way they are
(behavior management, teaching techniques, etc.)."
Secondary Rounds Exemplars
1. "Rounds can enhance the required seminar
2.
3.
4.
because interns are allowed to interact with
more teachers in different settings."
"It allows interns to ask teachers about their
teaching experiences and how they deal with
various conflicts."
"Rounds allow students to observe different
teaching methods other than their coaching
teacher's methods."
"It is important to see how teachers of other
content areas conduct their classrooms."
S.W.O.T. Analysis Findings
(Strengths-Weaknesses-Opportunities-Threats)
• Created opportunities to engage more master
•
•
•
teachers at PDS schools who otherwise might
not participate in pre-service teacher
preparation.
Allowed master teachers to reflect and discuss
their pedagogical practices.
Permitted opportunities for students, teachers, &
university faculty to collaborate in a learning
environment.
Follow-up conversations with new teachers
indicated Rounds could continue to be beneficial.
Conclusions
• Pre-service teachers overwhelming found rounds to be a
beneficial component of their classroom experiences &
gave them diversity of classroom experiences not always
gained with one or two cooperating teachers.
• Adds to research suggesting pre-service teacher interns
who observe a variety of experienced master teachers
benefit greatly and have enhanced teaching skills by
observing and debriefing about better teaching and
learning experiences.
• Is an inexpensive way to foster learning & professional
development.
• Can be used for induction year teachers as well as other
professionals within the school context.
Induction Year Teachers
• Teaching students who speak English as a
•
•
•
•
•
second language
Working with students in special education
Focusing on a method of implementing curricula
Understanding a learning style, process or a
particular teaching practice
Building knowledge in a content area
Observing classes across grades and disciplines
Other Professionals
• Teachers who have transferred into a
school from another community
• School Board members
• New administrators
• Other experienced teachers observing
particular pedagogical practices of their
colleagues thereby fostering hands-on
professional development
Rounds embedded into a course
•
•
•
•
•
Advantages
Comparison of two school settings
Helps students develop schema for teacher's
management and teaching styles
Gives professor a "springboard" for ongoing
discussion throughout the semester
Shows that good teaching can take many forms
Helps develop important skill of reflection
Rounds embedded into a course
Advantages
• Gives students preview for action
research conducting ethnographic
observations ( Frank, Carolyn)
• Helps students focus on ways diversity
and culture are approached in different
settings
• Builds community within the class as
students compare observations and ideas
Examples from different schools
(Student #11 Management Q #2)
•
•
School Green
"She never once
raised her voice.
If a child said
something rude to
another child, "she
taught them to say,' I
like you but I don't
like what you just
said'".
•
School Yellow
"The classroom
management was a
very strict
environment. The
children were to do
each little thing the
teacher said and
nothing on their own."
Examples from different schools
(Student #10 Management Q #2)
School Green
• "…she used a timer when they
were independently working
which gave them control over
how much time they had left
to work on the assignment."
• "…she used a yardstick as a
behavior stick. She puts
clothespins on in and if a child
was misbehaving she would
move his or her clothespin
down to a different color."
School Yellow
• "It got a little noisy, so Dr. Gray
rang her bell. She told them they
needed to quiet down and they
did."
• "After about ten minutes, she rang
the bell and told that it was time
to wrap up."
• "She then brought them back to
the circle, so that they could all
share their work."
Examples from different schools
(Student #9 Management Q #2)
•
School Green
"Throughout the
lesson the teachers
walk around the room
and help students
who need assistance."
School Yellow
• "When first entering the
classroom it seemed very
hectic but after walking around
the room I realized the
students were in different
centers."
• "…she frequently made
comments like, 'I like the way
the rest of you are working'."
• "…had a CD playing."
Examples from different schools
(Student #9 Comments Q #3)
School Green
• "…the teacher used a
behavior stick. I asked
what the punishment was
and she said she took
away recess time."
• "…when the whole table
was doing something
good they got a penny in
their jar and whatever
table had the most
received a prize at the
end of the week."
School Yellow
• "I was curious about the
strategies the teacher
used to tell the students
how to sound out
words….she said she got
the strategies from her
methods courses and
textbooks."
Examples from different schools
(Student #2 Comment Q #3)
School Green
• "I really loved her classroom.
It was so cozy and I felt
comfortable in there.
• The classroom was huge and
the children had plenty (of)
room to move around.
• She had the children divided
by higher and lower."
•
•
•
School Yellow
"She starts off by doing a
large groups lesson…then
they are split into small
groups based on their
needs.
…she did not have many
discipline problems in her
class, which is unusual.
I think that it is great that
she is able to get through to
the children in a way that
they look up to her and
respect her."
Examples from different schools
(Student #3 Comment Q #3)
School Green
• "I was so impressed with the
way the children were so
excited about math! I thought
the teacher did such a good
job at getting their interest!
• "In the room there were signs
that say…'Why do I need to
know the days of the week
and the months of the
year?'…it explains to kids what
they learn is purposeful and
meaningful in their lives."
School Yellow
• "The sign in book was a list of
the students names and to
sign in that day they had to
write words ending in –ack and
–ock. I asked…if this was a
form of assessment and she
said it was."
Examples from different schools
(Student #10 Impressions Q#4)
School Green
• "I loved the teacher's
positive attitude and
energy. The children
were so well behaved,
and I could tell that they
adored her."
School Yellow
• "I really enjoyed (the
teacher's) temperament
and the way she interacts
with the children. I could
see that she respected
each and every one of
them, and made them
feel like they were so
important to her."
Examples from different schools
(Student #8 Impressions Q#4)
School Green
• "I was very impressed
with how the teacher
never raised her voice.
She told us later that she
thinks the children react
better when she stays
calm rather than when
she raises their voice to
them."
School Yellow
• "What impressed me the
most in during my time in
the classroom was the
way the children worked
together. The desks were
placed in groups, which I
think gave the children a
chance to learn from
each other."
Examples from different schools
(Student #3 Impressions Q#4)
School Green
• "I was so impressed with
the way the children were
so excited about math!"
School Yellow
• "The entire classroom
impressed me! It was
amazing how much I
saw, observed, and
learned in 30 minutes…I
feel so lucky that I was
able to view her teaching
methods, even if it was
for only 30 minutes!"
Ethnographic Eyes: A Teacher's Guide
to Classroom Observation
Frank, Carolyn
• Develop lenses for seeing patterns and
practices of life within classrooms p. xi
• Create a base for informed action, not
based on personal views but on real
observations…p. 2
• Underlying belief systems ( "table leaders"
used to collect/pass out papers indicates
student responsibility…p.3
Ethnographic Eyes cont.
• Learning to describe details and
characteristics, not to interpret, evaluate
and prejudge.. P. 3
• Field notes as facts or attitudes ( use of
cultural phases)
• Side by side note-taking and note-making
Ethnographic Eyes cont.
Specific details
Interpretation
• A child is working at
• The class is self
the computer and 14
students at their
desks
directed and each is
working on their own
schedule.
Ethnographic Eyes cont.
Inquiry into Observation:
• Observe from different perspectives
try taking notes as a parent or principal
• Observe the same time ( class) several
times- look for differences
• Observe the same kind of class ( HS
history or 3rd grade)- Different teachers
Ethnographic Eyes cont.
Advanced ethnographic observations
• Visiting neighborhoods and making maps
• Learning "teacher talk" such as "I need
your listening ears" p.27
• Having teachers start with a "grand tour"
– An overview of the class, day, year, staffing
p.33
-Making a list of classroom patterns
Moving Observations
Observing a single student or small group
Examples:
• follow a group of students from an ESL
class or resource class into a regular class
setting ( inclusion methods)
• Observe a student who has difficulty in
math but excels at chorus or drama
REFLECTIONS
• Knowing what you know (Zenger)
• Knowing when you have a shift ( Zenger)
• Learning to think from different:
–
–
–
–
–
–
–
Cultural Perspectives
Multiple perspectives
Member's perspective
Over time perspective
Language Perspective
Teaching Perspective
Learning perspcetive ( Frank, C. pp.94-99)
Additional Reading
Crews, Tena B. & Zenger, Jane F. (2006). A Well "Rounded" Inter
Business Education Digest, Issue XV, 13-29.
Frank, Carolyn. (1999). Ethnographic Eyes: A Teacher's Guide
Classroom Observation. Portsmouth, NH: Heinemann
Reiman, Alan J. & Thies-Sprinthall, Lois. (1998).
Mentoring and Supervision for Teacher Development. N York: Lon
McEntee, Grace Hall, et al. (2003). At the Heart of Teaching
A Guide to Reflective Practice. New York: Teacher's College
For more information please contact
Dr. Jane F. Zenger
[email protected]
Dr. Beth Powers-Costello
[email protected]
College of Education – ITE
University of South Carolina
Columbia, South Carolina 29208
• Materials, References & Literature Reviews are
available & can be emailed!