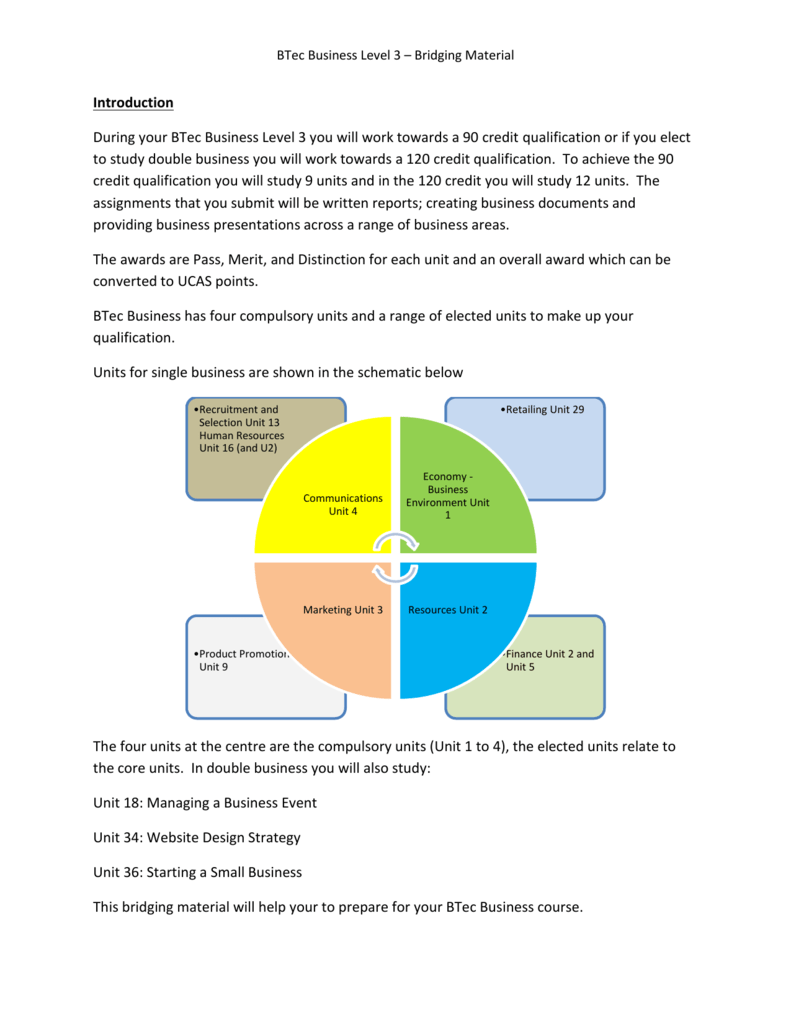 BTec Business Level 3 – Bridging Material
Introduction
During your BTec Business Level 3 you will work towards a 90 credit qualification or if you elect
to study double business you will work towards a 120 credit qualification. To achieve the 90
credit qualification you will study 9 units and in the 120 credit you will study 12 units. The
assignments that you submit will be written reports; creating business documents and
providing business presentations across a range of business areas.
The awards are Pass, Merit, and Distinction for each unit and an overall award which can be
converted to UCAS points.
BTec Business has four compulsory units and a range of elected units to make up your
qualification.
Units for single business are shown in the schematic below
•Recruitment and
Selection Unit 13
Human Resources
Unit 16 (and U2)
•Retailing Unit 29
Communications
Unit 4
Economy Business
Environment Unit
1
Marketing Unit 3
Resources Unit 2
•Product Promotion
Unit 9
•Finance Unit 2 and
Unit 5
The four units at the centre are the compulsory units (Unit 1 to 4), the elected units relate to
the core units. In double business you will also study:
Unit 18: Managing a Business Event
Unit 34: Website Design Strategy
Unit 36: Starting a Small Business
This bridging material will help your to prepare for your BTec Business course.
BTec Business Level 3 – Bridging Material
Unit 1 Business Environment
1. What is the current rate of inflation? Also find out on which date the monthly inflation
information is published and by whom?
2. What is the current Bank of England base rate? Also find out when this rate is updated
and who decides if the rate changes.
3. If a business was to get a loan from a bank, what would be the interest rate on that
loan?
4. What is the current rate of unemployment in the UK has the rate of unemployment
increased or decreased this year?
Unit 2 Business Resources
Use Tesco and Costa to do your business investigation
5. What are the main resources used by these two businesses?
6. Are these businesses currently opening at new locations or are they closing locations?
BTec Business Level 3 – Bridging Material
7. Are these businesses profitable? Use the internet to find the Statement of Income
(Profit and Loss Account) and Statement of Financial Position (Balance Sheet)
8. Were the businesses more profitable this year or last year? Can you find reasons why
the financial performance of the business has improved or worsened?
BTec Business Level 3 – Bridging Material
Unit 3 Marketing
Still working with Tesco and Costa
9. How would you describe what products and services these businesses provide?
10. The marketing mix is made up of 4 P's – what are they?
11. Create a comparison of the 4P's for both businesses
Tesco
P
P
P
P
Costa
BTec Business Level 3 – Bridging Material
Unit 4 Business Communication
12. Businesses can be influenced by stakeholders, make a list of stakeholders in business?
13. What are the main ways that businesses can communicate with stakeholders?
14. What are the main ways that these businesses communicate with potential employees?
(find job adverts for Costa and Tesco)
15. What types of skills are needed to work in these businesses?