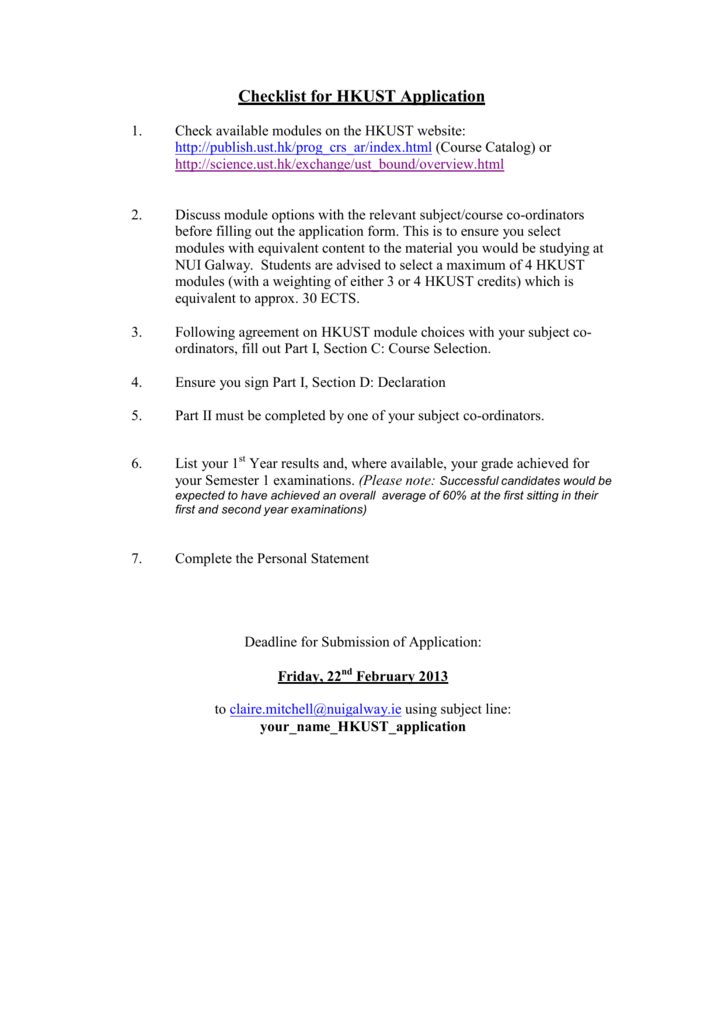 Checklist for HKUST Application
1.
Check available modules on the HKUST website:
http://publish.ust.hk/prog_crs_ar/index.html (Course Catalog) or
http://science.ust.hk/exchange/ust_bound/overview.html
2.
Discuss module options with the relevant subject/course co-ordinators
before filling out the application form. This is to ensure you select
modules with equivalent content to the material you would be studying at
NUI Galway. Students are advised to select a maximum of 4 HKUST
modules (with a weighting of either 3 or 4 HKUST credits) which is
equivalent to approx. 30 ECTS.
3.
Following agreement on HKUST module choices with your subject coordinators, fill out Part I, Section C: Course Selection.
4.
Ensure you sign Part I, Section D: Declaration
5.
Part II must be completed by one of your subject co-ordinators.
6.
List your 1st Year results and, where available, your grade achieved for
your Semester 1 examinations. (Please note: Successful candidates would be
expected to have achieved an overall average of 60% at the first sitting in their
first and second year examinations)
7.
Complete the Personal Statement
Deadline for Submission of Application:
Friday, 22nd February 2013
to [email protected] using subject line:
your_name_HKUST_application
Application Number
(For office use)
The Hong Kong University of Science and Technology
School of Science
Application Form for International Student Exchange Program
Notes to Applicant:
1.
2.
Please complete all sections.
Please send the completed application form together with the following supporting documents to the program coordinator of
the exchange program at home institution:
(i)
Official academic transcript (with English translation if necessary)
(ii)
Photocopy of the photo page of the national passport
(iii)
Photocopy of HK ID Card (if any)
(iv)
Letter of recommendation from program advisor or equivalent (if any)
PART I (To be completed by applicant)
A) Applicant's Particulars
Name:
(as printed on passport)
Passport Number:
(Last)
HK ID Number:
(if any)
(First)
(Middle)
Nationality:
Date of Birth:
Gender:
Male
Home University:
Faculty/Department:
Program/Major:
Year of Study:
Correspondence Address:
Contact Number*:
Email Address*:
Emergency Contact Person:
Relationship:
Contact Number*:
(please specify country/area code)
Country of Residence:
(in case of medical evacuation)
* Please provide extra numbers or e-mail addresses where necessary.
B) Preferred Host Division/Department and Exchange Period
Preferred Host Division/Department:
Preferred Term:
Chemistry
Life Science
Mathematics
Physics
Fall
Spring
Academic Year:
Fall & Spring
Female
Application Number
(For office use)
C) Course Selection
Points to note:
1. Please refer to the Course Catalog at http://publish.ust.hk/prog_crs_ar/index.html for the course list.
2. Exchange students under School of Science (SSCI) are required to take at least one course offered by SSCI each term.
3. Course codes beginning with CHEM, LIFS, MATH and PHYS are offered by SSCI.
4. Exchange students under SSCI have priority in taking courses offered by the school, while enrollment in courses offered by
other Schools will be subject to the course quota and approval of the course instructor.
5. Exchange students are expected to take mainly courses at undergraduate level. Enrollment in postgraduate-level courses
(i.e. course codes starting with the digit '5' or above, e.g. PHYS 5210) may still be possible subject to the approval of the
course instructor, course quota, etc.
6. Exchange students are expected to enroll in at least 12 credits and not more than 18 credits per term. Requests to deviate
from these regulations are subject to approval.
(i) Courses offered by School of Science at HKUST
Priority
Course Code
Course Title
Credits
1
2
3
4
5
6
7
8
Total Credits:
(ii) Courses offered by other Schools at HKUST
Priority
Course Code
Course Title
Credits
1
2
3
4
5
6
Total Credits:
D) Declaration
I hereby declare that the information provided above is to the best of my knowledge, accurate and complete.
Signature of Applicant
Date
Application Number
(For office use)
PART II (To be completed by program advisor at Home University)
Decisions/Recommendations of Home University
Point to note:
1. Applicant who chooses to attach a letter of recommendation from program advisor (or equivalent) to the completed application
form is not required to fill out this section.
Recommendations:
The applicant is recommended to apply for the exchange program.
The applicant is not recommended to apply for the exchange program.
Name of Program Advisor
Sep 2011
Signature of Program Advisor
Date
Subjects & Grades
1. Please give subjects and grades taken in 1st year.
SUBJECT
GRADE
2. Please give second year subjects and grades up to Christmas.
SUBJECT
GRADE
3. Please state your subject preferences for 3rd year.
SUBJECT PREFERENCE
Personal Statement
Please state in 250 words or less why you are interested in this study abroad
programme.