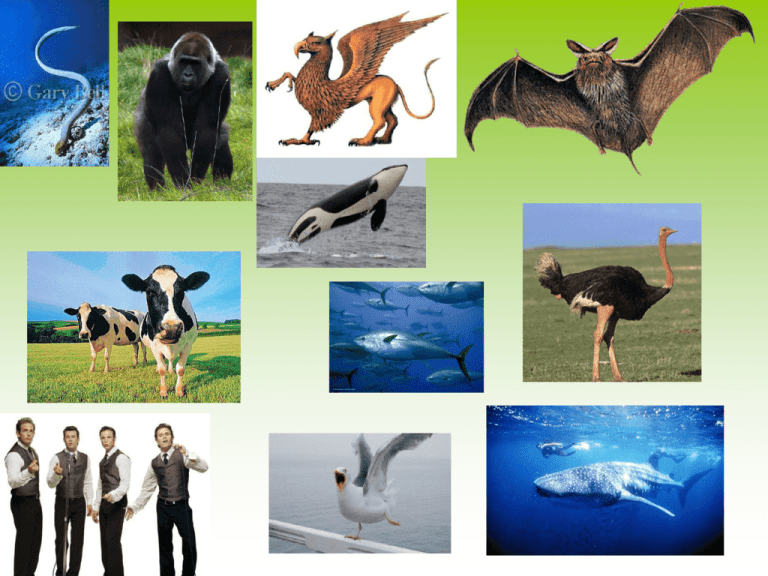 2.3.2 Classification
Objectives:
Define keywords on classification
Describe key features of the kingdoms
Explain why new technology has replaced older
systems for classification
Key words: Binomial system – Classification – Phylogeny –
Kingdom – Phylum – Class - Order – Family – Genus Species
•
•
•
•
•
•
•
•
Ursus maritimus
Carcharodon carcharias
Canis lupus
Aquila chrysaetos
Felis silvestris
Panthera leo
Orcinus orca
Panthera tigris
Classification
Why classify?
Enables us to link organisms with
similar characteristics into groups
for easy reference
Homo sapiens
Genus
Species
Grouping
organisms
based on
observable
features
Grouping
organisms
based
probable
evolutionary
relationships
What is this and why is it difficult
to classify
• Separate species
evolving similar
characteristics as their
lifestyles are similar.
• DNA is more reliable
KINGDOM - largest group of organism sharing common
features
PHYLUM - Major subdivision of a kingdom
CLASS - A subdivision of a phylum/ group of related
orders
ORDER – Subdivision of a class/group of related families
FAMILY - Group of related genera/subdivision of an order.
GENUS - Group of related species/subdivision of a family.
SPECIES - A group of organism capable of breeding and
producing fertile offspring
Animalia
Protoctista
Plantae
Fungi
Prokaryotae
• Multicellular
• Non-photosynthetic
• Eukaryotic
• Nervous
coordination
Cnidarians, molluscs, annelids,
arthropods, chordates
• Multicellular
• Photosynthetic
• Eukaryotic
• Cellulose cell walls
Bryophyta, filicinophyta,
angiospermophyta
• Multicellular
• Non-photosynthetic
• Eukaryotic
• Non-cellulose cell walls
• Absorptive nutrition
• Multinucleate hyphae
• Spores without flagella
• Often unicellular or
assemblages of similar
cells
• Eukaryotic
• Membrane bound
nucleus
• Neither fungi, plants nor
Green algae, brown algae
animals
• Prokaryotic (no true
nucleus)
• No membrane-bound
organelles
• Lack 9 + 2 tubules
Non-photosynthetic and
photosynthetic bacteria
Wolphin
Zorse
Leopon
Liger
• Based on the genes coding for the RNA
that makes up ribosomes.