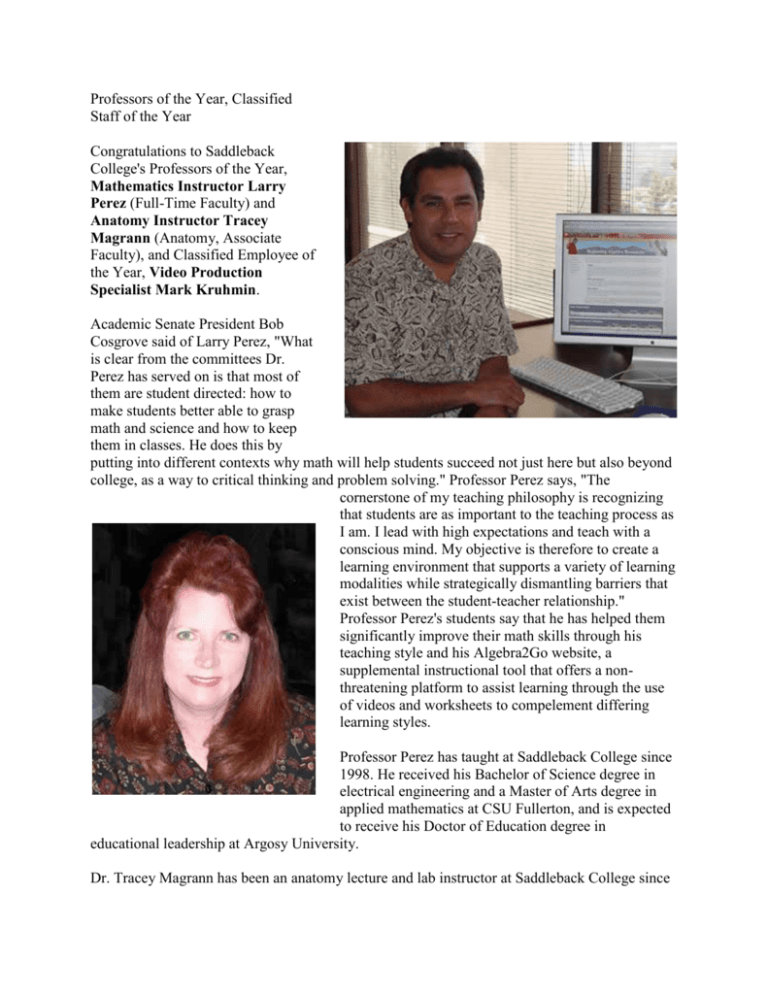 Professors of the Year, Classified
Staff of the Year
Congratulations to Saddleback
College's Professors of the Year,
Mathematics Instructor Larry
Perez (Full-Time Faculty) and
Anatomy Instructor Tracey
Magrann (Anatomy, Associate
Faculty), and Classified Employee of
the Year, Video Production
Specialist Mark Kruhmin.
Academic Senate President Bob
Cosgrove said of Larry Perez, "What
is clear from the committees Dr.
Perez has served on is that most of
them are student directed: how to
make students better able to grasp
math and science and how to keep
them in classes. He does this by
putting into different contexts why math will help students succeed not just here but also beyond
college, as a way to critical thinking and problem solving." Professor Perez says, "The
cornerstone of my teaching philosophy is recognizing
that students are as important to the teaching process as
I am. I lead with high expectations and teach with a
conscious mind. My objective is therefore to create a
learning environment that supports a variety of learning
modalities while strategically dismantling barriers that
exist between the student-teacher relationship."
Professor Perez's students say that he has helped them
significantly improve their math skills through his
teaching style and his Algebra2Go website, a
supplemental instructional tool that offers a nonthreatening platform to assist learning through the use
of videos and worksheets to compelement differing
learning styles.
Professor Perez has taught at Saddleback College since
1998. He received his Bachelor of Science degree in
electrical engineering and a Master of Arts degree in
applied mathematics at CSU Fullerton, and is expected
to receive his Doctor of Education degree in
educational leadership at Argosy University.
Dr. Tracey Magrann has been an anatomy lecture and lab instructor at Saddleback College since
spring of 2007. Of her teaching philosophy, Dr. Magrann stated, "My personal feelings and
beliefs about teaching are to understand the students, meet their needs, keep them motivated, and
encourage them to live in the high ethical standard necessary for the health care field. While they
learn anatomy in my class, I also want them to learn to cope with stress and have a positive
attitude as well. A successful anatomy student is a future health care professional who is a good
team player, views life with cheerfulness, and serves with a compassionate heart."
Dr. Magrann's students praise her dedication to teaching, and say that she measures her success
as a professor based on the success of her students. She often stays late after class to answer
questions and synthesizes daunting information into fun lessons. For example, she has her
students play a game to learn the direction of blood flow from the heart. In her students'
statements, the word "mentor" is used over and over again, and for her commitment to them, Dr.
Magrann's students adore her.
Dr. Magrann earned an Associate of Arts with honors in biology at Fullerton College, and a
Bachelor of Science degree and a Doctor of Podiatric Medicine at the Samuel Merritt College of
Medicine.