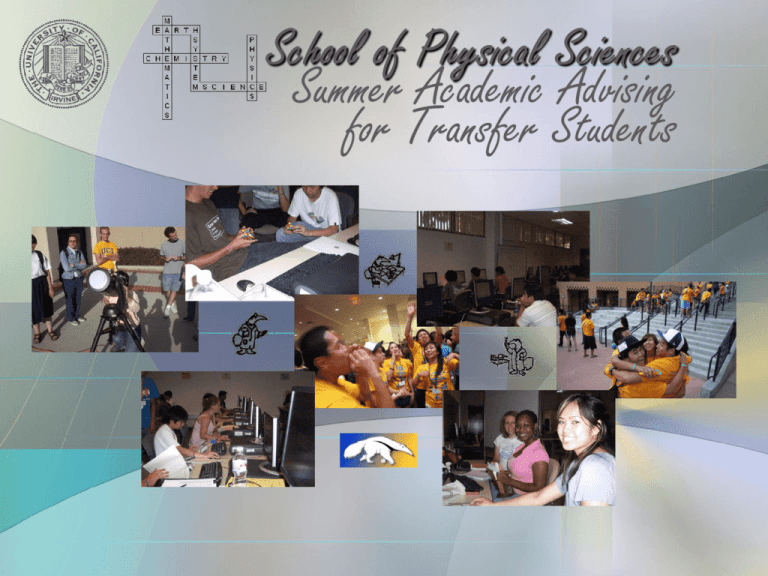 School of Physical Sciences
Summer Academic Advising
for Transfer Students
Student Affairs Office
Academic Counselors
Don Williams
Mike Tawney
Jillian LeMaster-Dwyer
Location: 134 Rowland Hall
Phone: (949) 824-6507
Website: ps.uci.edu/stuaff
Email: [email protected]
Summer Hours:
Mon – Fri, 8:30 – 11:30 & 1:00 – 4:00
Peer Academic Advisors
Jhealyn Rogers
Candace Hart
Asher Niu
Bryan Reza
Kenneth C. Janda, Dean
TBA, Associate Dean
Majors and Specializations/Concentrations and minors
CHEMISTRY
Biochemistry
Chemical Education
(with Secondary Teaching
Certification option)
Agricultural Scientist
Analytical Chemist
Chemical Engineer
Chemist
Crime Lab Analyst
Dentist
Dietician
EPA Inspector
FDA Inspector
Food Scientist/Technologist
Forensic Chemist
Geochemist
Geologist
Hospital/HMO Administrator
Lawyer
Museum Curator
Nurse
Optometrist
Pharmaceuticals Pharmacologist
Physician
Quality Assurance
Laboratory Technician
Soil Scientist
Teacher, Science/Math
Veterinarian
EARTH SYSTEM
SCIENCE, B.S.
Geosciences Education with
Secondary Teaching Cert
ENVIRONMENTAL
SCIENCE, B.A.
Geosciences Education with
Secondary Teaching Cert
Specializations:
Atmospheric Science
Oceanography
Hydrology and Terrestrial
Ecosystems
Civil Engineer
Environmental Analyst/Engineer
Environmental Health Specialist
EPA Inspector
Forensic Investigator
FDA Inspector
Geo-Technician
Hydrogeologist
Meteorologist
Mineralogist
Naturalist
Oceanographer
Seismologist
Soil Scientist
Water Scientist
Minor in Earth and Atmospheric Sciences
MATHEMATICS
Math for Economics
Applied and Computational
Mathematical Biology
Math for Education
(with Secondary Teaching
Certification)
Accountant
Actuary
Auditor
Banker
Compensation/Benefits Manager
Computer Programmer
Cryptographer
Database Administrator
Economist
Engineer
Financial Investment Analyst
Market Research Analyst
Production Manager
Programmer Analyst
Real Estate Broker
Salary Analyst
Statistician
Teacher, Science/Math
Technical Writer/Communicator
Treasury Management Specialist
Underwriter
Weight Analyst
Minor in Mathematics
Minor in Mathematics for Biology
PHYSICS
Applied Physics
Astrophysics
Biomedical Physics
Computational Physics
Philosophy of Physics
Physics Education
(with Secondary Teaching
Certification option)
Applied Physicist
Architect
Astronomer
Astrophysicist
Computer Programmer
Design Engineer
Engineering Mechanics Specialist
Environmental Analyst
Forensic Scientist
Geophysicist
Health Physicist
Instrumentation Technician
Laboratory Technician
Nuclear Medicine Technologist
Optical Technician
Plasma Physicist
Project Manager
Research & Development Engineer
Research Assistant
Science Laboratory Technician
Seismologist
Semi-Conductor Process Engineer
Teacher, Science/Math
Technical Writer/Communicator
UCI Cal Teach
A No Brainer for Students with
Big Brains!!
Expand Your Career Options
• Explore a math or science teaching career and learn from
experienced math and science teachers in the Cal Teach 3-course
series and paid internships.
• Get a head start on satisfying some state teacher certification
requirements while you earn your bachelor's degree from the School
of Physical Sciences.
Ours
Test Drive the Cal Teach Program
Enroll now in Phys Sci 5, "Introduction to Science & Math Teaching."
For more information, please contact:
Cal Teach Resource & Advising Center
949.824.0689  [email protected]  www.gse.uci.edu/calteach/
Others
Degree Requirements
• University Requirements
– Entry Level Writing (ELW) – Required for admission as a transfer student,
this should be completed
– American History & Institutions – Probably already completed
– 2.0 GPA
– Minimum 180 quarter units – Only 70 semester units (105 quarter units)
–
can be transferred from a community college
General Education Classes – IGETC fulfills most of these
Categories I – VIII
• School, Departmental, and Major Requirements
– Specific classes
Reminder: Review the UCI Catalogue, now online.
Other Requirements
American History and Institutions (may be met in several ways):
Most students have satisfied this requirement with high school work.
International students, see a counselor for information on how to satisfy the
requirement.
Residence requirement
At least 36 of the final 45 units completed by a student for the bachelor's
degree must be earned in residence at the UCI campus.
Normal progress toward degree
Must follow the program of study required for your major and graduate
when done (normally in two years).
Reminder: Nothing is Automatic
Grade Requirement
Minimum grade point average of at least 'C'
(2.0) is required:
1. Overall
2. In all of the courses required for and
offered in the major program
3. In the upper-division courses required for
and offered in the major program
In any given quarter, if all three of these requirements are not met, you
may be subject to probation or disqualification. If your quarterly GPA
falls below 2.0, you may be subject to probation or disqualification.
General Education (GE)
General Education categories
I.
II.
III.
IV.
V.
Writing:
lower- and upper-division
Science and Technology
Social and Behavioral Sciences
Arts and Humanities
Quantitative, Symbolic, and
Computational Reasoning
VI. Language Other Than English
VII. Multicultural Studies
VIII. International/Global Issues
IGETC fulfills all
requirements except
upper-division writing,
which must be done
at UCI
UCI Homepage
www.uci.edu
WebSOC and WebReg
WebSOC and WebREG
WebSOC and WebREG
WebSOC and WebREG
Step 1:
Step 3:
Click "Add"
Step 2:
Enter 5-digit course
code from WebSOC
Click "Send Request"
WebSOC and WebREG
That's it!! You're enrolled!!
Enrollment…
You can register for classes after orientation!
But what about every other quarter?
~ Each quarter is 10 weeks long
(Finals during '11th' week)
~ WebSOC becomes available
Week 6
~ Check WebREG for
Enrollment Window
during Week 7
~ Enrollment Windows open
starting Week 8
~ You have 48 hours to add/drop/modify classes:
After your Window closes, you can access WebREG only
between the hours of 7pm and 7am, until the Open Enrollment begins.
Degree Audit
Financial Aid and Health Services
Fees and Financial Aid
E-Bills (paperless tuition bill) will be e-mailed to your UCI e-mail address
in late August
Financial aid will be applied to fees automatically if you have enrolled in
at least 6 units (need to take a minimum of 12 units)
Health Insurance
You are automatically enrolled
You can waive out of the plan if you have comparable coverage
Waiver deadline is Sept. 11th, but take care of this earlier
Complete details can be found at:
www.shs.uci.edu
zotALERT
UCI has introduced "zotAlert," an emergency alert system
that uses text messages to quickly notify the
UCI community of a natural disaster, crisis response
or need to secure the campus.
Sign Up for zotAlert today!!
You will need a "text-enabled" cell phone to sign up.
Login to StudentAccess
Things to do
•Complete Statement of Legal Residence
•Review New Student Website
•Submit transcripts and AP scores to Admissions,
by July 1st!
•Enroll in classes
•Apply for a USHIP waiver: deadline September 11th
•Pay your fees: deadline September 15th
•Check your enrollment
during Open Enrollment: beginning Sept 18th
•Update your local address at the 'Student Access'
website
•Pick up your Student ID at UC Bookstore
UCI Resources and Experiences
Financial Aid and Scholarships
Student Housing
Registrar's office
Disability Services
Student Health - (USHIP)
Ombudsman
Career Center
Libraries
Anteater Recreation Center
UCI Resources and Experiences
Departmental tutoring
Learning and Academic
Resource Center
Placement Testing
Cross Cultural Center
ASUCI
Volunteer Center
Student Organizations
Athletics
Parking and Transportation
UCI Resources and Experiences
Counseling Center
Bren Center
Freshmen Seminars
Peer Academic Advisors
Departmental Clubs
Double Majors, Minors
Research/UROP
Education Abroad Program (EAP)
Honors Programs/Courses
Student Center
Welcome Week (Sept 21 - Sept 25)
Plan to attend these special events on Monday, September 21st:
~ New Student Convocation at 9:00am
At Bren Events Center
~ Dean's Welcome at 10:15am
At various locations
If you have any questions come find us
during welcome, in our office:
Rowland Hall, room 134.
Academic Counselors
Don Williams, Mike Tawney, Jillian LeMaster-Dwyer
UCI Bookstore
Financial Aid
Parking Office
Aldrich Hall
Student Center
Rowland Hall
Science Library
Parking Lots 12 and 16
www.assist.org
Calc I = Math 2A
Calc II = Math 2B
Calc III = Math 2D and maybe 2E, check Assist.
force/energy/momentum = Physics 7C/LC
electricity/magnetism = Physics 7D/LD
waves/optics = Physics 7E
G-Chem = Chem 1A-B-3C-M2LA-M2LB or 1A-B-C-LC-LD
O-Chem = Chem 51A-B-C-LB-LC or 51A-B-C-M52LA-M52LB-M52LC
What do I enroll in?
http://ps.uci.edu/stuaff/content/transfer-students-course-selection
Now it's time to enroll!