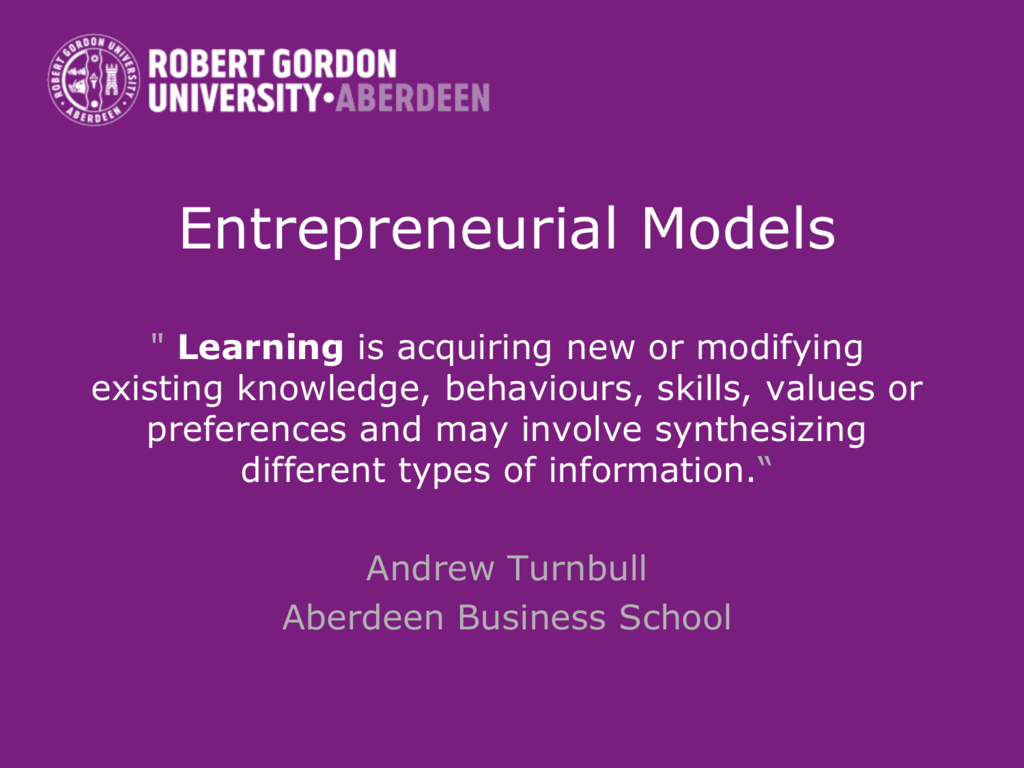 Entrepreneurial Models
" Learning is acquiring new or modifying
existing knowledge, behaviours, skills, values or
preferences and may involve synthesizing
different types of information."
Andrew Turnbull
Aberdeen Business School
Model One A: Kuratko & Hodges The Creative
Thinking Process
Model One B: Churchill, N. The Opportunity Ladder
• The new business venturing into the
unknown
• A small problem A becomes medium
sized problem B, becomes large
problem C
• Each needs more in the way of new
skills and relies less on current skills
Model Two: Moore, C. The Entrepreneurial Process
Model Three: Davidsson, P. Economic-Psychological
Model
Model Four: Gibb & Ritchie Mair Start Up Model
Model Five: Ansoffian Model (see also 'Pettigrew's
Triangle')
• Where are we now?
Mission
Aims, Goals, Objectives
• Where are we going?
Review of internal environment (strengths,
weaknesses) and external environment
(opportunities, threats)
Strategic choice
• How do we get there?
Implementation
Monitor
Reappraisal
Model Six: Eickhoff, M. & Jakob, C. The Business
Evolution Process
Business Development
Creative or divergent Phase
Analytical or convergent Phase
Definition of
the Problem
Implementation
Idea-Generation
?
Idea-Evaluation
!
Business Creativity
Business Planning
Model Seven: Birkinshaw, J. Freedom v. Control
in Enterprise Growth
Model Eight: Burns, P. Cycling
Model Nine a: Greiner, L. Five Growth Stages
Model Nine b: Scott & Bruce Managerial Stages
Five Stages:
Inception, Survival, Growth, Expansion, Maturity
Management Role:
Direct supervision, supervised supervision, delegation/
coordination, decentralisation, decentralisation
Management Style:
Entrepreneurial/individualistic, entrepreneurial/
administrative, entrepreneurial/coordinated,
professional/administrative, watchdog
Organisation Structure:
Unstructured, simple, functional/centralised, functional/
decentralised, decentralised/functional/product
Model Ten: McDonald, M. Knowledge Entrepreneurship
Other Models!
• Porter's 5 Forces
• Wickham's 'The Strategic Window (of
Opportunity)' (Chapter 22:Strategic
Entrepreneurship, 4th ed.
• Bygrave's 'Ten Ds'
• What can you find? Original is good!