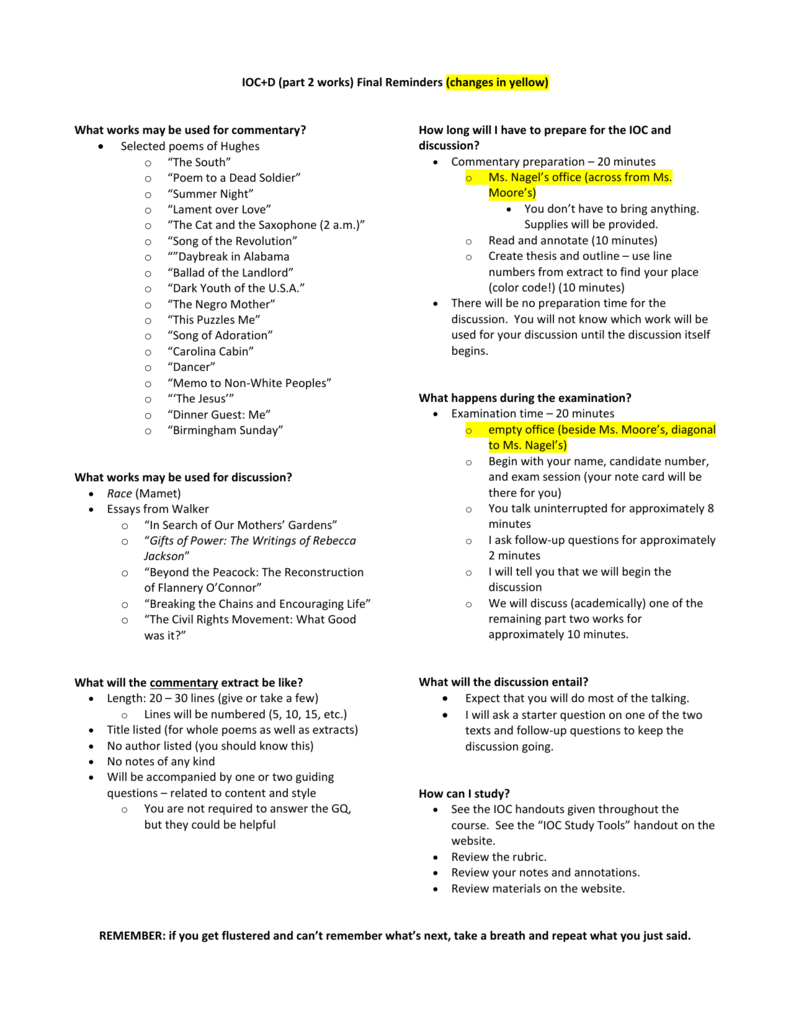 IOC+D (part 2 works) Final Reminders (changes in yellow)
What works may be used for commentary?
 Selected poems of Hughes
o "The South"
o "Poem to a Dead Soldier"
o "Summer Night"
o "Lament over Love"
o "The Cat and the Saxophone (2 a.m.)"
o "Song of the Revolution"
o ""Daybreak in Alabama
o "Ballad of the Landlord"
o "Dark Youth of the U.S.A."
o "The Negro Mother"
o "This Puzzles Me"
o "Song of Adoration"
o "Carolina Cabin"
o "Dancer"
o "Memo to Non-White Peoples"
o "'The Jesus'"
o "Dinner Guest: Me"
o "Birmingham Sunday"
What works may be used for discussion?
 Race (Mamet)
 Essays from Walker
o "In Search of Our Mothers' Gardens"
o "Gifts of Power: The Writings of Rebecca
Jackson"
o "Beyond the Peacock: The Reconstruction
of Flannery O'Connor"
o "Breaking the Chains and Encouraging Life"
o "The Civil Rights Movement: What Good
was it?"
What will the commentary extract be like?
 Length: 20 – 30 lines (give or take a few)
o Lines will be numbered (5, 10, 15, etc.)
 Title listed (for whole poems as well as extracts)
 No author listed (you should know this)
 No notes of any kind
 Will be accompanied by one or two guiding
questions – related to content and style
o You are not required to answer the GQ,
but they could be helpful
How long will I have to prepare for the IOC and
discussion?
 Commentary preparation – 20 minutes
o Ms. Nagel's office (across from Ms.
Moore's)
 You don't have to bring anything.
Supplies will be provided.
o Read and annotate (10 minutes)
o Create thesis and outline – use line
numbers from extract to find your place
(color code!) (10 minutes)
 There will be no preparation time for the
discussion. You will not know which work will be
used for your discussion until the discussion itself
begins.
What happens during the examination?
 Examination time – 20 minutes
o empty office (beside Ms. Moore's, diagonal
to Ms. Nagel's)
o Begin with your name, candidate number,
and exam session (your note card will be
there for you)
o You talk uninterrupted for approximately 8
minutes
o I ask follow-up questions for approximately
2 minutes
o I will tell you that we will begin the
discussion
o We will discuss (academically) one of the
remaining part two works for
approximately 10 minutes.
What will the discussion entail?
 Expect that you will do most of the talking.
 I will ask a starter question on one of the two
texts and follow-up questions to keep the
discussion going.
How can I study?
 See the IOC handouts given throughout the
course. See the "IOC Study Tools" handout on the
website.
 Review the rubric.
 Review your notes and annotations.
 Review materials on the website.
REMEMBER: if you get flustered and can't remember what's next, take a breath and repeat what you just said.