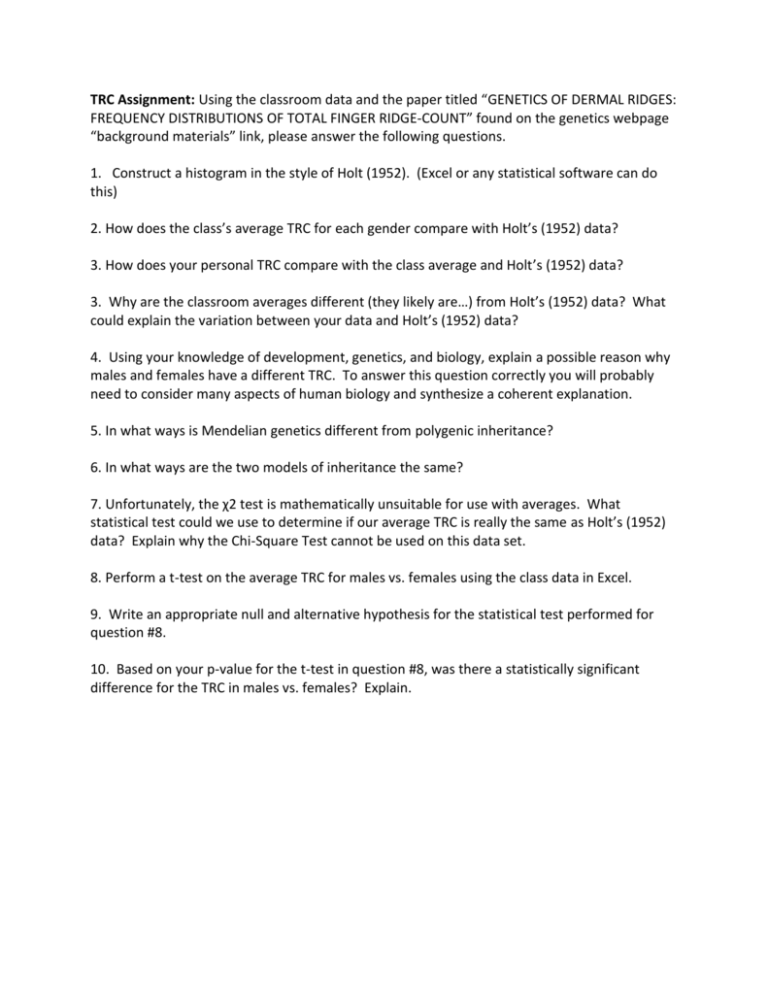 TRC Assignment: Using the classroom data and the paper titled "GENETICS OF DERMAL RIDGES:
FREQUENCY DISTRIBUTIONS OF TOTAL FINGER RIDGE-COUNT" found on the genetics webpage
"background materials" link, please answer the following questions.
1. Construct a histogram in the style of Holt (1952). (Excel or any statistical software can do
this)
2. How does the class's average TRC for each gender compare with Holt's (1952) data?
3. How does your personal TRC compare with the class average and Holt's (1952) data?
3. Why are the classroom averages different (they likely are…) from Holt's (1952) data? What
could explain the variation between your data and Holt's (1952) data?
4. Using your knowledge of development, genetics, and biology, explain a possible reason why
males and females have a different TRC. To answer this question correctly you will probably
need to consider many aspects of human biology and synthesize a coherent explanation.
5. In what ways is Mendelian genetics different from polygenic inheritance?
6. In what ways are the two models of inheritance the same?
7. Unfortunately, the χ2 test is mathematically unsuitable for use with averages. What
statistical test could we use to determine if our average TRC is really the same as Holt's (1952)
data? Explain why the Chi-Square Test cannot be used on this data set.
8. Perform a t-test on the average TRC for males vs. females using the class data in Excel.
9. Write an appropriate null and alternative hypothesis for the statistical test performed for
question #8.
10. Based on your p-value for the t-test in question #8, was there a statistically significant
difference for the TRC in males vs. females? Explain.