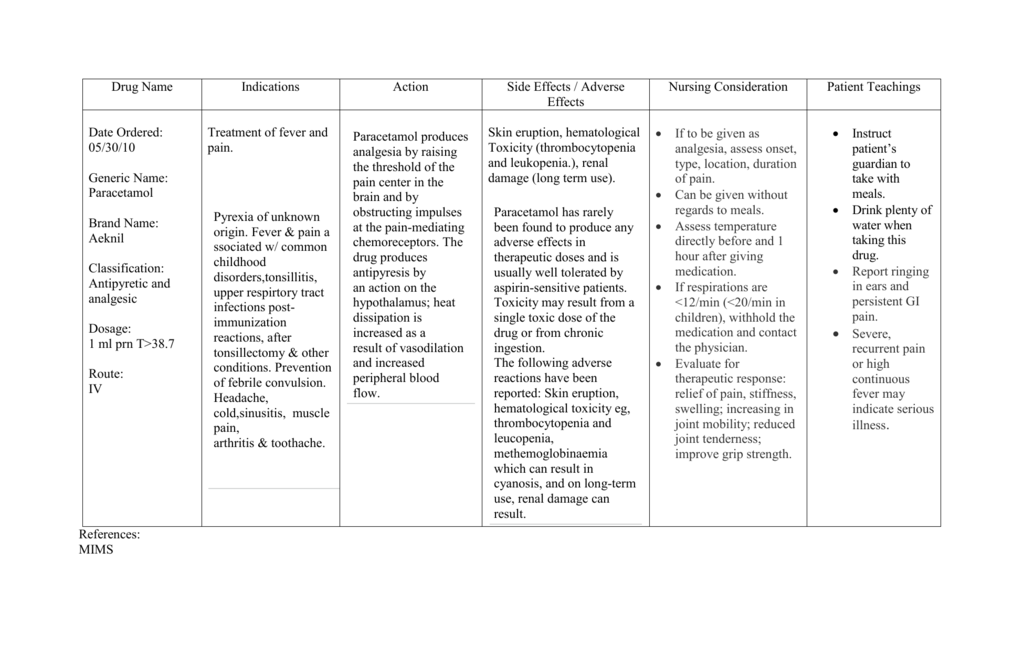 Drug Name
Date Ordered:
05/30/10
Indications
Action
Side Effects / Adverse
Effects
Treatment of fever and
pain.
Paracetamol produces
analgesia by raising
the threshold of the
pain center in the
brain and by
obstructing impulses
at the pain-mediating
chemoreceptors. The
drug produces
antipyresis by
an action on the
hypothalamus; heat
dissipation is
increased as a
result of vasodilation
and increased
peripheral blood
flow.
Skin eruption, hematological
Toxicity (thrombocytopenia
and leukopenia.), renal
damage (long term use).
Generic Name:
Paracetamol
Brand Name:
Aeknil
Classification:
Antipyretic and
analgesic
Dosage:
1 ml prn T>38.7
Route:
IV
References:
MIMS
Pyrexia of unknown
origin. Fever & pain a
ssociated w/ common
childhood
disorders,tonsillitis,
upper respirtory tract
infections postimmunization
reactions, after
tonsillectomy & other
conditions. Prevention
of febrile convulsion.
Headache,
cold,sinusitis, muscle
pain,
arthritis & toothache.
Nursing Consideration


Paracetamol has rarely
been found to produce any
adverse effects in
therapeutic doses and is
usually well tolerated by
aspirin-sensitive patients.
Toxicity may result from a
single toxic dose of the
drug or from chronic
ingestion.
The following adverse
reactions have been
reported: Skin eruption,
hematological toxicity eg,
thrombocytopenia and
leucopenia,
methemoglobinaemia
which can result in
cyanosis, and on long-term
use, renal damage can
result.



If to be given as
analgesia, assess onset,
type, location, duration
of pain.
Can be given without
regards to meals.
Assess temperature
directly before and 1
hour after giving
medication.
If respirations are
<12/min (<20/min in
children), withhold the
medication and contact
the physician.
Evaluate for
therapeutic response:
relief of pain, stiffness,
swelling; increasing in
joint mobility; reduced
joint tenderness;
improve grip strength.
Patient Teachings




Instruct
patient's
guardian to
take with
meals.
Drink plenty of
water when
taking this
drug.
Report ringing
in ears and
persistent GI
pain.
Severe,
recurrent pain
or high
continuous
fever may
indicate serious
illness.