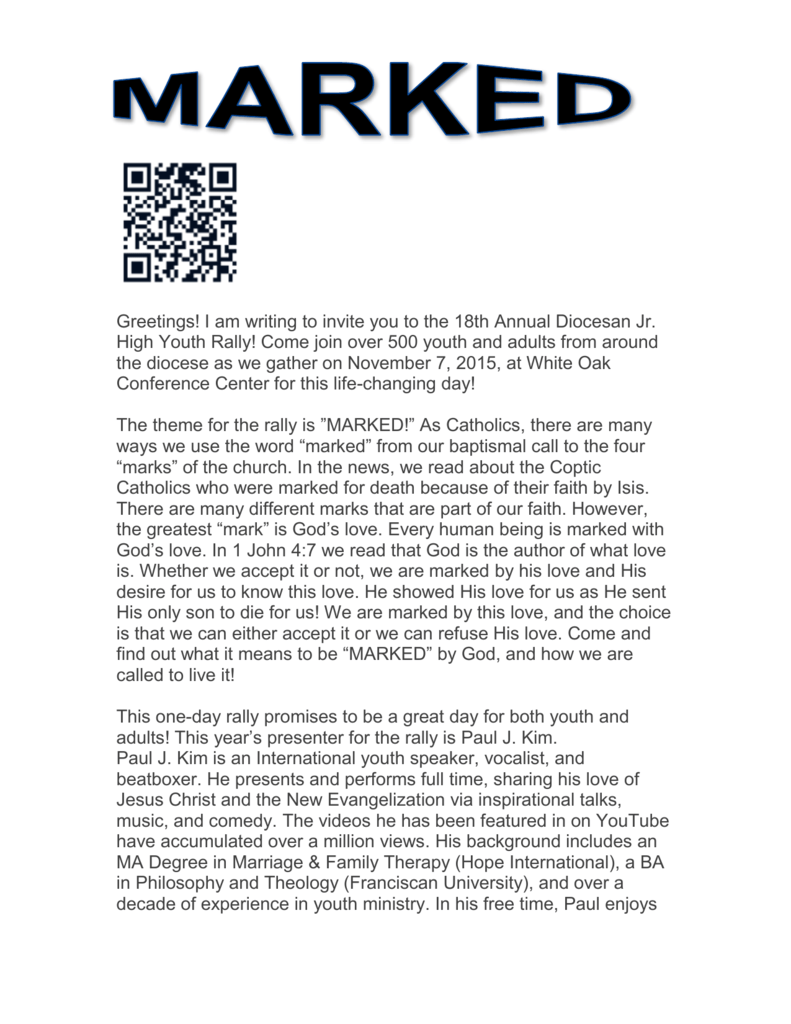 Greetings! I am writing to invite you to the 18th Annual Diocesan Jr.
High Youth Rally! Come join over 500 youth and adults from around
the diocese as we gather on November 7, 2015, at White Oak
Conference Center for this life-changing day!
The theme for the rally is "MARKED!" As Catholics, there are many
ways we use the word "marked" from our baptismal call to the four
"marks" of the church. In the news, we read about the Coptic
Catholics who were marked for death because of their faith by Isis.
There are many different marks that are part of our faith. However,
the greatest "mark" is God's love. Every human being is marked with
God's love. In 1 John 4:7 we read that God is the author of what love
is. Whether we accept it or not, we are marked by his love and His
desire for us to know this love. He showed His love for us as He sent
His only son to die for us! We are marked by this love, and the choice
is that we can either accept it or we can refuse His love. Come and
find out what it means to be "MARKED" by God, and how we are
called to live it!
This one-day rally promises to be a great day for both youth and
adults! This year's presenter for the rally is Paul J. Kim.
Paul J. Kim is an International youth speaker, vocalist, and
beatboxer. He presents and performs full time, sharing his love of
Jesus Christ and the New Evangelization via inspirational talks,
music, and comedy. The videos he has been featured in on YouTube
have accumulated over a million views. His background includes an
MA Degree in Marriage & Family Therapy (Hope International), a BA
in Philosophy and Theology (Franciscan University), and over a
decade of experience in youth ministry. In his free time, Paul enjoys
long walks on the beach, making his wife laugh till she falls over, and
talking to strangers in random accents.
General Information
Date: Saturday, November 7, 2015
Time: 10:30 a.m. -- 6:00 p.m.
Location White Oak Conference Center, White Oak, SC
Participants: Students in Grades 6 - 8 ONLY
Cost: $37.00 per person before October 23, 2015
$47.00 per person after October 23, 2015 (shirts are not available)
Please fill out a permission slip and return it with a check made out to St. Theresa
the Little Flower by October 18th. Please note we don't meet that day. You could
stick it in the offertory, put it in my office door in the parish hall or turn it into the
office.