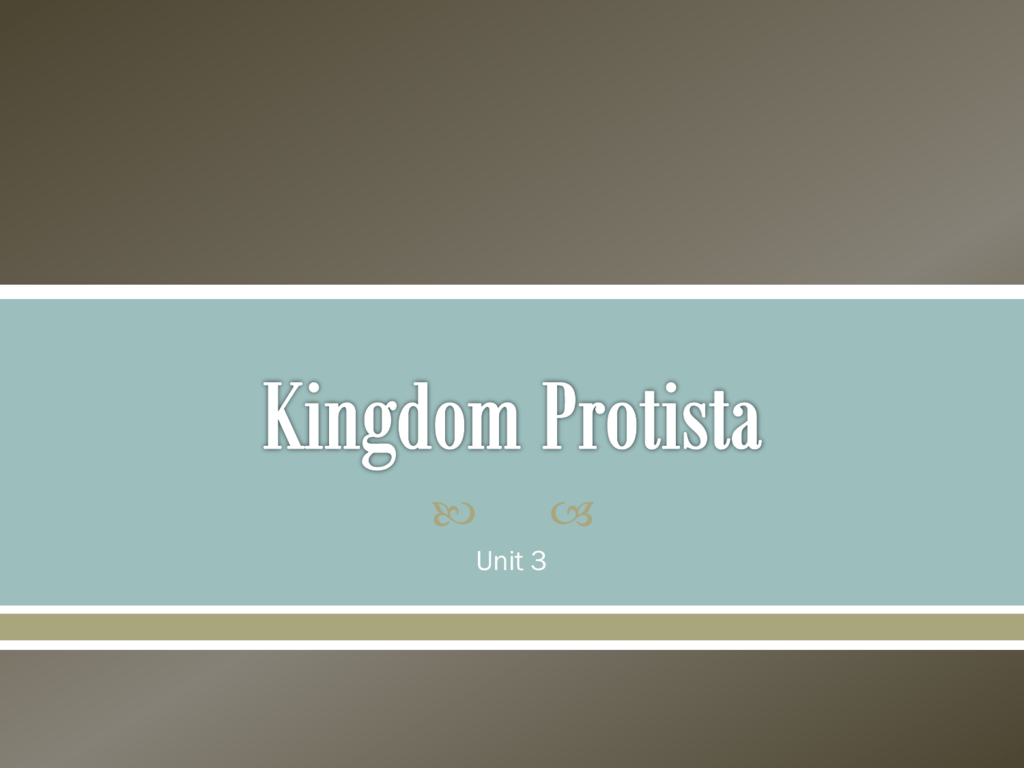 
Unit 3


Protists are eukaryotes that are not member of the Plant,
Animal or Fungi kingdoms.

Most (but not all) are unicellular

One way protists can be classified is by how they obtain
nutrition:
o Heterotrophs- called animal-like protists
o Photosynthesizers- called plant-like protists
o Decomposers and parasites- called fungus-like protists.
Animal-like: Amoeba
Plant-like: Euglena
Fungus-like: Slime Molds

There are four phyla of animal-like protists
o Zooglagellates
o Sarcodines
o Ciliates
o Sporozoans

Animal-like protists are classified by their means of
movement.

Animal-like protists that swim using flagella are called
zooflagellates.

Flagella are long, whiplike projections that allow a cell to
move.

Sarcodines are animal-like protists that have pseudopods.

Pseudopods (false foot) are temporary cytoplasmic
projections used for feeding or movement.

Flexible, active cells with thick pseudopods that extend out
of the central mass of the cell.



Cilates use cilia for feeding and movement.
Cilia are short hair like projections that propel a cell.
The paramecium is an example of a ciliate.
o The cilia are grouped into rows and bundles and beat in a regular
pattern.


Sporozoans do not move on their own- they are parasitic
Some animal-like protists cause serious diseases, such as
malia

Label the following parts on the below paramecium.
o Cilia
o Oral Groove
o Micronucleus
o Macronucleus
o Trichocysts



Domain: Eukarya, Kingdom: Protista, Phylum: Sarcodina
contain pseudopods= false feet
Pseudopods used for both movement and feeding
o Feeding: Phagocytosis- pseudopods extend out and wrap around
food particles, making a food vacuole. The food will eventually be
digested by the lysosomes.

The contractile vacuole is used to pump out excess water
out of the cell.






Domain:Eukarya, Kingdom: Protista, Phylum: Cilaphora
Move by tiny hair-like projections called cilia.
The pellicle is a thick outer membrane, reason Paramecium
cannot change their shape.
Two types of nuclei: Macronucleus and Micronucleus
Feeding: Heterotrophs, food enters through the oral groove,
and become a food vacuole. Undigested food particles are
eliminated through the anal pore.
Trichocysts are threadlike structures used as a defense
mechanism



Plant-like protists contain chlorophyll and carry out
photosynthesis.
Plant-like protists are commonly called "algae"
Algae are sometimes classified with the plants.



Domain: Eukarya, Kingdom: Protists, Phylum: Euglenophyta
Move through the use of a flagella
Feeding: can be both an autotroph and a heterotroph
o Autotroph: sunlight and the use of chloroplasts , Eyespot can detect
light.
o Heterotroph: absorbing nutrients across the cell membrane


Firm cell membrane called a pellicle
Contractile Vacuole that removes excess water from the cell



Pg 498: #1,3,4,5
Pg 505: #1,2
Pg 523: #1,2,4, 11, 13
Assignment is due on Thursday Oct 30th.