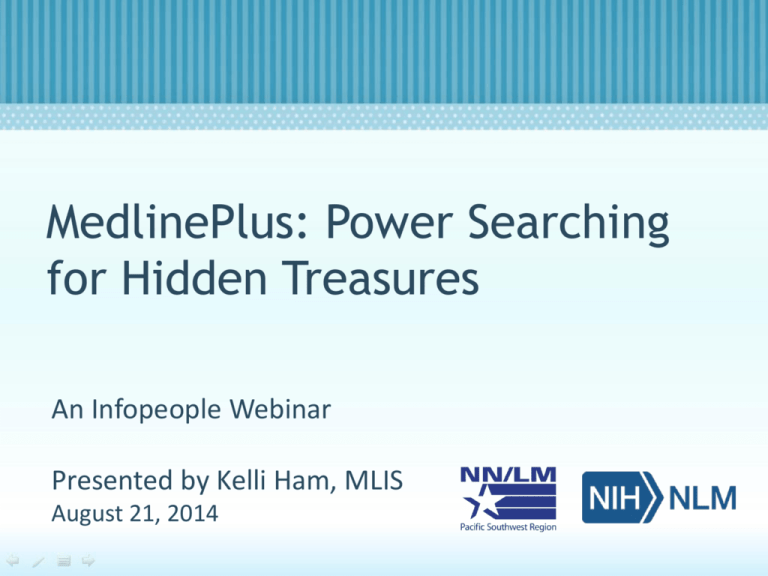 MedlinePlus: Power Searching
for Hidden Treasures
An Infopeople Webinar
Presented by Kelli Ham, MLIS
August 21, 2014
Today's Objectives
Participants will:
• See a spectrum of questions
that can be answered with
MedlinePlus
• Discover new ways of
advanced searching
• Utilize MedlinePlus as a
springboard to other sources
Agenda
• Overview
• Scenarios and techniques
▫
▫
▫
▫
▫
▫
Basic and advanced key word searching
Choosing the right resource
Search and refine techniques
News alerts and RSS feeds
New ways to find current research results
Performing PubMed searches within MedlinePlus
MedlinePlus = Quality Health Info
•
•
•
•
•
•
•
•
•
•
•
•
•
Over 950 health topics
Drug and herbals
Extensive Spanish materials
Multiple languages
Easy-to-read collection
Videos and tutorials
Health Check tools
Medical Encyclopedia
Dictionary
Health News
Special populations
Clinical trials
Preformulated searches in
PubMed.gov
• And much more!
The Spectrum of Questions
• Basic reference tools – (encyclopedia, dictionary,
anatomy)
• Conditions and Diseases – Symptoms, Diagnosis,
Prognosis
• Treatments and therapies
• Drug information
• Patient instructions, care, coping
• Health, wellness and prevention
• Caregiver, aging, and end-of-life issues
• Health statistics
• Health insurance, navigating healthcare systems
Common Search Techniques
• Key word search
• Navigating to specific content areas and topics
• Browsing and discovery
Reference
Resources
• Dictionary, encyclopedia, directory…
▫ Who, what, why?
▫ What you learn will dictate
resources and search strategy
Scenario – Reference Resource
• Patron has lab test
results for a lipid panel
and would like help
interpreting the
numbers.
• Technique: key word
search; limit to Medical
Encyclopedia or browse
results list
Search and Refine by Content Type
Refine by
Concept
Student Research Paper
High school student doing a paper on ethics of patient who wants
to stop dialysis treatment for kidney failure
Technique: Key word search
Main concepts: dialysis, choice/decision, ethics
Kidney failure deciding choosing to stop dialysis ethics = 0
Deciding stop dialysis ethics = 3
Deciding stop dialysis = 22
Choosing stop dialysis = 33
Advanced search techniques:
Stop dialysis ethic* = 6
"stop* dialysis" = 7
(choosing OR stopping OR choose OR stop) dialysis = 231
Search Help: http://www.nlm.nih.gov/medlineplus/searchtips.html
Simple May Suffice
Staying Informed
Patron: "I know a lot about
macular degeneration, because
both of my parents have been
diagnosed with it. How can I get
updates on new treatments?"
Technique: Sign up for updates
on Health Topic page
▫ RSS Feeds
▫ Email updates
Email Updates and RSS Feeds
Same User, New Question
My father's macular degeneration (AMD)
has progressed, and the doctor is
recommending injections of a drug called
Avastin because it's a lot cheaper and just as
effective as another drug. What is meant by
off-label use? Is there any research that says
it's effective and safe?
Technique: Determine concepts
• off label, AMD + avastin + safety,efficacy
• Clinical trials results
Search Results – off label
Search Results – Avastin for AMD
ClinicalTrials.gov
Technique: Go to site directly or from home page tab.
ClinicalTrials.gov
Technique: Use Advanced Search form; type in key
words; use Help link for more tips.
Clinical Studies with Results
In the News
Library user hears about a new study reported in the news,
and would like to read the journal article. "Red Meat may
Raise Breast Cancer Risk, Study Suggests," June 11, 2014
Technique:
• Glean info from news item – investigator's last name,
journal, topic. Do search in PubMed.gov.
Clues from the Content
PubMed.gov Search
Tip: Learn how to search PubMed with short tutorials :
http://www.nlm.nih.gov/bsd/disted/pubmed.html
Go Exploring!
• Every Health Topics Table of Contents has six sections
• Not every category will be on every page
• Also Spanish and other languages
Questions?
Thank You!
Kelli Ham
National Network of Libraries of Medicine
Pacific Southwest Region
UCLA Louise M. Darling Biomedical Library
kkham@library.ucla.edu
http://nlm.gov/psr
Infopeople webinars are supported in part by the U.S. Institute of Museum and
Library Services under the provisions of the Library Services and Technology
Act, administered in California by the State Librarian. This material is licensed
under a Creative Commons 3.0 Share & Share-Alike license. Use of this
material should credit the author and funding source.