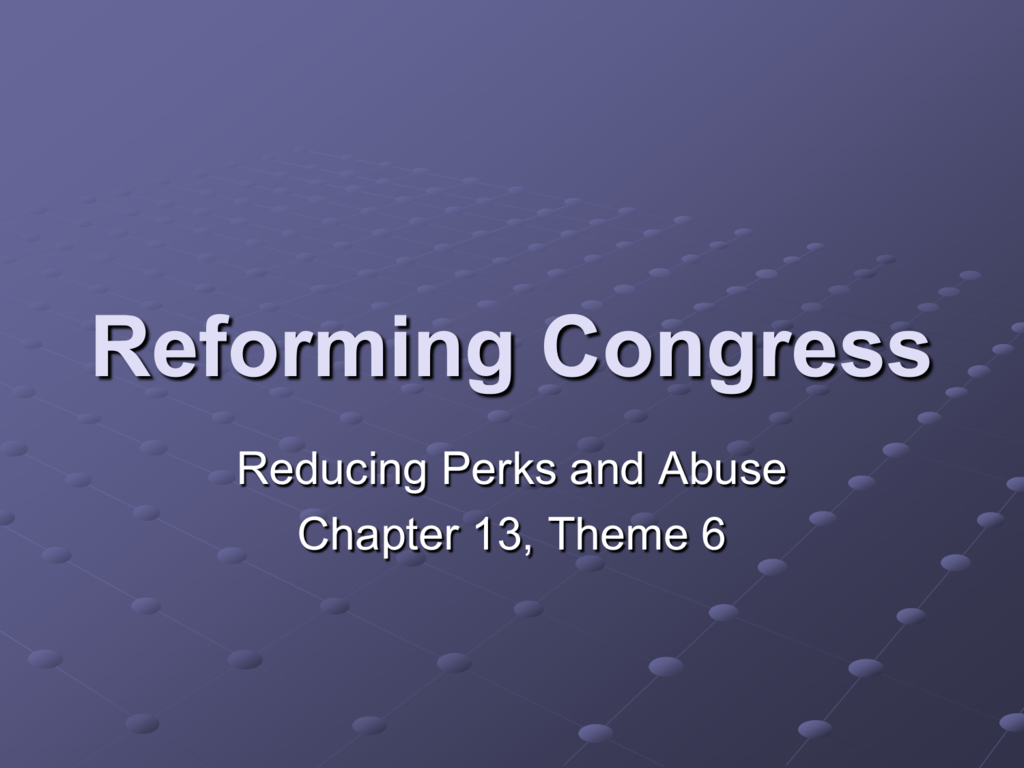 Reforming Congress
Reducing Perks and Abuse
Chapter 13, Theme 6
If Congress is "broken," how
can it be FIXED?
1. Term limits
2. Curbing Pork Barrel spending and
earmarks
3. Abolishing or further limiting the
franking privilege
4. Making Congress follow their own rules
5. Having zero tolerance for ethics
violations
Limiting Congressional Tenure
Several attempts by states to impose
term limits—UNCONSTITUTIONAL

http://www.oyez.org/cases/1990-1999/1994/1994_93_1456
Several states pushed for a constitutional
amendment (similar to 22nd Amendment)

http://www.oyez.org/cases/2000-2009/2000/2000_99_929
Pro/Con of each position?
Reducing Earmarks/Pork Barrel
Legislation
Define the above terms. The same?
Pork barrel legislation is the appropriation of
government spending for localized projects
secured solely or primarily to bring money to a
representative's district.
An Earmark is a congressional directive that funds
should be spent on a specific project.
Give several relevant examples.

CH Lighthouse move, Bridge to Nowhere
Are all pork projects frivolous?
Trimming the Fat from the Budget
How do so many of these items get
passed?



Reciprocity/Logrolling
Senate Rules
Committee Power
Why fewer earmarks?



Public outcry over national debt
Special interest/watchdog scrutiny (Pig Book
by CAGW)
Congressional moratorium
Fencing the Frank
Redefine the term.

Free mailing privilege
Advantages of the perk?


Inform constituents
Others?
Disadvantages of the perk?


Huge expense
Political advantage for incumbents
Following their own laws
Why not follow some laws?


Upset checks & balances (Increase executive
authority over Congress)
Examples of exemptions
Social Security
STOCK Act

Congressional Accountability Act of 1995
http://en.wikipedia.org/wiki/Congressional_Accountability_Act_of_1995

Created Office of Compliance to solve the
issues of separation of powers
Keeping Ethical Practices
What happens when members of Congress act
illegally or unethically?


Investigation
Resignation
http://www.youtube.com/watch?v=1Rbf-6DaNSI




Stripped of power (chairmanship)
Fines
Reprimand
Censure
http://www.youtube.com/watch?v=g3VD5fCY6Dc&feature=fvst

Expulsion
http://www.c-spanvideo.org/program/Expuls
Assignment
Read pp. 368-374 & handout.
Create a Venn diagram to compare &
contrast the President & a Prime Minister.
Complete the FRQ on divided
government.
Outline 3 fears of the Framers concerning
the President & the constitutional solution
to that fear.
Due Thursday.