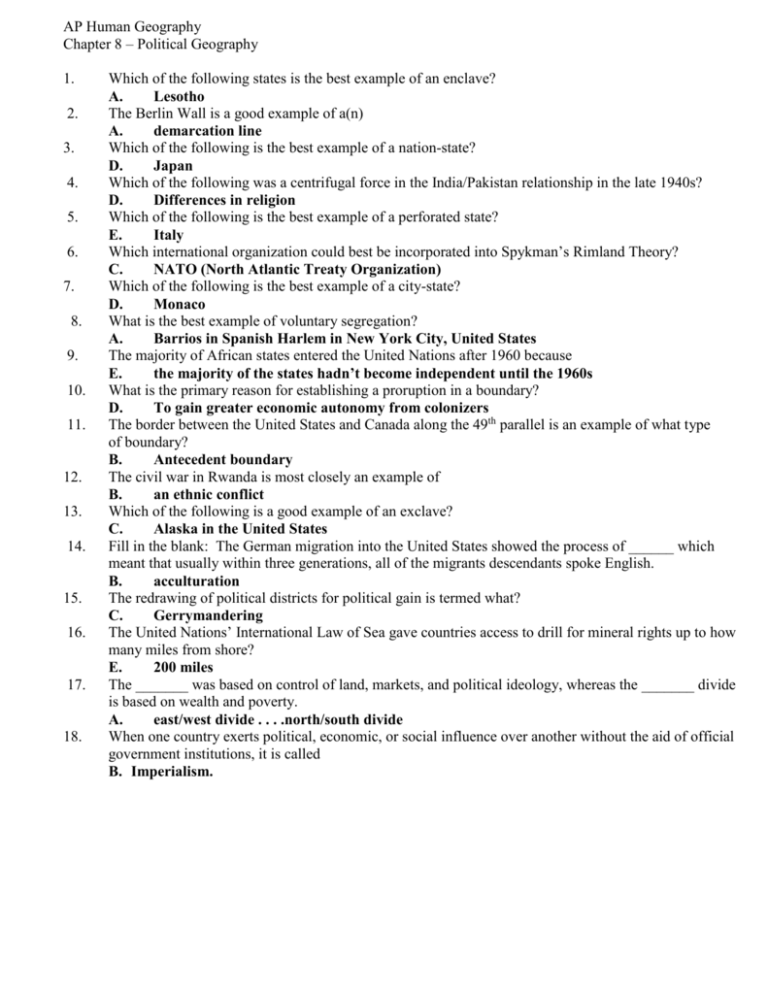 AP Human Geography
Chapter 8 – Political Geography
1.
2.
3.
4.
5.
6.
7.
8.
9.
10.
11.
12.
13.
14.
15.
16.
17.
18.
Which of the following states is the best example of an enclave?
A.
Lesotho
The Berlin Wall is a good example of a(n)
A.
demarcation line
Which of the following is the best example of a nation-state?
D.
Japan
Which of the following was a centrifugal force in the India/Pakistan relationship in the late 1940s?
D.
Differences in religion
Which of the following is the best example of a perforated state?
E.
Italy
Which international organization could best be incorporated into Spykman's Rimland Theory?
C.
NATO (North Atlantic Treaty Organization)
Which of the following is the best example of a city-state?
D.
Monaco
What is the best example of voluntary segregation?
A.
Barrios in Spanish Harlem in New York City, United States
The majority of African states entered the United Nations after 1960 because
E.
the majority of the states hadn't become independent until the 1960s
What is the primary reason for establishing a proruption in a boundary?
D.
To gain greater economic autonomy from colonizers
The border between the United States and Canada along the 49th parallel is an example of what type
of boundary?
B.
Antecedent boundary
The civil war in Rwanda is most closely an example of
B.
an ethnic conflict
Which of the following is a good example of an exclave?
C.
Alaska in the United States
Fill in the blank: The German migration into the United States showed the process of ______ which
meant that usually within three generations, all of the migrants descendants spoke English.
B.
acculturation
The redrawing of political districts for political gain is termed what?
C.
Gerrymandering
The United Nations' International Law of Sea gave countries access to drill for mineral rights up to how
many miles from shore?
E.
200 miles
The _______ was based on control of land, markets, and political ideology, whereas the _______ divide
is based on wealth and poverty.
A.
east/west divide . . . .north/south divide
When one country exerts political, economic, or social influence over another without the aid of official
government institutions, it is called
B. Imperialism.