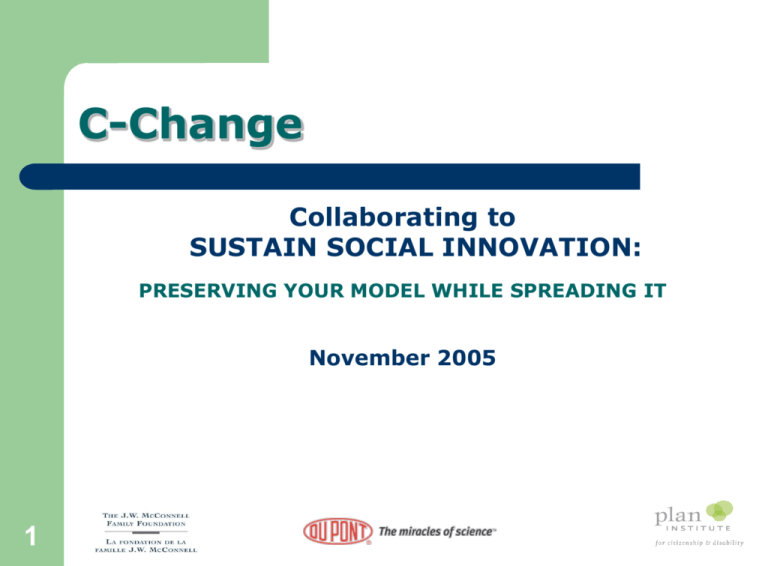 C-Change
Collaborating to
SUSTAIN SOCIAL INNOVATION:
PRESERVING YOUR MODEL WHILE SPREADING IT
November 2005
1
C-Change
An exploration of effective methods
and means to address intractable
social problems in Canada.
2
C-Change
Incorporates concepts of scale, durability,
impact and continuous innovation
"Social innovation is not just about finding
ways to take innovations to scale. It's
also about innovation in the way we work
on large-scale challenges."
3
C-Change: Activities over the
past year




4
Two 'living labs': SSI Learning Network
and Developmental Evaluation (25
organizations involved in social
innovation);
Over 100 conversations and presentations
with social innovators, researchers,
funders (ex.: Ashoka, Boreal, CFC, NFB);
Identification and documentation of
patterns;
Draft resources for funders and
practitioners
C-Change: Future Plans



5
Complete and distribute tools and
resources for organizations
interested in SSI
Hold conference on strategies and
lessons learned in Vancouver,
spring 2006
Determine structures to continue
this work (e.g., institute; virtual
network; etc.)
C-Change:
THE BALANCING ACT
Impact, durability and scale
Fidelity, quality, revenue, control
6
SUSTAINABILITY AND SOCIAL
INNOVATION/ENTERPRISE
Definition:
A profound alteration of
relationships, attitudes, habits,
policies, practices, systems,
structures to transform deeply
rooted social problems
7
SUSTAINABILITY AND SOCIAL
INNOVATION/ENTERPRISE
Components
8

Impact

Durability

Scalability
SUSTAINABILITY AND SOCIAL
INNOVATION/ENTERPRISE
Is more than the viability and
survival of an innovation,
enterprise or organization
9
SUSTAINABILITY AND SOCIAL
INNOVATION/ENTERPRISE
Means being intentional about
10

Structural, institutional, systemic
and legislative change

Cultural and attitudinal shift
WORKING ASSUMPTIONS OF
C-CHANGE
Change (massive) is possible
Complexity lens (paradox, abundance,
emergence, mystery)
Context (time, place, resonance)
Continuous innovation (there is no
permanent solution)
11
EMERGING INSIGHTS
Common patterns, insights and
attributes among individuals, groups,
coalitions and movements addressing
deeply rooted social challenges
12
PERSONAL/LEADERSHIP
ATTRIBUTES
Persistent
Collaborative
Communicator
Comfort with paradox/ambiguity
Creative
Entrepreneurial
13
PATTERNS
A part is a manifestation of the whole,
rather than just a component of it.
Deeper levels of learning create
increasing awareness of the larger whole
that leads to actions that increasingly
serve the whole.
If we see larger patterns, the source and
effectiveness of our actions can change
dramatically.
14
PATTERNS





15
CREATING A MOVEMENT
COMMUNICATION AND DISTRIBUTION
CONVENING
UTILIZING MARKET FORCES
REMOVING STRUCTURAL BARRIERS
REFLECTIONS ON THE EMERGING PATTERNS
16

Are they congruent with your experience?

Are there other patterns or examples you
have observed?

Are there sources of experience and
knowledge you can point us to?