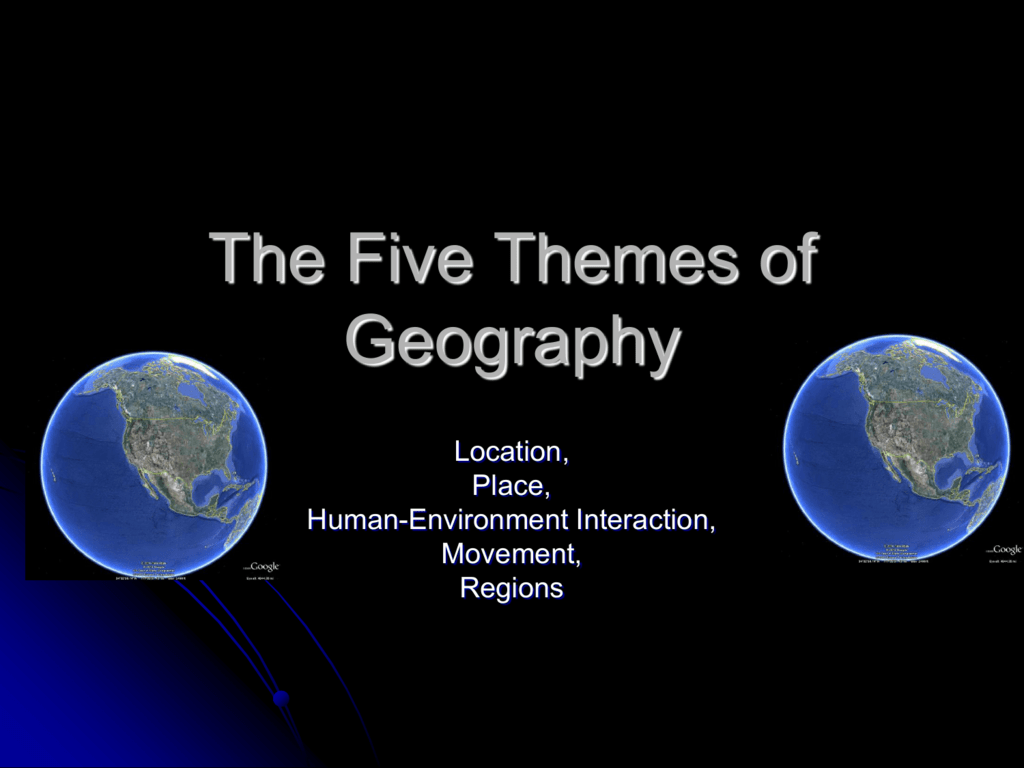 The Five Themes of
Geography
Location,
Place,
Human-Environment Interaction,
Movement,
Regions
Location
Location is the basis of geographic
education
 Every event in life happens somewhere
 We use location to answer questions
about where they happen.

Location
Location answers the question:
Where Are We? Or Where is it?
 Locations can be absolute or relative

Location

Absolute locations are associated with
latitude and longitude or a street address
Location
Example: Where is Phoenix?
 Answer: It is located at 33° North, 112°
West

Location

Relative locations are described by
landmarks, time, direction or distance from
one place to another.
Location
Where is Phoenix located?
 Answer: North of Tucson. South of
Flagstaff. Near Casa Grande

Place
Every place on earth has its own special
qualities that make it different from other
places.
 When we think of place, we look at the
physical and human characteristics of the
place

Place
Physical Characteristics are things
determined by nature, such as climate,
land forms, indigenous plants and animals.
 Human characteristics can be defined by
the culture of a place.


Example: language, clothing, architectural
style
Place

Place is answered by the question:


What kind of place is it?
For example, what do you think of when
you imagine China? Russia? Italy?
Human/Environmental Interaction
How do humans and the environment
affect each other?
 How does the environment affect people?


There are three key concepts to
human/environment interaction
Humans adapt to the environment
 Humans modify the environment
 Humans depend on the environment

Human/Environmental Interaction
Humans adapt to the environment
 People adapt to their environment by the
type of clothes they wear depending on
the weather
Human/Environmental Interaction
Humans modify the environment
 People modify the environment by heating
and cooling buildings for comfort.
Human/Environmental Interaction
Humans depend on the
environment
 People depend on major
rivers like the
Mississippi, Colorado
and the Nile
Human/Environmental Interaction

Environment is not just trees, animals and
climate, it is also the feel of the place.
Big City
 Rural Area
 Landscape

Movement
The movement of people, the import and
export of goods, and mass communication
have all played major roles in shaping our
world.
 Today, we live in a global village and
global economy

Movement
The earth is populated by over 5.5 billion
people.
 Most of us depend on other people from
many different places to provide us with
products and information.

Movement
Not only do humans move, but so do
ideas, fashions, and fads.
Question: How do we depend on people in
other places?
Question: How would our lives change if our
movement options changed?
Question: What would happen if our
transportation methods changed?
Question: How do we get food?

Region
Regions are human constructs that can be
mapped and analyzed
 Regions are the basic unit of study in
geography
 A Region is an area that displays a
coherent unity in terms of the government,
language, landform or situation

Region

There are three types of Regions
Formal
 Functional
 Vernacular

Regions

Formal Regions are defined by governmental
or administrative boundaries
Ex. Yellowstone National Park
 Ex. The 9th US District
 Phoenix Union High School District

Regions
Functional Regions are those defined by a
function or business
 If the function ceases to exists, the region
no longer exists

Ex. Silicon Valley
 The Rust Belt

Regions

Vernacular regions are those loosely
defined by people's perception

Ex. The South, The Middle East
Regions

What region do we live in?

What type of region is it?

What are its characteristics?