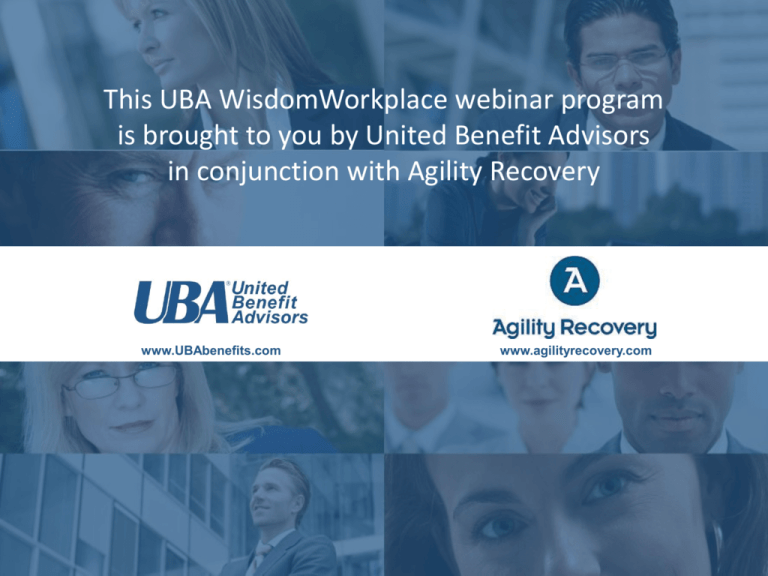 This UBA WisdomWorkplace webinar program
is brought to you by United Benefit Advisors
in conjunction with Agility Recovery
www.UBAbenefits.com
www.agilityrecovery.com
Protecting Your Organization
by Preparing Your Employees
Bob Boyd
President & CEO, Agility Recovery
5/9/13
Prepare to Survive.
Today's Key Take-Aways
I.
The importance of employee
preparedness
II. Ways to directly assist employees
III. Tools to help any organization prepare
IV. The Agility Story
Prepare to Survive.
The Importance of
Employee Preparedness
Sometimes Emergencies Happen
Sometimes they are serious
New York City following Hurricane Sandy on Oct 29, 2012
Presidential Disasters – 2000-2010
The Importance of Preparedness
I.
15-40% – The number of businesses that fail following a natural or
manmade disaster.*
II.
35% – The number of small to medium-sized businesses that have
a comprehensive disaster recovery plan.**
III. 94% – Number of small business owners who believe a disaster
could seriously disrupt their business within the next two
years.***
IV. 51% – Number of Americans who have experienced at least one
emergency situation involving lost utilities for at least 3 days,
evacuation from their home or office, loss of communications
with family members or had to provide first aid to others.****
*Insurance Information Institute, **Gartner, ***American Red Cross and FedEx Small Business Survey,
2007, ****American Red Cross/Harris Poll Survey, 2009.
The Impact of Everyday Threats
The 10 Elements of Business Preparedness
Assess Your Risk
Insurance
Coverage
Emergency Kit
Analyze Your
Critical Functions
Supply Chain
Preparedness
Employees
Data Back-Up
Test the Plan
Crisis
Communications
Alternate
Worksite
Emergency
Response Plan
Prepare to Survive.
Ways to Directly
Assist Employees
Prepare Employees with the Plan
Ensure Employees Know the Plan
1.
2.
3.
4.
Do they Know the plan exists?
Do they know where to find the plan?
Do they know their primary role?
Have you shared the plan with new hires?
Prepare for Work from Home Challenges
•
•
•
•
•
•
Productivity suffers
Inability to login to networks
- Phone/Internet Outages
- Power Outages
Unwillingness to report to duty
- Family or Property in peril
Distractions
Child Care Issues
●●●●●●●●●●
●●●●●●●●
Cross Train Employees
1. Critical Functions must continue
2. Certain areas/departments may experience
greater demand
3. Longer/Odd Hours may
require additional staffing
4. Employee Absenteeism
will spike
For this checklist and others,
please visit:
http://www.PrepareMyBusiness.org
Family Preparedness
1. Do they have a plan?
a) Evacuation/Shelter plan
b) Critical Document Storage
c) Emergency Alert System
d) Emergency/Go Kit
2. How can your organization help?
a) Workshops
b) Checklists
c) Emergency Kits
d) Flu Shot Clinics
e) Family Involvement
Days
Transportation Issues
1. Mass Public Transportation Shut Down
a) Car Pooling
b) Overnight accommodations nearby
2. Fuel Shortages
a) Storage of Fuel for Critical vehicles/staff
b) Fuel vendor for deliveries
3. Restricted Access to non-Residents
4. Damaged/Destroyed Vehicles
Prepare to Survive.
Tools to Help ANY
Organization or Family Prepare
Simple Message:
Take Four Simple Steps:
1. Be Informed
2. Make a plan
3. Build a Kit
4. Get Involved
#1 – Be Informed
• Have an Emergency Radio
• Know the Evacuation Routes
• Advise Employees ahead of forecast weather events
• Know the most likely threats and plans to mitigate the risks
• Including both Natural & Man-Made Threats
• Home Fires are #1 Family Disaster
• Be familiar with local warning systems and emergency plans
• Information sources, shelter locations & emergency contacts
#1 – Be Informed
Before/During/After an Event:
• Stay informed & up-to-date on the situation
• Verify information being shared to others
• Properly vet information being provided to you
• Use all information sources available (Social Media included)
• Ensure Employees know what actions are being taken
• Help employees make decisions by setting an example
#2 – Make a Plan
Resources:
• www.RedCross.org
• www.Ready.gov
• www.Do1Thing.com
Considerations:
• Commute Routes
• Nearby Threats
• Children & Elderly
• Special Needs
• Medical Needs
• Pets
Plan Elements:
• Home/School/Workplace Plans
• Communication Plans
• Neighbors & Out-of-Area Contacts
• 3+ Days of Supplies
#2 – Make a Plan
Quick Links:
• Family Emergency Plan:
http://www.ready.gov/sites/default/files/FamEmePlan_2012.pdf
#2 – Make a Plan
Quick Links:
• Specific Threats (Available in many languages):
http://www.redcross.org/prepare/disaster-safety-library
#2 – Make a Plan
Quick Links:
• Sesame Street Family Emergency Plan:
http://www.sesamestreet.org/cms_services/services?action=download&uid
=069038ec-b604-4929-b343-d25737006be4
#2 – Make a Plan
Quick Links:
• Children's Emergency Contact Card:
http://www.ready.gov/sites/default/files/documents/files/FamEmePlan_Child_Fields.pdf
• Backpacks
• School Field Trips
• Play-dates
• Birthday/Slumber Parties
• Church Trips/Functions
#3 – Build a Kit
Employee Emergency Kits
• An emergency or disaster recovery kit should contain:
• Fresh water, Non-perishable food, Flashlights
• Extra batteries, Battery-powered AM/FM or NOAA
radio
• First aid kit, Copies of important documents and
records
• Extra Clothing during colder months
• For a complete list of items,
visit www.Ready.gov.
At Home AND At Work
www.redcross.org
#3 – Build a Kit
Quick Links:
• Basic Supplies List:
http://www.ready.gov/sites/default/files/documents/files/checklist_1.pdf
#3 – Build a Kit
Quick Links:
• CDC Checklist:
http://www.cdc.gov/ncbddd/hemophilia/documents/FamilyEmergencyKitChecklist.pdf
#4 – Get Involved
• Participate in Local Drills
• Talk to your Neighbors (both at home and at work)
• Become a Citizen Corps Member (http://www.ready.gov/citizen-corps)
• Involve other Social Groups
• Neighborhood Watch, Faith-based Organizations, Social Clubs,
Friend Networks, Professional Associations
• Volunteer Locally (Red Cross, CERT Training, Crime Prevention)
• Join the National Preparedness Coalition and "Pledge 2 Prepare"
(http://community.fema.gov/connect.ti/READYNPM?)
Prepare to Survive.
The Agility Story
Agility Recovery - History
Started by General Electric 24 years ago.
Saw a need to recover at or near the businesses' normal location.
Photo taken by
Agility Recovery team
What We Do
We provide 4 key Elements of
Disaster Recovery
1. Office Space: Everything
needed for your
employees to work
2. Power for the office
3. Communications:
Telephone and Internet
access
4. Computer System:
Computers, servers,
printers, fax
Culture of Success
General Electric built an
infrastructure to ensure success
• 24 years
• Rescued 1000's
of businesses
• Never failed
Atlanta Distribution Center
New Vision
The industry focused on the needs of the Fortune 500.
This model is too expensive for most businesses.
In 2004, Agility defined a new vision.
Agility will bring disaster recovery solutions to
ALL businesses.
New Business Model - ReadySuite
Agility created a solution that all business could afford.
For a small monthly fee, normally $495/month,
you can protect your business.
When You Become a Member
A continuity planner will contact
you and gather the info we need
to recover your business if you
have a disaster. e.g.
Erin Mitchell Agility
Rep
• How many employees need to
be up and running?
• What are the power
requirements of the office?
• Where do you store your data?
• How do you want your phone
calls handled during a disaster?
Ben Pritchard Member Services
When You Become a Member
All information is placed in a password protected site called myAgility.
myAgility is the foundation of your recovery plan.
When You Have A Disaster
• Agility's operations team works
with you to determine your
needs.
• You only pay for Agility's
out-of-pocket expenses:
 If we fly a technician to your
office to set-up computers, we
charge you for the airfare, but
not the time.
 If you need a generator, we'll
deliver it and bill you our exact
costs.
 If you need a server, we take one
from our stock and ship it to you.
You pay for the shipping.
Agility Quickship Case
When You Have A Disaster
• Regardless if you have
Agility or not, you
would still have the
same recovery needs.
• But Agility will get it
done faster, cheaper
and more effectively.
• Most importantly, we
get it done every time.
ReadySuite Mobile Office
Disasters Happen
Sometimes they're small like a phone outage.
Disasters Happen
Sometimes they're big like a tornado.
Photo taken by
Agility Recovery team
Disasters Happen
If you don't have a plan your business will be
forever altered.
Photo taken by
Agility Recovery team
Disasters Happen
• During a disaster there are more
important things to focus on
instead of trying to rebuild your
infrastructure.
• When you're most vulnerable to
being overcharged and
underserved, you will have a
partner you can trust:
 24 years
 1000's of recoveries
 Never failed
• Agility doesn't profit from your
disaster.
Bobbi Carruth Agility Member
Worthington Federal Bank
Ask Yourself…
• Do you believe a disaster could happen?
• Do you believe that without a plan, your business will suffer?
• Do you believe Agility, after 24 years and 1000's of recoveries
will be there?
DCH Credit Union Agility Members
Tornado Recovery
Ask Yourself – Do You Believe?
If you answered, "Yes," then Agility is a fairly easy decision.
We welcome you as a member.
Prepare to Survive.
Questions
Bob Boyd
President & CEO, Agility Recovery
[email protected]
704-927-7922
www.agilityrecovery.com
This program, has been submitted for
1.25(General) recertification credit hours
toward PHR, SPHR and GPHR recertification
through the HR Certification Institute.
Attendees will receive an email when UBA
receives the certification code that you can use
to submit your name for HRCI credit.
For more information about certification or
recertification, please visit the HR Certification
Institute website at www.hrci.org.
Thank you for your participation
in the UBA WisdomWorkplace Webinar Series.
www.UBAbenefits.com
www.agilityrecovery.com
To obtain a recording of this presentation,
or to register for future presentations,
contact your local UBA Partner Firm.