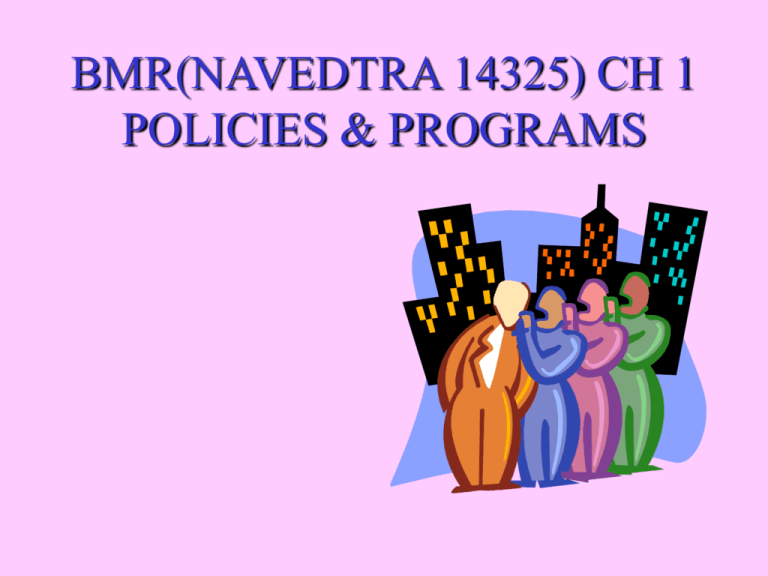 BMR(NAVEDTRA 14325) CH 1
POLICIES & PROGRAMS
DEFINITION
• WHAT IS A POLICY OR A PROGRAM?
A POLICY IS AN OVERALL PLAN THAT
CONTAINS GENERAL GOALS AND BROAD
GUIDELINES.
A PROGRAM IS A PLAN OR SYSTEM UNDER
WHICH ACTION MAY BE TAKEN TOWARDS A
GOAL.
• BASICALLY, POLICIES TELL WHERE TO GO AND
PROGRAMS TELL HOW TO GET THERE.
ENVIRONMENTAL
POLLUTION CONTROL
• YOU NEED TO IDENTIFY THE NEED FOR
ENVIRONMENTAL POLLUTION CONTROL TO
INCLUDE SOURCES AND EFFECTS(NATURAL,
HISTORICAL, ARCHEOLOGICAL, PHYSICAL,
AND BIOLOGICAL) OF POLLUTION.
• RECOGNIZE THE NAVY PROGRAMS FOR
POLLUTION CONTROL.
• RECOGNIZE THAT THE NAVY'S ABILITY TO
ACCOMPLISH ITS MISSION OF POLLUTION
CONTROL REQUIRES DAILY OPERATIONS IN
LAND, SEA, AND AIR ENVIRONMENTS.
DEFINITION
• ENVIRONMENTAL POLLUTION IS THE ALTERING OF THE
NATURAL ENVIRONMENT IN AN ADVERSE WAY.
• POLLUTION CAN RESULT FROM THE PRESENCE OF
CHEMICAL, PHYSICAL, OR BIOLOGICAL AGENTS IN THE
AIR, WATER, OR SOIL.
4 MAIN SOURCES OF
POLLUTION
•
•
•
•
PEOPLE ( CAUSE MOST POLLUTION)
1) AGRICULTURAL
2) INDUSTRIAL
3) MUNICIPAL
• 4) TRANSPORTATION
EFFECTS OF POLLUTION
• POLLUTION PRODUCES PHYSICAL AND
BIOLOGICAL EFFECTS THAT VARY FROM
MILDLY IRRITATING TO LETHAL. THE MORE
SERIOUS OF THE TWO ARE THE BIOLOGICAL
EFFECTS.
• THE SECNAV, THE CNO, AND OTHER
AUTHORITIES HAVE ISSUED SEVERAL
POLLUTION CONTROL INSTRUCTIONS.
MARINE SANITATION
DEVICES (MSDs)
• INSTALLED ON MOST NAVY SHIPS
• SOME OF THESE DEVICES ARE USED TO TREAT
SEWAGE FOR OVERBOARD DISCHARGE
• SYSTEM RETAINS SEWAGE ONBOARD FOR
LATER PROPER DISCHARGE IS CALLED
COLLECTION, HOLDING, AND TRANSFER
SYSTEM (CHT).
VESSELS TRASH DISPOSAL
• UNPULPED TRASH AT SEA MAY NOT BE
DISCHARGED WITHIN 25 NAUTICAL MILES
FROM THE U.S. COASTLINE
• PULPED TRASH WITHIN 12 NAUTICAL MILES OF
THE U.S. COASTLINE
• NO TYPE OF TRASH WITHIN 25 NAUTICAL
MILES OF ANY FOREIGN COASTLINE
SUBMARINE TRASH
DISPOSAL
• MAY DISCHARGE NEGATIVELY BUOYANT
COMPACTED TRASH NOT LESS THAN 12NM
FROM THE U.S. COASTLINE, BUT ONLY AT
DEPTHS GREATER THAN 1,000 FATHOMS
CLEAN AIR ACT
• UNDER THE CLEAN AIR ACT EACH STATE HAS THE
PRIMARY RESPONSIBILITY FOR ASSURING AIR QUALITY.
ALL NAVAL ACTIVITIES MUST MEET BOTH FEDERAL AND
STATE STANDARDS FOR PREVENTING AIR POLLUTION.
CLEAN WATER ACT
• THE CLEAN WATER ACT, AS AMENDED, REPRESENTS A
CLEAR GOAL TO RESTORE AND MAINTAIN THE
CHEMICAL, PHYSICAL, AND BIOLOGICAL INTEGRITY OF
THE NATION'S WATERS.
PROTECTION
OF RESOURCES
• IN KEEPING WITH FEDERAL PROGRAMS, THE
NAVY HAS ESTABLISHED PROGRAMS,
SUITABLE TO ITS MILITARY MISSION, FOR THE
PRESERVATION OF NATURAL, CULTURAL, AND
HISTORIC RESOURCES. THE NAVY PROGRAMS
CONSIST OF LAND MANAGEMENT, FOREST
MANAGEMENT, FISH AND WILDLIFE
MANAGEMENT, OUTDOOR RECREATION, AND
GENERAL SUPPORT FOR ALL LAND UNDER
NAVAL JURISDICTION.
ENERGY CONSERVATION
PROGRAM
• THE NAVY'S POLICY ON ENERGY
CONSERVATION IS THAT IT WILL MAKE ALL
POSSIBLE EFFORTS TO IMPROVE THE WAY IT
USES ENERGY RESOURCES.
NAVY SPONSOR PROGRAM
• THE CNO SET UP THE SPONSORSHIP PROGRAM
TO EASE THE RELOCATION OF NAVAL
PERSONNEL AND THEIR FAMILIES WHEN
TRANSFERRED ON PCS ORDERS.
OVERSEAS DUTY SUPPORT
PROGRAM (ODSP)
• THE ODSP PROVIDES INFORMATION AND
SUPPORT TO HELP PERSONNEL WHO ARE
GUESTS IN FOREIGN LANDS.
(PCS/DEPLOYMENT)
MILITARY CASH AWARDS
PROGRAM (MILCAP)
• UP TO $25,000
• THE MILCAP IS A
SPECIAL INCENTIVE
AWARDS PROGRAM
OPEN TO ALL ACTIVE
DUTY PERSONNEL.
• IT AWARDS PERSONNEL
FOR BENEFICIAL
SUGGESTIONS,
INVENTIONS, AND
SCIENTIFIC
ACHIEVEMENTS THAT
INCREASE EFFICIENCY,
ECONOMY, OR
PRODUCTIVITY OR
EFFECT OTHER
IMPROVEMENTS IN
OPERATIONS.
HEALTH & PHYSICAL
READINESS PROGRAM
• THIS PROGRAM
PROMOTES ACTIVE
HEALTH AND FITNESS AT
THE COMMAND LEVEL.
• INCLUDES SEMIANNUAL
TESTING
• ENSURES ALL
PERSONNEL MEET
CERTAIN PHYSICAL
STANDARDS.
NAVY'S POLICY ON PREGNANCY
AND DEPENDENT CARE
PREGNANCY
SAILORS RESPONSIBILITIES
NAVYS RESPONSIBILITIES
PLANNING
PROVIDE MEDICAL CARE
CONFIRM BY MEDICAL
CONUS
OCONUS
NOTIFY COMMAND
NO FLYING DUTIES AFTER
THE 28TH WEEK
NO SERVICEWOMEN
MAY BE ASSIGNED OVERSEAS
AFTER THE BEGINING OF
THE 28TH WEEK
PERFORM DUTIES
NOT TO BE TRANSFERRED TO
A DEPLOYING UNIT AFTER 20TH
WEEK UP TO 4 MONTHS AFTER
DELIVERY DATE
BOTH CONUS AND OCONUS
MEMBER RECEICES 42 DAYS
CONVALESCENT LV
AFTER BIRTH (MOTHER ONLY)
COMPLY WITH WORK AND MEDICAL
SINGLE PARENTS AND DUAL MILITARY
MUST COMPLY WITH NAVPERS 1740/6
FAMILY CARE PLAN
PUBLIC AFFAIRS AND
COMMUNITY RELATIONS PRG
• WORKS ON THE PRINCIPAL THAT THE PUBLIC
HAS THE RIGHT TO BE FULLY INFORMED
ABOUT MATTERS OF NATIONAL DEFENSE
(WITHIN REASON).
• EACH COMMAND HAS A PUBLIC AFFAIRS
OFFICER WHO DEALS WITH THE COMMUNITY
RELATIONS PROGRAM. (SECNAVINST 5720.44
CH2).
ALCOHOL & DRUG POLICIES
• THE NAVY HAS A "ZERO TOLERANCE"
POLICY, WHICH MEANS USING
ILLEGAL DRUGS AND OR ABUSING
PRESCRIPTION DRUGS WILL RESULT
IN BEING DISCHARGED FROM THE
NAVY.
• DRINKING-EACH SAILOR WILL BE
HELD RESPONSIBLE FOR HIS/HER
OWN ACTIONS.
• DRINK RESPONSIBLY.
PROVISIONS OF THE PRIVACY ACT
• THE PRIVACY ACT
PRIMARILY PROTECTS
THE RIGHTS OF
PERSONAL PRIVACY
OF PEOPLE ABOUT
WHOM RECORDS ARE
MAINTAINED BY
AGENCIES OF THE
FEDERAL GOVT.
• CAN BE FINED UP TO
$5,000 FOR
DISCLOSING
UNAUTHORIZED INFO
EQUAL
OPPORTUNITY
•
•
ACCORDING TO NAVY
REGULATIONS ARTICLE 1164
"EQUAL OPPORTUNITY SHALL
BE AFFORDED TO ALL ON THE
BASIS OF INDIVIDUAL
EFFORT, PERFORMANCE,
CONDUCT, DILIGENCE,
POTENTIAL, CAPABILITIES,
AND TALENTS WITHOUT
DISCRIMINATION AS TO
RACE, COLOR, RELIGION,
CREED, SEX, OR NATIONAL
ORIGIN"...
THE KEY WORD IN THE TITLE
OF THIS SECTION IS EQUAL.
REAL DEMOCRACY CANNOT
EXIST IF OUR SOCIETY
DOESN'T HAVE EQUAL
OPPORTUNITIES FOR ALL OF
IT'S PEOPLE.
CMEO
•
•
THE NAVY REQUIRES ALL
COMMANDS TO SET UP A
CMEO PROGRAM.
IT ALLOWS CO'S TO CREATE
AND MAINTAIN A POSITIVE
EO ENVIRONMENT.
CNO
•
RESPONSIBLE FOR THE
GUIDANCE AND POLICY FOR
THE CMEO PROGRAM
CMEO
•
•
CO
•
OVERALL
RESPONSIBLE
FOR MAKING
EQUAL
OPPORTUNITY A
REALITY IN
THEIR
COMMANDS.
THE NAVY REQUIRES ALL
COMMANDS TO SET UP A
CMEO PROGRAM.
IT CREATES AND MAINTAIN
A POSITIVE EO
ENVIRONMENT.
HAZING
•
- ANY CONDUCT WHEREBY A
MILITARY MEMBER OR
MEMBERS, REGARDLESS OF
SERVICE OR RANK,
WITHOUT PROPER
AUTHORITY CAUSES
ANOTHER MILITARY
MEMBER OR MEMBERS,
REGARDLESS OF SERVICE
OR RANK, TO SUFFER OR BE
EXPOSED TO ANY ACTIVITY
WHICH IS CRUEL, ABUSIVE,
HUMILIATING, OPPRESSIVE,
DEMEANING, OR HARMFUL
•
•
IT IS PROHIBITED AND WILL
NOT BE TOLERATED
IT IS THE RESPONSIBILITY
OF EVERY SAILOR AND
MARINE TO MAKE SURE
THAT HAZING DOES NOT
OCCUR
SEXUAL HARASSMENT
• MUST MEET 3 CRITERIA:
-BE UNWELCOME
-BE SEXUAL IN NATURE
-OCCUR IN, OR IMPACT
THE WORK ENVIROMENT
• BOTH MEN AND WOMEN
CAN BE VICTIMS OR
HARRASSERS
• QUID PRO QUO-"THIS
FOR THAT"
COLORS OF THE TRAFFIC LIGHT
• Red- STOP!IT'S
SEXUAL
HARRASSMENT
• YELLOW- USE
CAUTION. MAY BE
SEXUAL
HARRASSEMENT
• GREEN- GOOD TO
GO!
FRATERNIZATION
•
•
ARTICLE 1165 OF THE NAVY
REGS STATES:
NO PERSON IN THE NAVY IS
TO ENTER A PERSONAL
RELATIONSHIP THAT IS
UNDULY FAMILIAR, DOES
NOT RESPECT DIFFERENCES
IN RANK, AND IS
PREJUDICIAL TO GOOD
ORDER AND DISCIPLINE.
CAN OCCUR BETWEEN
OFFICER AND ENLISTED
OFFICER AND OFFICER
ENLISTED AND ENLISTED
OMBUDSMAN
• 20 HOURS OF INTENSE TRAINING
• LIASON BETWEEN NAVY FAMILIES AND
COMMAND
• CO ALWAYS DETERMINES THE
CONTENT AND PRIORITIES OF THE
OMBUDSMAN PROGRAM
ENCORE
(Enlisted Navy Career Options for Reenlistment)
• SETS STANDARDS THAT MUST BE MET
FOR FIRST TERM SAILORS BEFORE
THEY REENLIST OR EXTEND
CIVIL RIGHTS DEMONSTRATIONS
NAVY PERSONNEL CANNOT TAKE PART
IN CIVIL RIGHTS DEMONSTRATIONS
UNDER THE FOLLOWING SITUATIONS:
-WHILE
IN UNIFORM OR DURING DUTY HOURS
-WHEN LAW AND ORDER ARE VIOLATED
-WHEN THERE COULD BE AN EXPECTATION OF
VIOLENCE
-WHEN HELD ON A MILITARY RESERVATION OR IN A
FOREIGN COUNTRY
QUESTIONS?
BMR(NAVEDTRA 14325) CH 2
MILITARY CONDUCT &
JUSTICE
PERSONAL CONDUCT
• AS A MEMBER OF THE UNITED STATES NAVY YOU ARE
EXPECTED TO BE MILITARY IN THE BEST SENSE OF THE
TERM.
• YOU SHOULD UNDERSTAND THE ORGANIZATION &
MISSION OF THE NAVY AND THE "WHY" BEHIND THE
NAVY'S DISCIPLINE & ITS DRILLS.
• CONDUCT YOURSELF IN A MANNER THAT WILL REFLECT
CREDIT ON YOU AND THE NAVY.
• RULES AND REGULATIONS SERVE AS GUIDES FOR DAILY
LIVING AND, IF FOLLOWED BY ALL, MAKE LIFE MORE
PLEASANT & EASIER FOR ALL HANDS.
THE CODE OF CONDUCT
• WRITTEN IN 1955, BY DWIGHT D.
EISENHOWER DUE TO THE KOREAN
CONFLICT
• THERE ARE SIX CODES OF CONDUCT
•
ARTICLE I
– I AM AN AMERICAN, FIGHTING IN THE FORCES WHICH GUARD MY
COUNTRY & OUR WAY OF LIFE…
•
ARTICLE II
– I WILL NEVER SURRENDER OF MY OWN FREE WILL…
•
ARTICLE III
– IF I AM CAPTURED I WILL CONTINUE TO RESIST BY ALL MEANS
AVAILABLE…
•
ARTICLE IV
– IF I BECOME A PRISONER OF WAR, I WILL KEEP FAITH WITH MY FELLOW
PRISONERS…
•
ARTICLE V
– WHEN QUESTIONED, SHOULD I BECOME A POW, I AM REQUIRED TO GIVE
NAME, RANK, SERVICE NUMBER, AND DOB…
– (I WILL ALWAYS REMEMBER)
•
ARTICLE VI
– I WILL NEVER FORGET THAT I AM AN AMERICAN, FIGHTING FOR
FREEDOM , RESPONSIBLE FOR MY ACTIONS, AND DEDICATED TO THE
PRINCIPLES WHICH MADE MY COUNTRY FREE…
MILITARY POLICE
• ALL BRANCHES OF THE MILITARY HAVE THEIR OWN
FORM OF SECURITY/POLICE DEPARTMENTS
• IN AREAS WHERE UNITS OF DIFFERENT ARMED
SERVICES ARE LOCATED, THE MILITARY POLICE MAY
BE COMBINED TO FORM ONE UNIT KNOWN AS AN
ARMED FORCES POLICE DETACHMENT(AFPD)
PURPOSE OF DISCIPLINE
• DISCIPLINE IS A CHARACTER BUILDER, NOT A
DESTROYER OF INDIVIDUALITY.
• THE PURPOSE OF DISCIPLINE IN THE MILITARY
SERVICES IS TO BRING ABOUT AN EFFICIENT MILITARY
ORGANIZATION
PUNISHMENT
• BASED ON THE NAVY'S CONCEPT, PUNISHMENT IS NOT
PERSONAL, VINDICTIVE, OR INFLICTED AS REVENGE
FOR MISCONDUCT.
• MUST BE CONSISTENT
• PERSONNEL ARE PUNISHED ONLY AS A RESULT OF THEIR
MISBEHAVIOR
• THEY WILL NOT BE PUNISHED AGAIN IF THEY LEARN TO
CONFORM TO NAVY STANDARDS OF CONDUCT.
• THE ADMINISTRATION OF PUNISHMENT IS NOT
PERSONAL; THEREFORE THOSE WHO ADMINISTER IT
SHOULD SHOW NO MALICE (HATE).
REGULATIONS THAT GOVERN
THE US NAVY
• NAME THE THREE OFFICIAL
SOURCES THAT SET FORTH THE
BASIC DISCIPLINARY LAWS FOR THE
NAVY.
• UCMJ
• NAVY REGS
• STANDARD ORGANIZATION &
REGULATIONS OF THE US NAVY
READING AN ARTICLE
• THE FIRST 2 DIGITS OF THE ARTICLE
NUMBER INDICATE THE CHAPTER OF
THE NAVY REGS FROM WHICH THE
ARTICLE WAS TAKEN.
EXAMPLE
• ART 1025-AUTHORITY OF AN OFFICER
IN COMMAND.
• THIS ARTICLE COMES FORM THE 10TH
CHAPTER OF THE NAVY REGS.
QUESTIONS?
BMR(NAVEDTRA 14325) CH 3
WATCH STANDING
WATCH, QUARTER,
STATION BILL (WQS)
•LISTS BY BILLET NUMBER AND RATE, DIVISIONAL
RATE, DIVISIONAL STATIONS TO BE MANNED FOR
VARIOUS SITUATIONS.
•SHOULD BE CHECKED DAILY
***CLEANING BILLS ARE OMITTED***
SHIP'S DECK LOG
•COMPLETE DAILY RECORD OF IMPORTANT EVENTS,
WATCHES, AND OPERATIONS AS WELL AS SAFETY OF THE
SHIP.
•HAS LEGAL STANDING AND CAN BE USED NAVY OR CIVIL
COURT
• COMMAND DUTY OFFICER (CDO)
- In port only; advises, supervises, and directs the OOD in general
matters concerning the general operation and safety of the ship
• OFFICER OF THE DECK (OOD)
- In charge of the ship and is responsible to the CO for the safe and
proper operation of the ship
• COMBAT INFORMATION CENTER WATCH OFFICER (CIC)
- Supervises the operation of the CIC, which reports, tracks, and
evaluates air, surface, and submarine contacts
• JUNIOR OFFICER OF THE DECK (JOOD)
- The principal assistant to the OOD
11 GENERAL ORDERS
•
•
•
•
•
•
•
•
•
•
•
TO TAKE CHARGE OF THIS POST AND ALL GOVERNMENT PROPERTY IN
VIEW
TO WALK MY POST IN A MILITARY MANNER, KEEPING ALWAYS ON THE
ALERT, AND OBSERVING EVERYTHING THAT TAKES PLACE WITHIN SIGHT
OR HEARING
TO REPORT ALL VIOLATIONS OF ORDERS I AM INSTRUCTED TO ENFORCE
TO REPEAT ALL CALLS FROM POSTS MORE DISTANT FROM THE GUARD
HOUSE THAN MY OWN
TO QUIT MY POST ONLY WHEN PROPERLY RELIEVED
TO RECEIVE, OBEY AND PASS ON TO THE SENTRY WHO RELIEVES ME, ALL
ORDERS FROM THE COMMANDING OFFICER, COMMAND DUTY OFFICER,
OFFICER OF THE DECK, AND OFFICERS AND PETTY OFFICERS OF THE
WATCH ONLY
TO TALK TO NO ONE EXCEPT IN THE LINE OF DUTY
TO GIVE THE ALARM IN CASE OF FIRE OR DISORDER
TO CALL THE OFFICER OF THE DECK IN ANY CASE NOT COVERED BY
INSTRUCTIONS
TO SALUTE ALL OFFICERS AND ALL COLORS AND STANDARDS NOT CASED
TO BE ESPECIALLY WATCHFUL AT NIGHT, AND, DURING THE TIME FOR
CHALLENGING, TO CHALLENGE ALL PERSONS ON OR NEAR MY POST AND
TO ALLOW NO ONE TO PASS WITHOUT PROPER AUTHORITY.
SHIP'S BELL
• STRUCK ONCE FOR EACH HALF HOUR,
WITH A MAXIMUM OF EIGHT BELLS
• EXAMPLE: AT 0830 THE BELL IS SOUNDED
ONCE, AT 0900 TWO BELLS ARE SOUNDED,
AND SO UNTIL UNTIL 1200 WHEN
BATTLE BILL
CONTAINS A LIST OF STATIONS THAT
MUST BE MANNED DURING BATTLE
AND OTHER SPECIFIED TIMES.
3 CONDITIONS FOR BATTLE
STATIONS
• CONDITION 1- GENERAL QUARTERS
•CONDITION 2- SPECIAL WATCH
•CONDITION 3- NORMAL WARTIME CRUISING
BEARING
•AN OBJECT FROM A SHIP. MEASURED IN DEGREES
CLOCKWISE FROM 000 TO 360
•REPORTED IN THREE DIGITS; SPOKEN
DIGIT BY DIGIT
• 3 TYPES: RELATIVE, TRUE, MAGNETIC
QUESTIONS???
BMR(NAVEDTRA 14325) CH 4
COMMUNICATIONS
SOUND POWERED PHONES
•OPERATES ON YOUR VOICE POWER
•SHOULD BE ½ TO 1" FROM YOUR MOUTH
•WHEN COILING THE LEAD WIRE FOR STOWAGE THE
LOOPS SHOULD BE 8 TO 10" ACROSS
•ALWAYS UPLUG WHEN NOT IN USE
•MOUTHPIECE & EARPIECE ARE INTERCHANGEABLE
•TO TRANSMIT URGERT MESSAGE SAY, "SILENCE ON
THE LINE"
3 CATEGORIES OF
SOUND POWERED PHONES
PRIMARY
•INCLUDES ALL CIRCUITS NECESSARY FOR
CONTROLLING ARMAMENT, ENGINEERING, DAMAGE
CONTROL, MANEUVERING, AND SURVEILLANCE
FUNCTIONS DURING BATTLE
•DESIGNATED JA AND JZ
3 CATEGORIES OF
SOUND POWERED PHONES
AUXILIARY
•DUPLICATES MANY PRIMARY CIRCUITS FOR THE
PURPOSE OF MAINTAINING VITAL COMMUNICATIONS IN
THE EVENT OF DAMAGE TO THE SYSTEM
•DESIGNATED WITH THE LETTER
Ex. XJA, X1JV
X
3 CATEGORIES OF
SOUND POWERED PHONES
SUPPLEMENTARY
•SUPPLEMENT SYSTEMS XiJ-X61-J ARE SHORT,
DIRECT CIRCUITS, SUCH AS FROM THE BRIDGE TO THE
QUARTERDECK
•NORMALLY UNMANNED
3 PARTS TO MESSAGES FOR
SOUND POWERED PHONES
•NAME OF THE STATION CALLED
•NAME OF THE STATION CALLING
•THE MESSAGE
INTEGRATED VOICE
COMMUNICATIONS SYSTEM (IVCS)
•INTEGRATED COMMS SYSTEM USED IN THE
TELEPHONES ONBOARD SHIP
•CONSISTS OF TERMINALS AND COMPUTER
CONTROLLED ICOMMUNICATIONS SWITCHING
CENTERS (ICSCs)
*** ICSCs—perform the switching actions necessary to connect
calls.
WIFCOM
•HAND-HELD TRANSCEIVERS (WALKIE-TALKIES) USED
FOR DAMAGE CONTROL PURPOSES
•INCLUDES CHANNELS 4-12
•CHANNEL 1- REPAIR 5
•CHANNEL 2- REPAIR 2
•CHANNEL 3- REPAIR 3
•CHANNL 4- SHIP TO SHIP
FLAGS AND PENNANTS
FLAG
MEANING
CODE ALPHA………………..DIVER(s) DOWN
KILO………………PERSONNEL WORKING ALOFT
OSCAR………………………..MAN OVERBOARD
PAPA………………GENERAL RECALL
QUEBEC………………………BOAT RECALL
ROMEO………READY DUTY (in port)
PREPARING TO REPLINISH(at sea)
THE NATIONAL
ENSIGN
•REFERRED TO AS COLORS
•WHEN NOT UNDERWAY, COMMISSIONED SHIPS
DISPLAY THE ENSIGN FROM THE FLAG STAFF AT
THE STERN AND THE UNION JACK FROM THE
JACK STAFF AT THE BOW FROM 0800 TO SUNSET
•WHILE UNDERWAY, THE ENSIGN IF NORMALLY
FLOWN FROM THE GAFF
***Preparative Pennant- flown 5 minutes before colors
are held.
THE UNION JACK
•THE RECTANGULAR BLUE PART OF THE
UNITED STATES FLAG CONTAINING 50 STARS
•HOISTED AT THE YARDARM TO INDICATE A
GENERAL COURT MARTIAL OR COURT OF
INQUIRY IS IN SESSION
U.S. NAVY FLAG
•ESTABLISHED ON 24 APRIL 1959
•FLOWN: - AT OFFICIAL CEREMONIES
- IN PARADES
- OFFICIAL NAVY OCCASIONS
- PUBLIC GATHERINGS
- OCCASIONS AUTHORIZED BY
SECNAV
FLAGSTAFF INSIGNIAS
FLAGSTAFF INSIGNIAS
•SPREAD EAGLE- ANY CIVILIAN OR FLAG OFFICER WHO
RATES A 19 GUN SALUTE OR MORE
• HALBERT- FLAG OR GENERAL OFFICER WHO RATES LESS
THAN 19 GUNS OR CIVIL OFFICIAL WHO'S SALUTE IS 11 GUNS
BUT LESS THAN 19
• BALL- CAPTAIN AND CERTAIN DIPLOMATS
•STAR- COMMANDER
•FIRST TRUCK- FOR AN OFFICER BELOW THE GRADE OF
COMMANDER
QUESTIONS???
BMR(NAVEDTRA 14325) CH 5
NAVAL HISTORY
NAVY'S BIRTHDAY
13 OCTOBER 1775
SHIPS OF THE CONTINENTAL
NAVY
• SHIPS-OF-THE-LINE:
BATTLESHIPS OF THE SAILING
DAYS THAT CARRIED 60 TO OVER 100 VARIOUS GUNS.
•FRIGATES: CRUISERS OF THE 18TH CENTURY THAT
CARRIED 28 TO 44 GUNS
•SLOOPS-OF-WAR: SMALL SAILING WARSHIPS THAT
CARRIED 10 TO 20 GUNS
•PRIVATEERS: COMMISSIONED BY THE CONTINENTAL
CONGRESS AND BY INDIVIDUAL STATES TO CAPTURE
ENEMY MERCHANT SHIPS AS PRIZES OF WAR
NAVAL HISTORY
• USS ALFRED: 1ST US NAVY FLAGSHIP
•THE TURTLE: 1ST US WARFARE SUBMARINE
DESIGNED BY DAVID BUSHNELL
•2ND PRESIDENT JOHN ADAMS ESTABLISHED
THE NAVY DEPARTMENT IN 1798
•USS CONSTITUTION NICKNAME: "OLD
IRONSIDES"
NAVAL HISTORY
• SEPT. 5, 1843: 1ST SUCCESSFUL STEAMSHIP
THE USS PRINCETON WAS LAUNCHED
•1ST TRUE SUBMARINE ATTACK: USS
HUNLEY ATTACKED USS HOUSATONIC IN
CIVIL WAR (BOTH WENT DOWN)
•ALFRED T. MAHAN: INFLUENCED NAVAL
STRATEGY; DEFINED SEA POWER; ONE OF
THE 1ST INSTRUCTORS AT THE NAVY WAR
COLLEGE
NAVAL HISTORY
•JOHN HOLLAND & SIMON LAKE: TWO
INVENTORS THAT MADE SUBS A REALITY
•FEB. 15, 1898: SINKING OF USS MAINE IN
CUBA'S HAVANA HARBOR LED TO SPANISH
AMERICAN WAR
•APRIL 1900: NAVY ACCECPTED USS
HOLLAND WHICH WAS THE 1ST
OPERATIONAL SUBMARINE
AIRCRAFT CARRIERS
USS RANGER: 1ST AIRCRAFT CARRIER BUILT
FROM THE KEEL UP IN 1934
NAVAL HISTORY
•DEC 7, 1941: JAPAN ATTACKED PEARL HARBOR
DRAWING US INTO WORLD WAR II
•BATTLE OF MIDWAY: TURNING POINT OF THE WAR
•USS NAUTILUS: 1ST NUCLEAR SUBMARINE
(launched Jan. 17, 1955)
•USS BAINBRIDGE: 1ST NUCLEAR POWERED SURFACE
WARSHIP (launched April 15, 1951)
NAVAL HISTORY
•USS ENTERPRISE: 1ST NUCLEAR POWERED AIRCRAFT
CARRIER (commissioned Nov. 25, 1961
•THE VANGUARD: 1ST SATELLITE LAUNCHED BY US
•USS ALVIN: NAVY's 1ST DEEP DIVING VEHICLE
•USS OHIO: 1ST TRIDENT SUBMARINE (SSBN-726)
(delivered to Navy in 1981
WOMEN IN THE NAVY
•IN WWI: BY THE END, THERE WERE 11,275 WOMEN
ENLISTED AS YEOMAN
•WWII: CONGRESS AUTHORIZED THE WOMEN'S
RESERVE ON JULY 30, 1942.
•AUGUST 4, 1942: MILDRED HELEN MCAFEE WAS SWORN
IN AS LIEUTENANT COMMANDER OF THE WOMEN'S
RESERVE
•DURING WWII: WOMEN (WAVES) WERE ELIGIBLE FOR 34
DIFFERENT RATINGS
QUESTIONS???
BMR(NAVEDTRA 14325) CH 6
NAVAL ORGANIZATION
NAVAL ORGANIZATION
•DEPT OF NAVY: ESTABLISHED 30 APRIL 1798
•PRIMARY MISION: SUPPORT US NATIONAL INTEREST
•SECDEF: HEAD OF DOD
•MARINE CORPS: PART OF NAVY'S OPERATING FORCES
•COAST GUARD: PART OF DEPT OF HOMELAND SECURITY
•SHORE ESTABLISHMENTS: PROVIDES SUPPORT TO THE
OPERATING FORCES ( THE FLEET)
•TWO ELEMENTS OF A SHIP'S ORGANIZAION ARE:
BATTLE ORG AND ADMINISTRATION ORG
NAVAL ORGANIZATION
DOD CONSISTS OF
3 AGENCIES:
3 BASIC COMPONENTS
OF THE DEPT OF THE NAVY:
-ARMY
-NAVY DEPARTMENT
-NAVY
-OPERATING FORCES
-AIR FORCE
-SHORE ESTABLISHMENT
5 DEPARTMENTS ON SHIPS
•NAVIGATION: RESPONSIBLE FOR SAFE NAVIGATION
AND PILOTING OF THE SHIP
•ENGINEERING: RESPONSIBLE FOR ALL THE
PROPULSION AND AUXILIARY MACHINERY AND THE
CONTROL OF DAMAGE.
•OPERATIONS: RESPONSIBLE FOR CARRYING OUT
TASKS SUCH AS COLLECTING AND EVALUATING
COMBAT OPERATINAL INFORMATION.
5 DEPARTMENTS ON SHIPS
•SUPPLY: OPERATES THE GENERAL MESS, SHIP'S
STORE, MANAGE CLOTHING AND SMALL STORE,
LAUNDRY, BARBER SHOP, SUPPLIES AND SPARE
PARTS FOR THE ENTIRE SHIP.
•WEAPONS/DECK: WEAPONS MAINTAIN THE SHIP'S
ARAMMENT AND THE WEAPON FIRE CONTROL
EQUIPMENT. RESPONSIBLE FOR EXTERAL SECURITY
OF THE SHIP.
DECK: RESPONSIBLE FOR THE PRESERVATION AND
CLEANINESS OF THE EXTERNAL AREAS OF THE SHIP.
OPERATE PAINT, SAIL AND BOATSWAIN'S LOCKER
AND OVEALL DECKING SEAMANSHIP OPERATIONS.
NAVAL ORGANIZATION
•CO: ULTIMATELY RESPONSIBLE FOR THE SHIP
•XO: 2ND IN COMMAND. THE AIDE OR EXECUTIVE TO
THE CO.
•CMC: SENIOR ENLISTED MEMBER WHO ACTS AS A LIASON
BETWEEN THE OFFICER & ENLISTED COMMUNITY. VOICE OF
ALL ENLISTED PERSONNEL.
•DRUG &ALCOHOL PROGRAM ADVISOR (DAPA): ADVISES
THE CO AND XO ON ALL MATTERS CONCERNING THE DRUG
AND ALCOHOL ABUSE PROGRAM. PROVIDES TRAINING,
SCREENING, AFTER CARE, AND REFERRAL SERVICES TO THE
ENTIRE COMMAND.
QUESTIONS ???
BMR(NAVEDTRA 14325) CH 7
BASIC SEAMANSHIP
ANCHOR WINDLASSES
2 TYPES OF ANCHOR WINDLASSES FOR LIFTING THE
SHIPS ANCHOR:
•VERTICAL SHAFT TYPE: USED ON MOST
COMBATANT SHIPS
•HORIZONTAL SHAFT TYPE: USED ON
AMPYHIBIOUS AND AUXILIARY SHIPS
ANCHORS
THE MOST COMMON TYPES OF ANCHORS USED
ABOARD SHIP ARE STANDARD STOCKLESS AND
THE LIGHT WEIGHT.
RAT GUARDS
HINGED CONICAL METAL SHIELDS
SECURED AROUND MOORING LINES.
THEY ARE USED TO PREVENT RATES
FROM ABOARD
SHIP
SHIP'S MOORING LINES
THE BOWLINE AND FORWARD SPRING LINES
PREVENT THE SHIP FROM DRIFTING ASTERN.
THE STERN LINE AND AFTER SPRING LINES
PREVENT THE SHIP FROM DRIFTING FORWARD
1, 3 AND 5 ARE FORWARD LINES
2, 4 AND 6 ARE AFTER LINES
BOAT SEAMANSHIP
•BOAT- NONCOMMISSIONED WATERBOURNE VESSEL THAT
IS NOT DESIGNATED AS A SERVICE CRAFT
•SERVICE CRAFT- WATERBOURNE CRAFT THAT ARE
DESIGNATED FOR SPECIAL USE
•COMBATANT CRAFT- CRAFT OR BOATS SPECIFICALLY
DESIGNATED FOR COMBAT ROLES
BOATS
SERVICE CRAFT
COMBATANT CRAFT
• MARLINESPIKE SEAMANSHIP- THE ART OF
HANDLING AND WORKING ALL KINDS OF
FIBER AND WIRE ROPE
• SMALL STUFF- LINE 1 3/4 INCHES AND UNDER
IN CIRCUMFERENCE
• WHIPPINGS- BINDINGS ON THE ENDS OF ROPE
THAT KEEP THE ROPE FROM UNLAYING
KNOTS, BENDS, AND HITCHES
•KNOTS- USED TO FORM EYES, OR TO SECURE A
CORD OR LINE AROUND AN OBJECT
•BENDS- USED TO SECURE TWO LINES TOGETHER
•HITCHES- USED TO BEND A LINE TO OR AROUND
AN OBJECT
QUESTIONS???
GOOD LUCK!!!