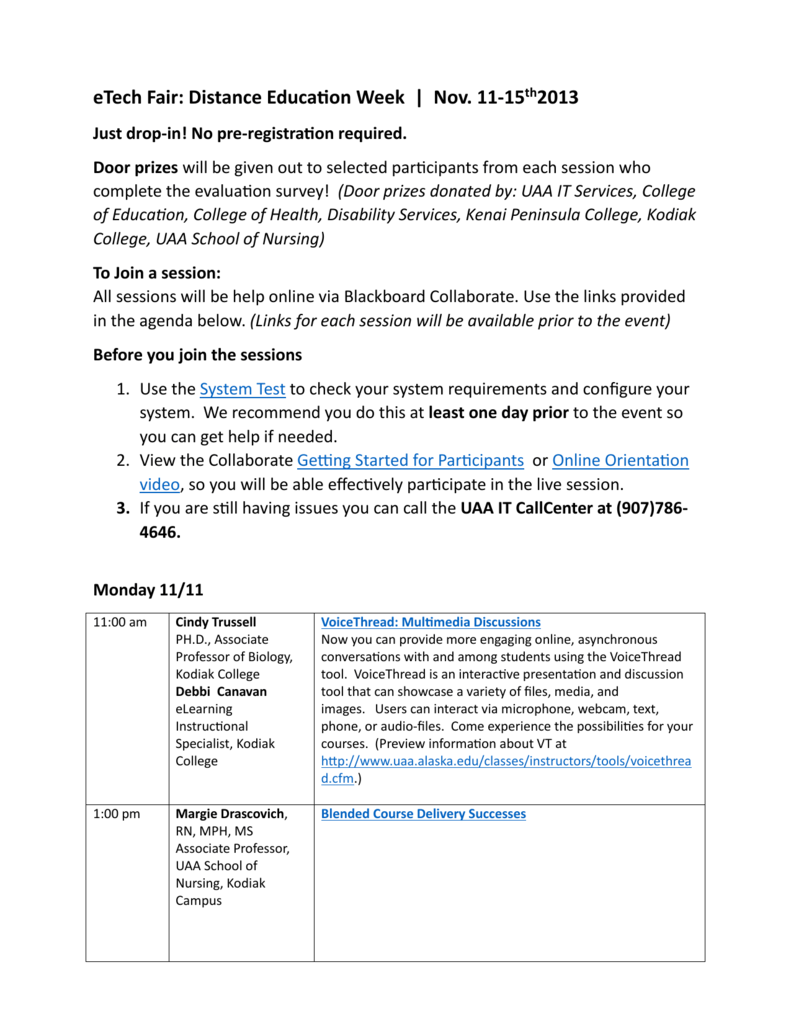 eTech Fair: Distance Education Week | Nov. 11-15th2013
Just drop-in! No pre-registration required.
Door prizes will be given out to selected participants from each session who
complete the evaluation survey! (Door prizes donated by: UAA IT Services, College
of Education, College of Health, Disability Services, Kenai Peninsula College, Kodiak
College, UAA School of Nursing)
To Join a session:
All sessions will be help online via Blackboard Collaborate. Use the links provided
in the agenda below. (Links for each session will be available prior to the event)
Before you join the sessions
1. Use the System Test to check your system requirements and configure your
system. We recommend you do this at least one day prior to the event so
you can get help if needed.
2. View the Collaborate Getting Started for Participants or Online Orientation
video, so you will be able effectively participate in the live session.
3. If you are still having issues you can call the UAA IT CallCenter at (907)7864646.
Monday 11/11
11:00 am
Cindy Trussell
PH.D., Associate
Professor of Biology,
Kodiak College
Debbi Canavan
eLearning
Instructional
Specialist, Kodiak
College
VoiceThread: Multimedia Discussions
Now you can provide more engaging online, asynchronous
conversations with and among students using the VoiceThread
tool. VoiceThread is an interactive presentation and discussion
tool that can showcase a variety of files, media, and
images. Users can interact via microphone, webcam, text,
phone, or audio-files. Come experience the possibilities for your
courses. (Preview information about VT at
http://www.uaa.alaska.edu/classes/instructors/tools/voicethrea
d.cfm.)
1:00 pm
Margie Drascovich,
RN, MPH, MS
Associate Professor,
UAA School of
Nursing, Kodiak
Campus
Blended Course Delivery Successes
2:00 pm
Sarah Frick
Instructional Designer,
Faculty Technology
Center
Learning on the Edge: Faculty Technology Center
The innovative staff at the FTC is leading the way for UAA in
current research on course quality and technology trends in
higher education. All the buzz: from MOOC's, multimedia,
distance delivery, digital credentials, quality standards,
gamification and online learning communities. Learn about FTC's
current projects and find out you can be involved and what we
can do for you.
Tuesday 11/12
11:00 am
Lara Madden
Instructional Designer,
Faculty Technology
Center
ePortfolios at UAA
Come and check out the UAA ePortfolio Showcase. Hear about
the upcoming ePortfolios Initiative gearing up for Spring 2014
and find out how you can get your department and students
involved.
2:00 pm
Susan Mircovich,
Assistant Professor of
Chemistry, KPC; Kathi
Baldwin, Instructional
Designer, Title III, UAS
Sitka & Mary Purvis,
Director, Title III, UAS
Sitka
Blackboard Catalyst Exemplary Course Award OPEN HOUSE!
Come and see how two UA online courses won the Bb Catalyst
award. Take a look at the course structure, organization and
special features that made each course a winner. Bring any
questions. Designers/instructors will be there to talk about how
you too can be a winner.
Wednesday 11/13
11:00 am
2:00 pm
Kitty Deal, Assistant
Professor of
Education, Kodiak
College &
Debbi Canavan
eLearning
Instructional
Specialist, Kodiak
College
Tina Coulston,
Instructional Designer,
School of Nursing
Interactive Rubrics in Blackboard
Interactive Blackboard rubrics can be used with the Discussion
Board forums and assignments within Blackboard. Rubrics
simplify and clarify grading expectations and feedback, reducing
time spent on writing feedback and on answering student
questions. Learn how to set up rubrics in your Blackboard
courses, reuse them in other courses, or share them with
colleagues.
Course Banners and Image Editing Made Easy
Learn to edit images and create banners to use in your
Blackboard course using familiar and easy to use tools. Why do
Design and Aesthetics Matter?
3:00 pm
Clair Kochis
Assistant Professor of
Mathematics and
Physics
Cheryl Siemers
Associate Professor of
English
Janice High, Associate
Professor of English,
Kenai Peninsula
College
Open-Access Developmental English and Math Courses
This session is an overview of the free open-access
developmental English and Mathematics courses that have been
developed under a federal grant targeting individuals who qualify
for workforce retaining under the TAA (Trade Adjustment
Assistance) Program. These courses are designed to be
completely self-paced modules in developmental English and
Mathematics, integrating contextualized content to bolster
success for those individuals who seek to retrain in the AES
(Architectural and Engineering Services) programs. At the same
time, these courses are also providing an alternative to paying for
and completing developmental courses for any individuals who
would like to enter a college program prepared for college level
coursework in math and English.
Thursday 11/14
10:00 am
Katie Walker,
Instructional Designer,
College of Education
Teaching and Learning with Blackboard Collaborate Web
Conferencing Participants will practice basic techniques for
building community in an online synchronous class meeting.
Blackboard Collaborate will be UAA's web conferencing solution
(replacing Elive) this spring.
1:00 pm
Sarah Frick,
Instructional Designer,
Faculty Technology
Center
Video Captioning Solutions in online courses
As multimedia and video usage increase in our course material
offerings, so does the need for those video to be closed
captioned. Captions improve usability for learners, and can
improve your search engine results. This workshop will introduce
concepts and show you some easy tips for finding and creating
closed captioning for your online course lecture captures and
other videos in your course.
3:00 pm
Lee Henrikson
Instructional Designer,
Beyond Anchorage
Workforce
Development Grant,
CTC
Using Understanding by Design to Develop Courses
Understanding by Design (UBD) provides a simple framework for
developing courses. After an overview of the UBD framework,
we will focus on what we expect students to learn and how to
structure those expectations around Big Ideas. You will come
away from the workshop with a draft Big Idea for a course.
Friday 11/15
10:00 am
Jeanette Renaudineau
Instructional
Designer/Developer,
Faculty Technology
Center
& Wayne Todd
Instructional Designer,
Faculty Technology
Center
Games and Gamification for Teaching and Learning
Description: Join us to discuss a growing trend of incorporating
games and game elements in the higher education
classroom. We will discuss the rationale behind gaming in
teaching and learning, as well as provide some practical ideas for
adding game elements to your course.
11:00 am
Julie Fronzuto
Associate Professor of
Biology, PWSCC &
Don Bickley
Innovation & Creative
Coordinator, PWSCC
Lara Madden
Instructional Designer,
Faculty Technology
Center
Critical Thinking within Virtual Labs
Learn how students develop & demonstrate critical thinking skills
within PWSCC's virtual wet lab environments.
1:00 pm
Tina Coulston
Instructional Designer,
School of Nursing &
Marissa Beninati
Simulation Technology
Specialist, College of
Health
Recording with WolfLync
Learn how to use Wolflync for pre-recording, synchronous
recording, publishing and sharing lectures and meetings. Capture
documents, programs, presentations and more using Microsoft
Lync as your screen recording tool. Make short tutorials and
lectures to share via email or post in your course online.
2:00 pm
Marissa Beninati
Simulation Technology
Specialist , College of
Health
Synchronizing Calendars
Do you keep a calendar on your work computer, home computer,
iPad, & iPhone….and none of them match? You are not alone!
Calendars help you keep track of what you're doing and when.
It's great to stay connected and organized whether you are
checking your calendar from your desktop's Outlook Calendar,
your iPhone, or iPad. This session will cover some organization
steps to keep your devices synchronized whether you sync it via
iCloud, Google Calendar, Microsoft, or something else.
12:00 pm
What's new in Blackboard Spring 2014
We are excited to be able to bring this longstanding upgrade to
Blackboard this Spring. Most exciting: Inline Grading, New Test
Deployment features, Video Anywhere, updated Discussion
Board interface, integrated Collaborate features and thankfully
the updated and functional New Text Editor!