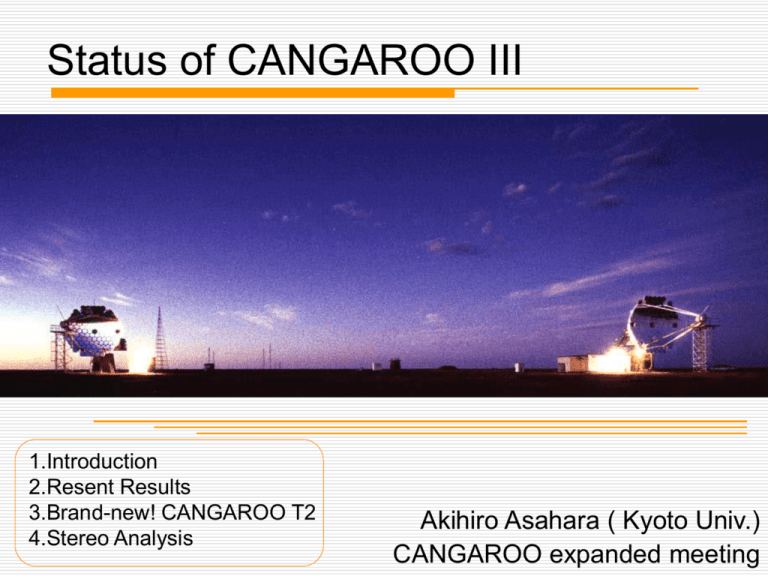 Status of CANGAROO III
1.Introduction
2.Resent Results
3.Brand-new! CANGAROO T2
4.Stereo Analysis
Akihiro Asahara ( Kyoto Univ.)
CANGAROO expanded meeting
Collaboration of Australia and Nippon for a
GAmma Ray Observatory in the Outback
An array of imaging atmospheric
Cherenkov telescopes to detect highenergy gamma-rays from celestial
objects in Woomera, Australia
CANGAROO team
 University of Adelaide
 Australian National
University
 Ibaraki University
 Ibaraki Prefectural
University
 Kanagawa University
 Konan University
 Kyoto University
 Nagoya University
 National Astronomical
Observatory of Japan
 Osaka city University
 The University of Tokyo
(ICRR)
 Shinshu University
 Institute for Space and
Aeronautical Science
 Tokai University
 Tokyo Institute of Technology
 Yamagata University
 Yamanashi Gakuin University
17 institutes join this project.
Observation Method
Gamma-ray
simulation
Camera image
Proton
simulation
Alpha plot
Observation Data
(Crab Nebula)
α distribution
(simulation)
ON run
OFF run
Residual
Gamma
Proton
CANGAROO 10m telescope
 Upgraded to 10m in 2000
 114 x 80cm CFRP mirror
segments
(first plastic-base mirror in
the world!)
 Focal length 8m
 Alt-azimuth mount
 552ch imaging camera
 Charge and timing
electronics
(March 2000)
552ch PMTs
TeV gamma-ray sky ~ 2002
Grade A
Grade B
Grade C
CANGAROO FOV
(El > 40 degree)
Red: Grade A
TeV sources
Blue: Grade B
Black: Grade C
3 Pulsar nebulae
Crab
Vela
PSR 1706-44
8 Blazars
Mrk 421
Mrk501
1ES2344+514 PKS2155-304 3C66A BL Lac
1H1426+428 1ES1959+65
3 Supernova
remnants
SN1006
Cas A
RX J1713.7-3946
1 X-ray Binary
Cen X-3
1 Starburst galaxy
NGC253
SNR RX J1713.7-3946:
emission from protons?
Hard to explain by emission
from electrons (Brems, IC)
Emission from protons(0)?
 Cosmic ray origin?
Enomoto et al. Nature 2002
Starburst galaxy NGC 253
Multi-wave-length spectrum of Galactic Halo
Itoh et al. A&AL 2002
Itoh et al. ApJL 2003
Non-thermal
radiation
from Galactic Halo
Radio
Optical




New kind of TeV source
Similar in size to our own galaxy
Nearby spiral galaxy (2.4Mpc)
Broad emission region.
CANGAROO
Mrk 421: hint for cosmology?
5TeV
Okumura et al. ApJL 2002
Emission above 20 TeV
Fewer IR backgroun photons?
Cosmology: galaxy formation
PSR 1706-44
Peak intensity of detected TeV gamma-ray flux becomes ten times
stronger than that of X-ray flux from the nebula.
TeV gamma-ray flux is difficult to explain by Sync-IC
The magnetic field is too week.
(2.7k CMB) model in the nebula.
Nebula
~10arcsec
Chandra ACIS Image
(0.7-9 keV)
Kushida, 2003, Ph. D thesis, Tokyo Inst. of Tech.
Detected
Positive
Upper limit
Other Targets
Signal
















SNR/Pulsar Crab
SNR SN 1006
SNR RCW 86
SNR RX J0852-4622
SN 1987A
PSR 1259-63/SS2833
PSR 1509-58
PSR 1420-6048
Vela pulsar
AGN PKS 2155-304, PKS 2005-489
AGN PKS 0548-322
EXO 055625-3838.6
Galactic Center/Sgr A*
Galactic jet object SS433
Galaxy The Small Magellanic Cloud
EGRET un-ID 3EG J1234-1318
Status
Finished
On analysis
On analysis
On analysis
Finished; In prep.
Finished; In prep.
On analysis
On analysis
On analysis
Finished; In prep.
On analysis
On analysis
On analysis
On analysis
On analysis
On analysis
CANGAROO-III project
Caution! This is prospective image.
Time schedule
10m X 2
10m X 3
10m X 4
Observation
Sep 2003
EXO 0556
RX J0852
RCW86
Stereo
Targets
SN1006
'03
PSR 1706,
RXJ 1713
'04
Stereo observation
Better angular resolution
=0.25(One month observation) 0.15(event by event)
Better energy resolution
E/E=30%15%
And improvement of S/N ratio.
Merit of Stereo (1)
Angular resolution
0.05 deg (Stereo)
Single Telescope
~0.25deg (one month observation)
10m X 2 Stereo Telescope
~0.15deg (event by event)
~0.05deg, or better than that!!
(one month observation)
TeV g-rays from shell-type SNRs
0.25 deg
(Single)
Detailed mapping
Of the emission region
SN1006 significance map
(CANGAROO 10m single)
Merit of Stereo (2)
Alpha <15゜
952±137events(6.9σ)
750±60 (12σ)
0.45<E(TeV)<6.25
Stereo observation
Effective area → ×0.8
S/N
→ ×6 ~7
(Enomoto et al. 2002)
Present status:
Three 10m telescopes in Woomera
Started operation in
Dec. 2002
T2
Assembled in
Dec. 2002
T3
In operation
since 2000
T1
10m telescope No.2






Completed in 2002
Focal length 8m
Improved FRP mirror segments
427ch imaging camera
Placed Hex; FOV 4.0
HV imposed on each PMTs
4.0°
(CANGAROO T2)
T2 event samples
TDC
PMT hit Scaler
ADC
Star Info.
Stereo Analysis
DAQ phase I (current):
Both telescopes are operated
Independently.
Attached information on T2 data:
•Trigger delay time (1nsec resolution).
•Current event number of T1.
Stereo analysis is conducted on off-line.
Stereo Trigger rate
T1 rate after cut ~2Hz
T1: trigger rate ~ 40Hz
T2: trigger rate ~ 30Hz
Coincidence ~ 2Hz
The Stereo trigger rate is limited by T1.
Trigger delay time
-1.0515 0.02 ns/min
Measured by TDC
-1.105 ns/min
Calculated from Telescope movement
OFF-line stereo analysis is working well.
ADC spectrum of T2
Red:
Blue:
Pink:
ADC spectrum of T2
ADC spectrum of T2
made from the data triggered by T1
Power law function (index -2.7)
Eth(blue) / Eth(red) ~ 4
T2 Energy threshold ~ 200GeV
Stereo Events
TDC
(hit timing)
T1
Distribution of Arrival directions (not ready)
T2
ADC
(light intensity)
Sensitivity of CANGAROO III
0.01Crab
(@200GeV)
Typical Observation time (ON-OFF total): 80h/month
Summary
Stereo Observation Started in Dec 2002!!
Telescope 2 is in expected performance.
Energy threshold
~ 200GeV
•Telescope 3 will be started in Aug 2003.
•Telescope 4 will be started in Dec 2003.
Sensitivity will become ~ 0.01Crab (@200GeV, 20 hour).
CANGAROO team published 3 papers in 2002.
•RXJ1713 (Enomoto et al. , Nature)
•NGC253 (Itoh et al. , A&A)
•Mrk 421 (Okumura et al. , ApJ)
And we have several papers in prep.