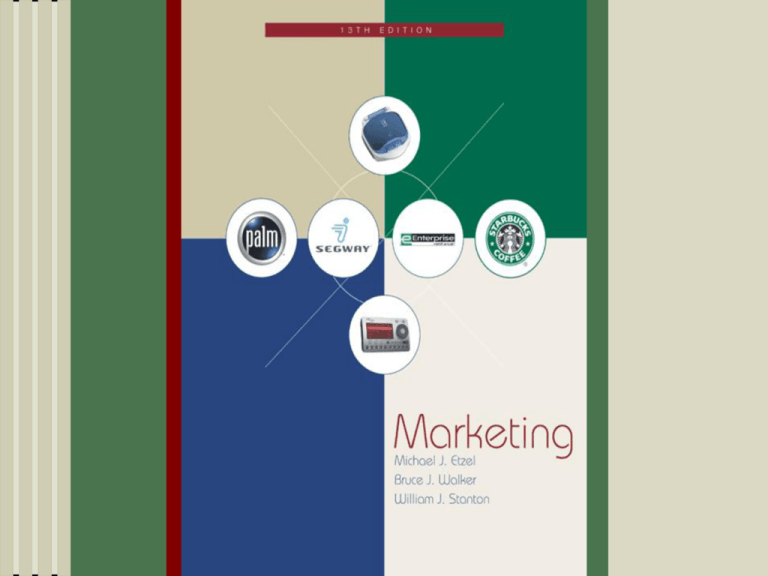 2-1
Chapter 2
The Dynamic
Marketing
Environment
2-2
McGraw-Hill/Irwin
Copyright © 2004 by The McGraw-Hill Companies, Inc. All rights reserved.
Chapter Goals
• The concept of environmental monitoring
• The effect of external environmental forces
on an organization's marketing
• The influence of external factors on a firm's
marketing
• The effect of a firm's nonmarketing
resources on its marketing
2-3
McGraw-Hill/Irwin
Copyright © 2004 by The McGraw-Hill Companies, Inc. All rights reserved.
Levels of External Forces
Macro Level
Influences that affect all firms
Micro Level
Influences that affect a particular firm
2-4
External Macroenvironment Forces
2-5
Demographics
People Make
Markets
Characteristics of
Populations
Size
Distribution
2-6
Growth
Economic Factors
People with
Money to Spend
and Willing to
Spend it
Stage of the
Business
Cycle
Inflation
2-7
Interest
Rates
Competition
Rivals
for Customers'
Limited
Buying Power
Brand
Competition
Substitute
Products
Differential Advantage
2-8
Every
Company
Social and Cultural Forces
People Make
Markets
Lifestyles
Values
Beliefs
2-9
Socio-cultural
Patterns
Changing Quickly
Social and Cultural Changes
2-10
Concern for
Natural Environment
Quality not
Quantity
Changing Gender Roles
Two Incomes
and Balance
Premium on Time
Convenience
Physical Fitness and
Health
Exercise and Diet
Political and Legal Forces
Monetary
and
Fiscal Policies
Governmental
Relationship
with
Industries
2-11
Social Legislation
and
Regulation
Legislation
Related
to
Marketing
Legislation Affecting Marketing
Regulate Competition
• Sherman Antitrust Act
• Federal Trade
Commission Act
• Clayton Antitrust Act
• State Unfair Trade
Practices Acts
• Robinson-Patman Act
2-12
• Wheeler-Lea Act
• Lanham Trademark
• Consumer Goods
Pricing Act
• Various deregulation
laws pertaining to
specific industries
Legislation Affecting Marketing
Protect Consumers
• Pure Food and Drug Act
• Automobile Disclosure Act
• Kefauver-Harris Drug
Amendments
• National Traffic and Motor
Vehicle Safety Act
• Fair Packaging and Labeling
Act
• Cigarette Labeling and
Advertising Acts
2-13
• Consumer Credit Protection
Act
• Consumer Product Safety Act
• Consumer Product Warranty
Act
• FTC Improvement Act
• Nutritional Labeling and
Education Act
• Children's Television Act
Technology
Impacts lifestyles,
consumption patterns,
economic well-being
Starting
New
Industries
2-14
Altering
Existing
Industries
Affects How
Marketing is
Carried Out
Stimulates
Markets
and
Other Industries
External Microenvironment
2-15
Internal Environment
2-16
Operating Environment
2-17
Key Terms and Concepts
• Environmental
Monitoring
• Demographics
• Baby boomers
• Generation X
• Generation Y
• Economic environment
• Business cycle
• Inflation
2-18
McGraw-Hill/Irwin
•
•
•
•
•
•
•
•
Interest rates
Differential advantage
Social and cultural forces
Political and legal forces
Technology
Market
Suppliers
Marketing
intermediaries
• Value chain
Copyright © 2004 by The McGraw-Hill Companies, Inc. All rights reserved.