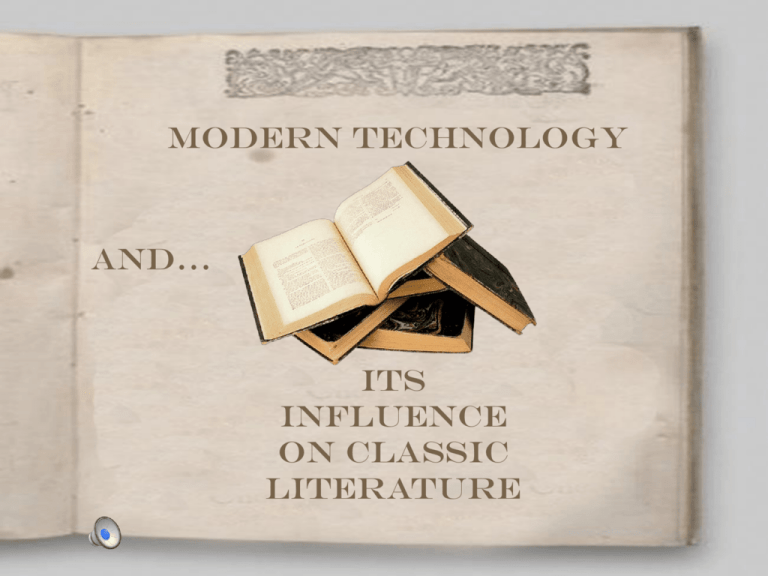 Modern Technology
And…
Its
influence
on classic
literature
Two households, both alike in dignity,
In fair Verona, where we lay our scene,
From ancient grudge break to new mutiny,
Where civil blood makes civil hands unclean.
From forth the fatal loins of these two foes
A pair of star-cross'd lovers take their life;
Whole misadventured piteous overthrows
Do with their death bury their parents' strife.
The fearful passage of their death-mark'd love,
And the continuance of their parents' rage,
Which, but their children's end, nought could remove,
Is now the two hours' traffic of our stage;
The which if you with patient ears attend,
What here shall miss, our toil shall strive to mend.
What if that…
Looked like this?
That was interesting.
QuickTime™ and a
H.264 decompressor
are needed to see this picture.
That was
entertaining
wasn't it?
Dramatic music playing
Words
flashing
Tons of information
all at once?
Now how
did you
Feel
Like it?
about
that? Dislike it?
Did you pay more
attention to the story?
Less attention?
And for my last
example…
QuickTime™ and a
H.264 decompressor
are needed to see this picture.
Hmm…
Different…
More visual than auditory…
but
Music rather than words…
But you didn't need
words, did ya?
Again, same question:
How do you feel?
…about the piece
… about its
interpretation of
the original work
…about how you feel?
Confused?
Probably.
Want to know
what the hell I'm
talking about?
Check out the
link at the
bottom of this
page.
Thanks!!