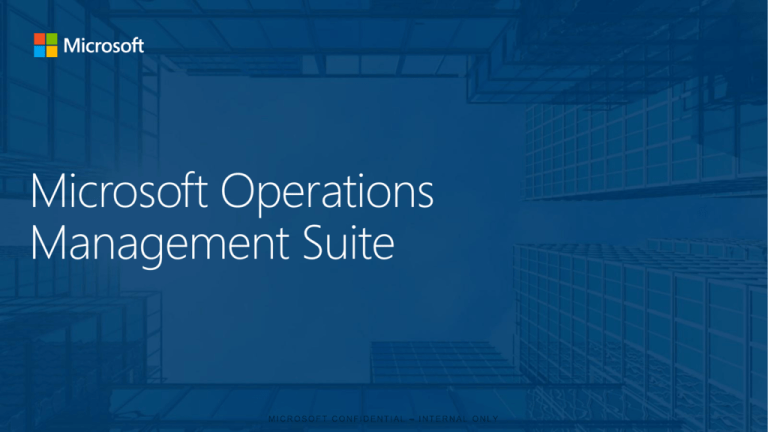 Microsoft Operations
Management Suite
Management
as a Service
Data
analytics
Shifting
landscape
at play
Modern
management
Micro-services
and containers
Cloud
Migrations
Evolving with our customers
System Center
for the
datacenter
Server
proliferation
Enterprise
desktop
Workload
virtualization
Private
and hybrid
Microsoft
management
services
Modern
management
 Heterogeneous
 Open platform
 Cloud-inspired
 Time to value
 Improved productivity
 Solution oriented
Operations
Management Suite
System Center
foundation
Hybrid and
Heterogeneous
Starting the journey | Modern management
Operations
Management Suite
Windows
Server
(Guest)
Windows
Server
(Guest)
Windows
Server
(Guest)
Windows
Server
(Guest)
Private clouds
Linux
(Guest)
(Azure Stack, Hyper-V, VMware, OpenStack)
It's simple
Time to value
Easy to integrate
A single portal for all your
management tasks. No infrastructure
to maintain.
Onboard fast. No content to create.
Connects to your on-premises
datacenter.
Add new servers, or connect to your
existing management tools within
minutes.
Hybrid and open
Extend System Center
Manage workloads across Windows
and Linux, hybrid and public clouds,
Azure and AWS.
Complements your System Center
investment to unleash new
management scenarios.
Log analytics
Automation
Availability
Security
Gain visibility across your
hybrid enterprise cloud
Orchestrate complex and
repetitive operations
Increase data protection
and application availability
Help secure your
workloads, servers, and
users
Gain visibility across your hybrid enterprise cloud.
• Deliver unparalleled insights across your
datacenters and public clouds, including Azure
and AWS.
• Collect, store, and analyze log data from virtually
any Windows Server and Linux source.
Easy collection, correlation,
and visualization of your
machine data
Insight into physical, virtual,
and cloud infrastructure
health, capacity, and usage
Proactive operational data
analysis
Log management across physical,
virtual, and cloud infrastructure
Capacity planning and deep visibility
into your datacenter and across
premises
Faster investigation and resolution of
operational issues with deep insights




Efficient tracking of server
configuration changes
Ad-hoc root cause analysis
and automated
troubleshooting
Custom graphical saved
searches for more insight
with dashboards
Change tracking across multiple
data sources
Powerful search capabilities to drill
deeper into areas of interest
Rich dashboard and reporting
capabilities powered by search
queries



























Orchestrate complex and repetitive operations.
• Create, monitor, manage, and deploy resources
• Reduce errors and boosting efficiency
Reduction of timeconsuming, error-prone
cloud management tasks
Quick start of automation
tasks using Runbook
Gallery
Better visibility into
automation activities
Creation, monitoring,
management, and deployment of
resources in hybrid environments
Ready-to-use automation sample,
utility, and scenario runbooks
Runbook monitoring with easy-toread dashboard charts and log
records
Integration with Azure and
external services using
Internet APIs
Faster, more consistent
delivery of services
Automation activity reports
Integration with the services you
depend on
Reliable automation through
efficient handling of processes
Insight into and tracking of
automation activities with detailed
reporting








Ensure data integrity and application availability.
Backup and enable integrated recovery for all your
servers and applications, no matter where they
reside..
Affordable in-box business
continuity and disaster
recovery solution
Seamless integration with
existing backup and
recovery investments
Best-in-class security and
data encryption
Automated virtual machine
replication
Integration of on-premises
replication tools with cloud-based
recovery
Security-enhanced replication of
application data
Simple, flexible, and
affordable disaster recovery
Flexible management of
application uptime and
resources
Protection of businesscritical data where it resides
Ability to define recovery plans
and easy-to-manage recovery
points
Maximum uptime with resource
health assessment
Unified solution for protecting data
on-premises and in the cloud
Orchestrate the recovery of your apps for
simplified disaster recovery
Improve Recovery-Time-Objectives (RTO)
and Recovery-Point-Objectives (RPO) for
both planned and unplanned outages
Achieve zero impact disaster recovery
drills
Minimize app errors and data loss with
application consistent recovery points
Replication for heterogeneous
environments: Hyper-V, VMware, and
physical
Azure
Decrease reliance on tape backup to
save money and increase agility
Azure Backup integrated with SCDPM
protects enterprise workloads including
SharePoint, Exchange, SQL Server, and
Hyper-V VMs,
Lowers the management costs of
backing up remote/branch offices
Reduce the dependence on offsite tape
backup to accelerate recovery time
Ensure the longevity of your data with
long-term retention – 99+ years
Reduce investments in tape archives,
saving capital budget for your business
Meet regulatory compliance requirements
for your business or industry
A scalable backup solution that can meet
the needs of your growing business
99+




Help secure your workloads, servers, and users.
Identify missing system updates and malware status.
Collect security-related events and perform forensic,
audit, and breach analysis. Enable cloud-based patch
management for all your environments.
Identification of missing
system updates across data
centers or in a public cloud
Comprehensive view into
your organization's IT
security posture
Collect security related
events
Comprehensive updates assessment
across datacenters and public clouds
Detection of breaches and threats
with malware assessment
Perform forensic, audit and breach
analysis
























Containers
Configuration
Configuration
management database
Remote operating
system management
Wire data
Inventory
Alerting
Linux
Patching
Operations
Management Suite
© 2015 Microsoft Corporation. All rights reserved. Microsoft, Windows, Windows Vista and other product names are or may be registered trademarks and/or trademarks in the U.S. and/or other countries.
The information herein is for informational purposes only and represents the current view of Microsoft Corporation as of the date of this presentation. Because Microsoft must respond to changing
market conditions, it should not be interpreted to be a commitment on the part of Microsoft, and Microsoft cannot guarantee the accuracy of any information provided after the date of this presentation.
MICROSOFT MAKES NO WARRANTIES, EXPRESS, IMPLIED OR STATUTORY, AS TO THE INFORMATION IN THIS PRESENTATION.