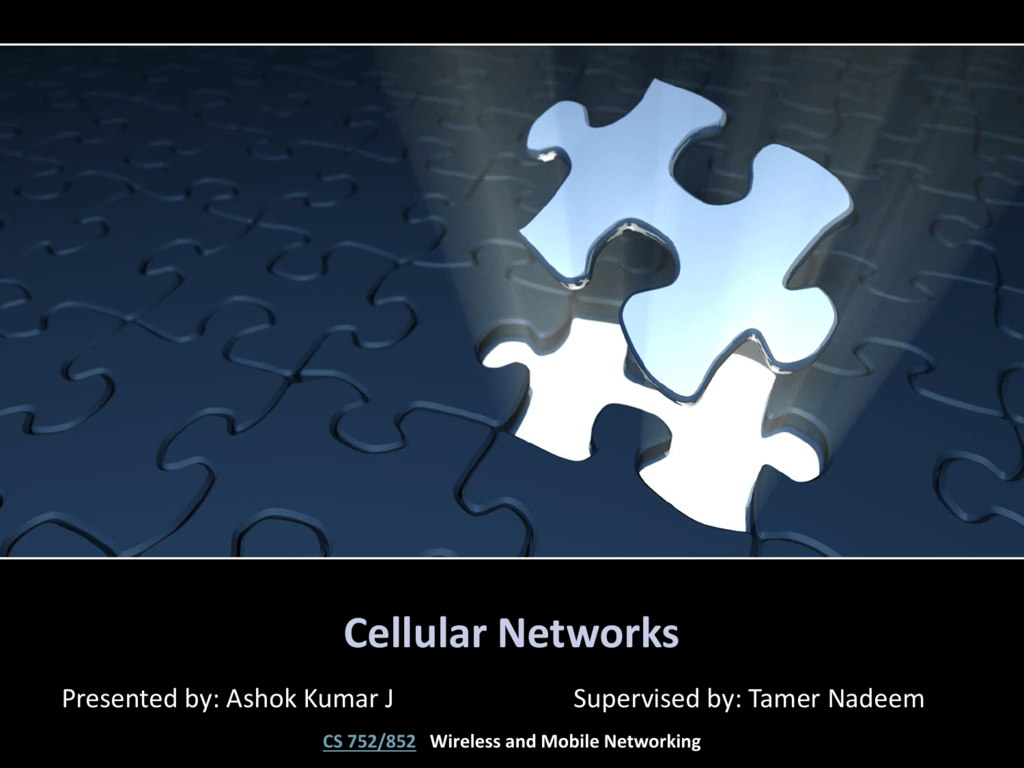 Cellular Networks
Presented by: Ashok Kumar J
Supervised by: Tamer Nadeem
CS 752/852 Wireless and Mobile Networking
Introducing 4G
•
•
•
•
•
What is 4G?
Why is 4G so popular?
Is 4G going to be the next world standard?
How fast is 4G growing?
Who currently uses 4G?
US wireless carriers
AT&T, Sprint, T-Mobile
and Verizon are
already using 4G
Discussion Topics
1G
1G – First Generation Telecommunication System
2G
2G – Second Generation Telecommunication System
3G
4G
Differences
LTE
No data transmission at all
Limited data transmission which increased in 2.5G
3G – Third Generation Telecommunication System
Fairly High data transmission speeds
4G – Fourth Generation Telecommunication System
Completely out of the group
4G Underlying Technologies
Different implementations of 4G by different constituents
LTE and WiMAX
LTE is being preferred over WIMAX
1G – First Generation Mobile Telecommunication
•
•
•
•
•
•
Analog Telecommunication Standard
FDMA – Transmission Technique
Hand-off and frequency reuse
No data transmission only voice transmission
First commercially automated cellular network in 1979
Standards: AMPS, NMT, TACS, JTACS, C-450, Radiocom 2000 and RMTI
Drawbacks
•
•
•
Poor security due to lack of encryption
Many different standards being used in
different places
Limitation on the number of calls that
could be made simultaneously
2G – Second Generation Mobile Telecommunication
•
•
•
•
•
•
•
•
Purely digital technology
TDMA, GSM, CDMA – operator technologies
Conversations were digitally encrypted
Introduced data services for mobile, starting with SMS
Commercially launched on the GSM standard in Finland in 1991
Circuit-switched data services (HSCSD)
Greatly reduced fraud and discouraged cloned handsets
Operates from 800/900 or 1800/1900 MHz and bandwidth of 2G is 30-200 KHz
Drawbacks
•
•
•
Weak digital signal may not be sufficient
especially in higher frequencies
Increased dropouts
Very slow data transmission
2G Transitional – 2.5G, 2.75G
2.5G





Packet-switched domain in addition to the circuit-switched domain
GPRS: The first major step in the evolution of GSM networks to 3G
GPRS provides data rates of 56-114 kbps
CDMA used CDMA2000 1XRTT
CDMA data speeds of up to peak 153 kbps and generally up to 60–100 kbps
GPRS
 Allows 2G and 3G mobile networks to transmit IP packets to the Internet
 Integrated part of the GSM network switching subsystem
 GPRS core network in GSM and WCDMA provides
• Mobility management
• Session management
• Transport for Internet Protocol packet services
• Billing based on volume of data and lawful interception
2.75G
EDGE (has many versions)
 Standardized by 3GPP as part of the GSM family
 Easy upgrade to GPRS and is backward compatible
 Pre-3G radio technology and is part of ITU's 3G definition
 Can be used for any packet switched application, like Internet connection
 Throughput up to 236.8kbps for 4 timeslots, 473.6kbps for 8
 Widely used (441 GSM/EDGE networks in 184 countries)
 Updates are still being released (latest version of EDGE… almost 3G)
3G – Third Generation Mobile Telecommunication
•
•
•
•
•
•
•
•
Digital broadband packet access
UTMS(WCDMA), CDMA2000 1xEV-DO – operator technologies
Voice telephone, mobile Internet, video calls and mobile TV in a mobile.
Offers greater security than 2G
Supports up to 3.1mbps peak but general speed is 500-700kbps
3G was relatively slow to be adopted globally
Uses different frequency spectrum than 2G
Operates at 2100MHz and bandwidth of 15-20MHz
Drawbacks
•
•
•
•
No proper backward compatibility
Need to replace most broadcast towers
No formal definition – carriers used their own
technologies to implement 3G network
Expensive Construction and maintenance
3G Transitional – 3.5G, 3.75G, 3.9G
HSPA(has many versions)
 Amalgamation of two mobile telephony protocols
 Improves the performance of existing UTMS protocols
 Fairly high peak data downlink rates up to 3.6/ 7.2/ 14.4 mbps
 Fairly high peak data uplink rates up to 5.76mbps
 General speeds are in between 1-3mbps
 Reducing the production cost per bit
 Over 200 operator in more than 80 countries
 Easy update to existing 3G networks.
 Preferred over WiMAX, which requires a dedicated network infrastructure
Comparison of Generations 1G, 2G, 3G, 4G.
Generation
Definition
Throughput
Technologies
1G
Analog
14.4 kbps (peak)
AMPS,NMT,TACS
2G
Digital
9.6/14.4 kbps(peak)
TDMA, GSM, CDMA
(Narrow band Circuit Data)
2G Transitional
Packet Data
114/236.8 kbps(peak)
20-40 kbps
HSCSD, GPRS, EDGE
3G
Digital broadband
packet data
3.1 mbps (peak)
500-700 kbps
UTMS,
CDMA2000 1XRTT
3G Transitional
>2mbps
3.6/7.2/14.4 mbps(peak)
1-3 mbps
HSPA,
CDMA2000 EV-DO
4G
Digital broadband
packet based
100 – 300 mbps (peak)
3-12 mbps
LTE Advanced
WiMax Advanced
HSPA+
All IP (VOIP)
4G – Fourth Generation Mobile Telecommunication
•
•
•
•
•
•
•
•
•
All IP based secured packet switched network
Voice also transmitted over IP
Supports IPv6
Access schemes – OFDMA, SC-FDMA, MC-CDMA
Supports up to 100mbps downlink and 50mbps uplink.
Using MIMO, speed can be increased.
Technologies – LTE, WiMAX, Wi-Fi metro, HSPA+.
No formal specification – Operators making their own choices.
Verizon, Sprint, ATT, T-Mobile are offering.
4G (Continued)
Ressource: http://4gwirelessjobs.com/lte_wimax.htm
4G (Continued)
Ressource: http://4gwirelessjobs.com/lte_wimax.htm
4G Technologies
LTE Advanced (E-UTRAN)
•
•
•
•
•
•
WiMAX Advanced
Proposed by 3GPP based on
UMTS/HSPA.
OFDMA for uplink and downlink
•
Proposed by IEEE based on WiMAX
•
Can be constructed using existing
3G network.
Backward compatible.
Downlink up to 100mbps and
uplink up to 50mbps.
Natural upgrade to GSM/UMTS
networks, can be using by CDMA
networks also.
•
OFDMA for downlink and SC-FDMA
for uplink.
Requires completely different
network.
Backward compatible.
Bit rates up to 40mbps.
Can be used by any
network.
•
•
•
Resource: www.itechdiary.com/compared-wimax-versus-lte4g.html
Resource: http://1001-tricks.blogspot.com/2010/12/lifehacker-explains-4g-technology.html
Long Term Evolution - Advanced
•
•
•
•
•
•
Increased downlink and uplink peak data rates.
Scalable bandwidth and flexible bandwidth.
Improved spectral efficiency
All IP network
A standard's based interface that can support a multitude of user types.
LTE networks are intended to bridge the functional data
exchange gap between very high data rate fixed
wireless Local Area Networks (LAN) and very high mobility cellular networks.
Questions?